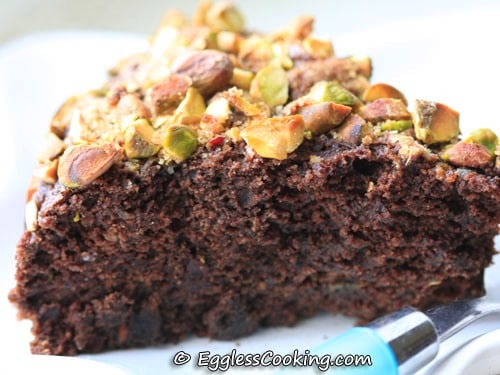 Actually this cake is 100% vegan if I had used vegan chocolate chips. I had 2 big zucchinis in my fridge and was wondering what to do with it. Coincidentally I saw a recipe for chocolate zucchini cake in one of the cookbooks I have. I was not surprised because I've baked a chocolate chip zucchini bread earlier and I know that you cannot taste the zucchini at all. But I didn't want to proceed with that zucchini cake recipe because it was a 4 layered birthday cake with frosting and all. I wanted something very simple, like a snack cake. Googled and found a couple of zucchini cake recipes. I decided to go with this chocolate zucchini cake recipe because it was very simple and it also gave me room to make some healthy changes.
I used Ener-G egg replacer powder instead of eggs. This is my 4th attempt with Ener-G. My first experiment was not that good but the remaining 3 came out very well. I will post the other 2 recipes shortly. For this chocolate zucchini cake I kept the original measurements same but changed the ingredients to make it as healthy as possible. Like using whole wheat pastry flour instead of all purpose flour, oil and applesauce instead of butter, 1/2 cup of mini chocolate chips instead of 1 cup semi sweet chocolate chips. You can take my word that this cake is absolutely delicious in spite of all these healthy substitutions. My son (most of you know that he is a very picky eater) enjoyed this cake very much, not only on the first day but until it got over. This cake is not light and fluffy but dense and moist. This chocolate zucchini cake is also not overly sweet. Unlike the cakes made with all purpose flour and rich frosting which increases your sugar craving and makes you grab another slice of the cake, this cake is very filling and satisfying. We were not able to locate even one strand of the shredded zucchini.

| | | |
| --- | --- | --- |
| Chocolate Zucchini Cake Recipe | | |
| Prep Time | Cook Time | Makes |
| --- | --- | --- |
| 15 Mins | 50 Mins + 20 Mins Cooling | 8 Inch OR 9 Inch Cake |
| Author | Category | Method |
| Madhuram | Cakes | Baking |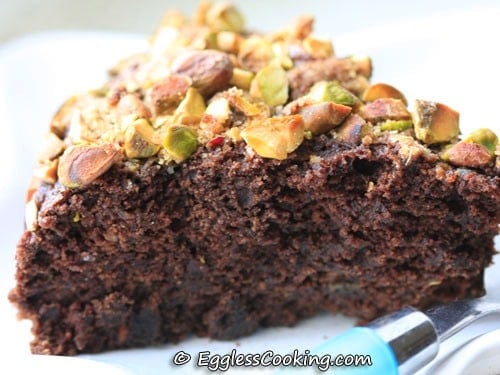 This is not your usual chocolate cake. Grated zucchini makes this cake moist and whole wheat pastry flour makes it very healthy.

Ingredients For Cake:
2 cups

Whole Wheat Pastry Flour

1/2 cup

Cocoa Powder

1 teaspoon

Baking Soda

1/2 teaspoon

Baking Powder

1/4 teaspoon

Salt

1/4 cup

Canola Oil

1/4 cup

Unsweetened Applesauce

1/2 cup

Granulated Sugar

1/2 cup

Light Brown Sugar

1 teaspoon

Vanilla Extract

1 teaspoon

Instant Coffee Powder

4 and 1/2 teaspoons

Ener-G egg replacer, in place of 3 eggs

6 tablespoons

Water

1/4 cup

Milk (I used soy milk)

2 cups

Grated Zucchini

1/2 cup

Mini Chocolate Chips
Ingredients For Topping:
3 tablespoons

Light Brown Sugar

1/2 cup

Toasted & Chopped Pistachios
Procedure:
Preheat oven to 360F/180c for 15 minutes.
Grease and flour a 9 inch spring-form pan. You can use cocoa instead of flour.
In a large mixing bowl sift together the flour,cocoa, baking soda, baking powder and salt.
In a small blender/processor blend together the Ener-G and water until it's nice and fluffy like beaten eggs. I used my Magic Bullet blender. I pulsed it a couple of times.
In a medium bowl add oil, applesauce, sugars, vanilla extract and coffee powder. Using a hand mixer beat the mixture in medium speed for 3-5 minutes.
Add the egg replacer liquid in 3 additions beating it after every addition. Now also add the milk and beat until well combined.
Reserving half a cup of the flour mixture, add slowly the remaining flour to the wet ingredients, while beating it in low speed. Combine well the grated zucchini, chocolate chips and 1/2 cup of flour. Add this to the batter and mix it well. Note that the batter is thick at this stage. So don't worry.
Pour the batter in the prepared cake pan and smooth it out using a spatula. While using a spring-form pan it's advisable to place the pan on a baking sheet, so that the batter or baked cake does not fall down if the pan is not locked properly.
Prepare the topping by mixing the brown sugar and pistachios. Sprinkle this mixture evenly on the batter. Bake for 40 to 50 minutes. Mine was done in 45 minutes.
My Notes:
The key in using Ener-G is processing it with the water in a blender until it's nice and fluffy. Simply whisking it with a fork does not give desirable results. If you pour this immediately in a liquid measuring cup, you will see that it measures exactly 3/4 th of a cup, which is perfect because we usually replace every egg with 1/4 cup of any egg substitute. But by the time I was ready to add this mixture to the rest of the wet ingredients, I saw that it had reduced to 1/2 a cup. So to replace the 1/4 cup of liquid missing I used unsweetened soy milk. You could use any milk or even some fruit juice which you think would go with the flavors you are baking.
You can also use an 8 inch or 9 inch round cake pan instead of a spring form pan. But I think you cannot do the topping because, while inverting the pan to unmould the cake the toppings may fall down.
Zucchini can be grated without peeling. After grating I felt that the strands were very big, so I chopped them coarsely.

Try this recipe, click a pic and hashtag it #egglesscooking - Proudly showcase your creations on Instagram, Facebook & Twitter!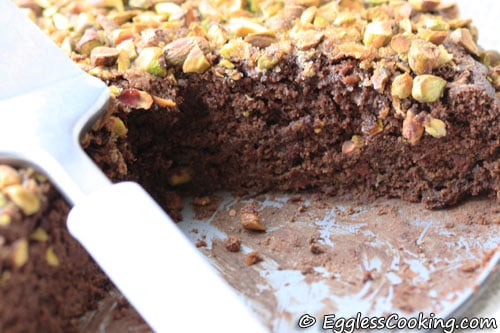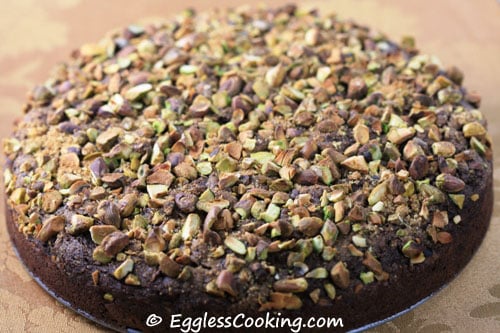 This goes to the Egg Replacement Event – Egg Replacer Powder hosted by me.
Check out these delicious cake recipes as well: