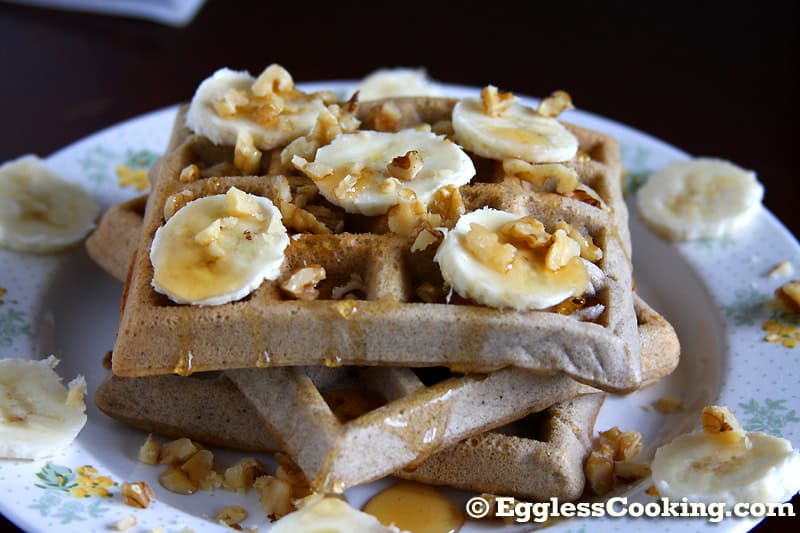 I'm back with another vegan waffle recipe. This time it's gluten-free too! I guess all of you might be thinking that I'm not making anything else at home. My sons (the 1 and 1/2 year old too) are still excited about these more than anything else I make/bake. Recently I tried using idli batter too and we got crunchy on the outside and soft in the inside dosa-waffle. It looked perfect and tasted great.
Now coming to this gluten-free waffle recipe, this recipe too was inspired by one of the recipes from Isa's Vegan Brunch. She had used equal parts buckwheat flour and all-purpose flour in the recipe, which I decided to make it gluten-free by omitting the all-purpose flour and including some cornmeal for a better texture. But this simple switch did not work like I expected it to. So I had to experiment with different ratios and combinations to finally arrived at this one. I think I'm going to work further on this one to get the crunchy exterior I'm expecting, but until then here is the recipe for a basic vegan and gluten-free waffles recipe.

| | | |
| --- | --- | --- |
| Vegan & Gluten-Free Buckwheat Waffles Recipe | | |
| Prep Time | Cook Time | Makes |
| --- | --- | --- |
| 20 Mins | 06 Mins/batch | Eight 4-Inch Square Waffles |
| Author | Category | Method |
| Madhuram | Waffles | Cooking |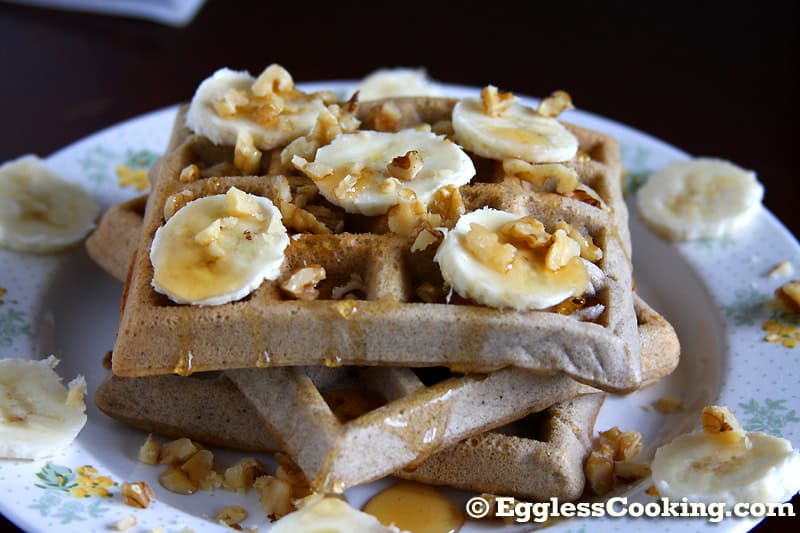 Use this recipe as a base to experiment with various gluten-free flours to create a signature gluten-free waffle recipe of your own.

Wet Ingredients:
1 cup

almond milk (any non-dairy milk)

1 cup

water

2 teaspoons

apple cider vinegar

1 teaspoon

vanilla extract

1/4 cup

oil
Dry Ingredients:
1 and 1/2 cups

buckwheat flour

1/2 cup

cornmeal (I used yellow)

2 teaspoons

baking powder

1/2 teaspoon

salt

5 tablespoons

white sugar
Procedure:
In a liquid measuring mug, combine milk, water and vinegar; set it aside to curdle.
In a large mixing bowl, mix together the dry ingredients and make a well in the center.
Add the milk mixture, oil and vanilla extract to the well. Use whisk to mix the batter until smooth.
Let batter rest for 10 minutes, while the waffle iron is preheating.
Spray the iron with cooking spray. Use a 1/3rd measuring cup to scoop out the batter for each waffle and prepare waffles according to manufacturer's directions.
Taste:
This is my first time using buckwheat flour. So I didn't know what to expect of it, taste-wise or texture-wise. The batter by itself was gooey/slimy; like a flax seed egg mixture kind of thing or simply like beaten eggs. But the waffles did turn out pretty good, especially the last two. So do test one or two and proceed from there. These buckwheat waffles were sort of chewy. I was hoping that the cornmeal would make it crispy around the edges like Isa had mentioned in her original vegan waffle recipe. It didn't. But I should say that it did not bother me. I liked this texture so much better than the ones made with all purpose flour and so did my husband. My son devoured them, topped with bananas, chopped walnuts and a touch of maple syrup.
My Notes:
The original recipe was not gluten-free. The author had used 3/4th cups each of buckwheat flour and all-purpose flour. So if you want to do that then reduce the quantity of baking powder to 1 teaspoon and sugar to 3 tablespoons or even much less if you are making savory waffles.
While pouring the waffle batter to the iron, it does spread but some of the squares especially around the corners do not get covered with the batter. In that case take some more batter and cover the squares which are not covered already. This ensures you that you get whole waffles instead of holes in the waffles.
If you are not a fan of soft and chewy waffles, pop it in your bread toaster and get the crispy texture you are looking for.
I'm assuming that any other gluten-free flour would work in place of the buckwheat flour.
Omit the vanilla extract if you are planning to make it as savory waffles. In that case you can also reduce the sugar to 3 tablespoons.

Try this recipe, click a pic and hashtag it #egglesscooking - Proudly showcase your creations on Instagram, Facebook & Twitter!