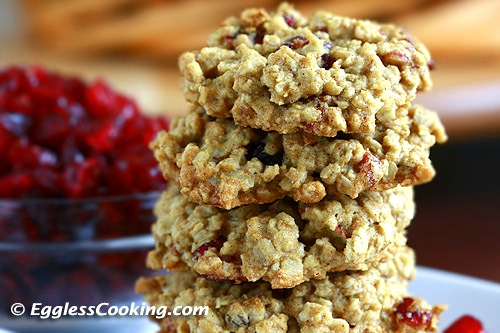 A few days back I stumbled upon a huge collection of vegan baking recipes in About.com and I'm hooked on to that section ever since. Most of the recipes are pretty simple to bake, do not call for unusual ingredients and are also healthy. So far I have tried this vegan oatmeal cranberry cookies and the vegan chocolate cake.
I'm not very excited about the chocolate cake recipe. It didn't turn out as good as I expected (more about it in a separate post) but this oatmeal cookie recipe is definitely a keeper. Everybody in our house loved it so much. I'm so sure that I'm going to keep baking this recipe quite often. I wouldn't change a thing about it. The sweetness was perfect, the spice level was right for us, the cranberries gave a nice flavor, the chopped pecans gave the cookies a nice crunch and the whole wheat flour did not affect the taste of the cookies.

| | | |
| --- | --- | --- |
| Vegan Oatmeal Cranberry Cookies Recipe | | |
| Prep Time | Cook Time | Makes |
| --- | --- | --- |
| 15 Mins | 15 Mins | 40 cookies |
| Author | Category | Method |
| Madhuram | Cookies | Baking |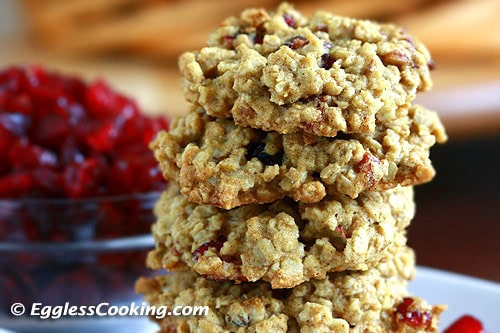 Vegan Oatmeal Cranberry Cookies
4.9

from

12

reviews
Can vegan cookies taste as good as regular cookies? Yes! of course! Try these vegan oatmeal cranberry cookies and you are in for a surprise.

Ingredients:
3/4 cup

Vegan Margarine (I used Becel Vegan Spread)

1/3 cup

Granulated Sugar

3/4 cup

Brown Sugar (I used dark brown)

1 teaspoon

Vanilla Extract

1/2 cup

Non Dairy Milk (I used almond milk)

1 cup

Flour ( I used whole wheat flour)

1/2 teaspoon

Baking Soda

3/4 teaspoon

Ground Allspice

3 cups

Quick Cooking Oats

1 cup

Dried Cranberries

1 cup

Chopped Pecans (optional, but I would recommend using)
Procedure:
Preheat oven to 350F/180C for 15 minutes.
Cream together the margarine and sugars until smooth. Beat in the vanilla and milk.
Add the flour, baking soda and spice; mix well.
Stir in the oats, cranberries and pecans.
Spoon tablespoonful of dough on ungreased cookies sheets (see My Notes) and bake between 12-15 minutes or until done. I baked 20 cookies at a time on a big cookie sheet. If you are using 2 sheets at once, shift cookie sheets halfway through baking.
Remove the baking sheets from the oven and stand the cookies on the sheet itself for 2-3 minutes before transferring it to the cooling rack and let it cool completely.
My Notes:
The instructions in the original recipe mentions to bake the cookies on an ungreased cookie sheet but I wasn't able to lift off the cookies easily. So maybe you should try greasing it lightly. Also it did not mention to flatten the cookies, so for the first batch I just scooped the dough using a small ice cream scoop and the cookies didn't flatten at all. I baked those cookies few extra minutes and they were more chewy. So for the 2nd batch I flattened the dough with the back of a fork and these cookies were crispy around the edges and chewy in the center.
Also adding nuts was optional but I would definitely recommend it because the cookies tasted awesome with the pecans.
I'm not much of a spice fan, so I have reduced the quantity of spice from 1 and 1/2 teaspoon to 3/4th and we liked the mellow flavor very much. Also check out the original recipe for the blend of spices used. Since I didn't have all of it, I went with ground allspice.
I used Pillsbury brand whole wheat flour available in Indian grocery store.

Try this recipe, click a pic and hashtag it #egglesscooking - Proudly showcase your creations on Instagram, Facebook & Twitter!