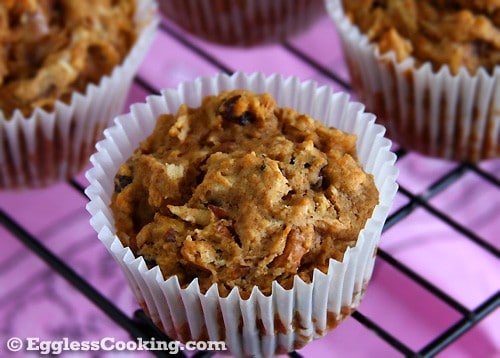 I was not always adventurous when it came to trying new food. That's the reason I never bought parsnips until recently. I bought it once 5 years back and did not like it that much. Although parsnip looks just like carrot, it has a unique smell and flavor which I didn't appreciate then. Fast forward 5 years, I'm much better now. I'm drinking green smoothies and eating kale salad! So when I saw the parsnip muffin recipe here, I was curious and wanted to give it a shot.
I veganized the original recipe by using vinegar as the egg substitute. I also used maple syrup instead of sugar, whole wheat flour instead of all-purpose flour. I accidentally increased the quantity of parsnip in the recipe and was dreading the outcome and was pleasantly surprised how tasty it turned out. I think the thick consistency of the muffin batter because of this extra cup of parsnip was the reason that I got only 15 muffins instead of the 18 mentioned in the recipe. The spicy flavor of parsnips pairs very well with the other spices we use in this recipe.

| | | |
| --- | --- | --- |
| Vegan Parsnip and Apple Muffins Recipe | | |
| Prep Time | Cook Time | Makes |
| --- | --- | --- |
| 25 Mins | 21 Mins | 15 Muffins |
| Author | Category | Method |
| Madhuram | Muffins | Baking |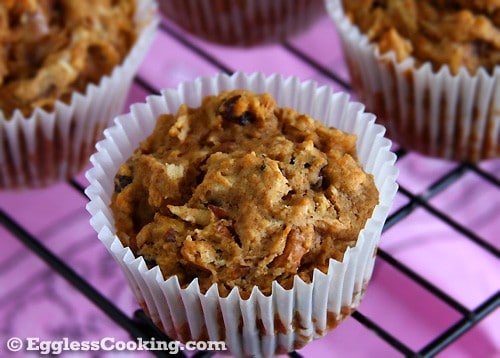 Bored of the usual fruit muffins? Get adventurous and try this spiced parsnip and apple muffins recipe and you will become bold enough to try a parsnip cake instead of carrot cake.

Dry Ingredients:
1 cup

walnuts

2 cups

grated parsnip (See My Notes)

1 cup

grated apple

2 cups

whole wheat flour (See My Notes)

1 and 1/2 teaspoons

baking powder

1 and 1/2 teaspoons

cinnamon, ground

1 teaspoon

baking soda

1 teaspoon

ginger, ground

1/2 teaspoon

salt

1/2 cup

raisins
Wet Ingredients:
2/3 cup

melted coconut oil

1/2 cup

pure maple syrup

1 cup

almond milk

1 teaspoon

apple cider vinegar

1 and 1/2 teaspoons

vanilla extract
Substitutions:
walnuts – any other nut, preferably pecan
parsnip – carrot, beets, zucchini
apple – pear
whole wheat flour – all-purpose flour
coconut oil – any other oil of your choice or melted butter for non-vegans
maple syrup – agave syrup or honey for non-vegans
almond milk – any other non-dairy milk or dairy milk for non-vegans
apple cider vinegar – white vinegar
Procedure:
Preheat oven to 350F/180C for 15 minutes. Toast the walnuts while the oven is preheating. 7-8 minutes should be fine. Stir it once in the middle. Chop it coarsely once cool enough to handle. Line muffin cups with paper liners.
In a medium size bowl, combine together the grated parsnip and apple.
In another large bowl, stir together the rest of the dry ingredients including the walnuts and raisins.
In a small bowl, whisk together the wet ingredients.
Fold in the wet mix and grated parsnip and apple into the dry mix and stir until just combined.
Using an ice-cream scoop divide the batter equally among 15 muffin cups.
Bake for 20-25 minutes or until a toothpick inserted in the middle comes out clean. Mine was done in 22 minutes.
Cool the muffins on a wire rack before storing it.
My Notes:
I accidentally used 3 cups of grated parsnip instead of 2 cups. So the batter was quite thick and I had to add some milk to get the right consistecy for scooping it out. The muffins turned out great even after this mess up. So you should be fine using the extra 1 cup because it makes these muffins even healthier.
I used whole wheat flour from Indian grocery store. I notice that this whole wheat flour is very fine textured than the whole wheat flour you get in American/Canadian grocers. This looks more like whole wheat pastry flour, so I have started using it quite often while baking and it does turn out good and is not as nutty or robust like the other whole wheat flour.
As always the sweetness was just right for us, which means that others might feel that it is less sweet. So if you usually prefer sweeter muffins then increase the quantity of maple syrup by another 1/4 cup.
Nutritional Information for 1 Muffin
Calories:

285.3


Total Fat:

18.6 g


Saturated fat:

11.5 g


Unsaturated fat:

5.5 g


Cholesterol:

0.0 mg


Total Carbohydrate:

29.9 g

Sugars:

11.9 g


Dietary Fiber:

4.0 g


Protein:

3.9 g


Sodium:

226.2 mg


Potassium:

203.8 mg

Try this recipe, click a pic and hashtag it #egglesscooking - Proudly showcase your creations on Instagram, Facebook & Twitter!