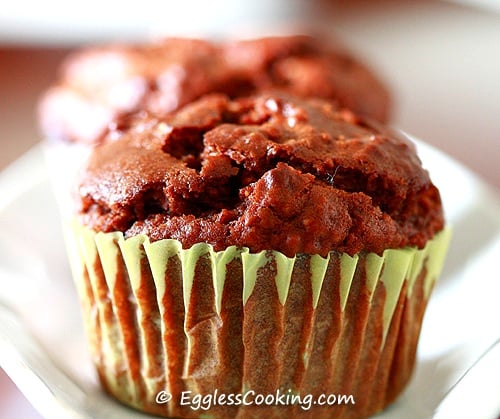 I have a big jar of peanut butter at home and wanted to finish it before it expires in a couple of months. We are not a "peanut-butter-family" but for my son who likes it on breads and rotis. I have never baked with peanut butter so far, so I thought I will give it a try. I came across a lot of baking recipes using peanut butter in Esther Brody's "1500 Best Bars, Cakes, Cookies, Muffins and More". This recipe for oatmeal peanut butter muffins is inspired from 3 recipes in that book.

| | | |
| --- | --- | --- |
| Vegan Peanut Butter Muffins Recipe | | |
| Prep Time | Cook Time | Makes |
| --- | --- | --- |
| 15 Mins | 15 Mins | 9 Regular Size Muffins |
| Author | Category | Method |
| Madhuram | Muffins | Baking |
Easy to bake vegan peanut butter muffins with the goodness of quick cooking oats.

Ingredients:
1 cup

All Purpose Flour

2/3 cup

Quick Cooking Oats)

1/3 cup

Cocoa Powder

3/4 cup

Sugar

1 tablespoon

Baking Powder

1/2 cup

Peanut Butter (I used creamy)

1 cup

Rice Milk
Procedure:
Preheat the oven at 400F/200C for 15 minutes. Grease with little cooking spray or line the muffin tins with paper liners and set aside.
In a large bowl combine together the flour, oatmeal, cocoa powder, sugar and baking powder.
In a small sauce pan, over low heat, melt peanut butter in milk, stirring constantly. Remove from heat and set aside to cool slightly.
Once the peanut butter mixture is cool, incorporate it into the dry ingredients and stir until just combined.
Spoon the batter into the prepared pan filling it to the top of each cup.
The above batter was enough for 9 muffins. So I filled the remaining 3 cups with water to ensure even baking of the muffins. I took out mine from the oven after 16 minutes, but I think 13-15 minutes should be perfect. I felt that in this recipe the smell of the muffins is an indicator of the doneness in addition to the toothpick test. I started smelling a burnt cocoa smell and that's when I removed the muffins. So the tops were a bit crusty and it had turned slightly back. Either have a close watch or reduce the oven temperature to 350F and bake it accordingly.
Taste:
I'm not a fan of peanut butter. So far I have tasted only peanut butter cookies and nothing else baked using it. So I was not sure if I would like these peanut butter muffins. Surprisingly enough the flavor of peanut butter was not dominating. It had the perfect blend of chocolate and peanut butter. The sweetness was right for us not as sweet as the store bought muffins. So If you prefer it sweeter add some chocolate chips or increase the quantity of sugar to 1 cup. Since I was making a vegan version I did not add chocolate chips but I don't regret it at all.
My Notes:
Use dairy/non dairy milk of your choice.
As mentioned in the Procedure, either adjust the oven temperature or the baking time to get perfect muffins.

Try this recipe, click a pic and hashtag it #egglesscooking - Proudly showcase your creations on Instagram, Facebook & Twitter!