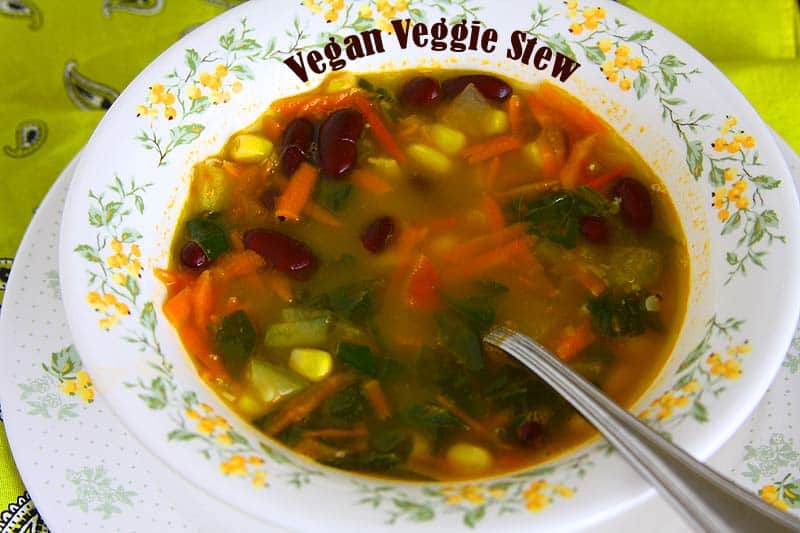 Vegan Veggie Stew: This veggie stew recipe is yet another simple yet satisfying recipe from Dr. Joe Fuhrman's Eat to the Live cookbook. All the recipes in this book are plant-based and almost oil-free.
I made few changes to create my own version of the vegan veggie stew to use the vegetables I had in my refrigerator.
This easy to make veggie stew can be made in no time on busy weekday nights when you want a healthy, wholesome dinner in less than an hour.
By the time you can decide to order pizza and wait for it to be delivered, you can make this vegetarian stew recipe if you have all the vegetables prepared and ready to go.
It goes well with a slice of toasted whole wheat bread or good just by itself.
If you are not using canned beans, soak the beans overnight and cook it. Keep it ready to use it in the stew recipe.
Any beans of your choice can be used. Similarly whatever vegetables you have in hand can be included in this versatile vegetable stew recipe.

| Prep Time | Cook Time | Makes |
| --- | --- | --- |
| 15 Mins | 30 – 45 Mins | 5-6 servings |
| Author | Category | Method |
| Madhuram | Stews | Cooking |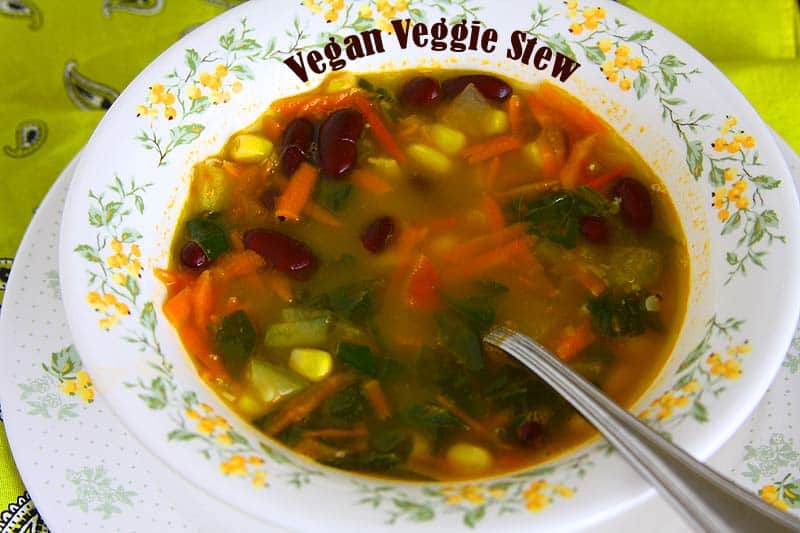 Looking to make a healthy dinner as quickly as possible? Then try this veggie vegan stew with loads of veggies and greens making it super healthy and filling too. Use seasonal vegetables, different blends of spices to make it interesting each and every time. Curry powder, garam masala, and cilantro is another option to give the stew an Indian flavor.

Ingredients:
1 tablespoon

avocado oil

5 cloves

garlic, minced

1 large

onion, chopped

1 cup

cherry tomatoes, quartered

2

zucchini, chopped

1 big

carrot, grated

1 cup

frozen corn

1 cup

sliced mushrooms

1 and 1/2 cups

cooked kidney beans

1 liter

organic vegetable broth

3-4 cups

water (or as needed)

2 cups

fresh baby spinach, finely chopped
For Seasoning:
1 tablespoon

lemon juice

As needed,

herbal salt

As needed,

Mrs. Dash no-salt seasoning

As needed,

ground black pepper
Procedure:
In a large pot heat the oil and saute the minced garlic and onion with a pinch of salt.
Once the onions are translucent, add the quartered tomatoes and cook for few minutes.
Now add the zucchini, carrot, corn, sliced mushrooms and cook for 8-10 minutes.
Add broth/water as needed.
Add the cooked beans and continue cook over medium heat for 20 minutes, checking and stirring often.
Add broth/water as needed.
Add lemon juice, herbal salt and no-salt seasoning blend and black pepper.
Add spices/seasoning in small increments, taste it and then add more if required.
Cook for few minutes and remove from heat. Now add the finely chopped baby spinach and it will cook in the heat. Do not have to cook it.

Nutrition Facts
Servings: 5 to 6
Per Serving
% Daily Value*
Calories

274

Total Fat

1.7g

2%
Saturated Fat

0.3g

1%
Trans Fat

Cholesterol

0mg

0%
Sodium

465mg

20%
Potassium 1339mg
28%
Total Carb

52.1g

19%
Dietary Fiber

12.9g

46%
Sugars

8.3g

Protein

16.1g

Vitamin D 50mcg – 252%
Calcium 106mg – 8% | Iron 6mg – 34%

Try this recipe, click a pic and hashtag it #egglesscooking - Proudly showcase your creations on Instagram, Facebook & Twitter!