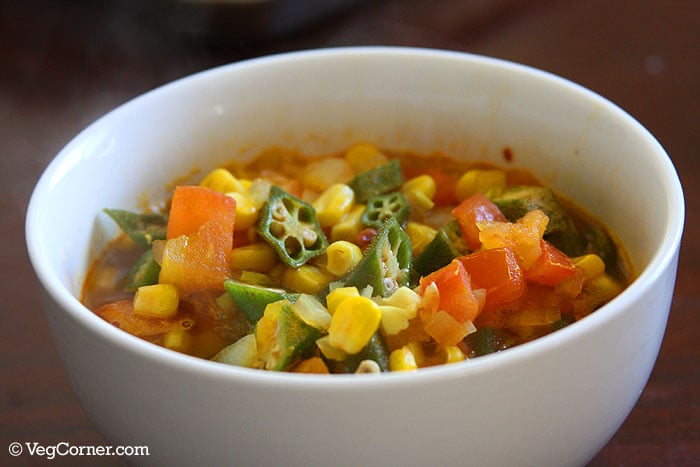 Okra aka lady's finger in India is everybody's favorite in our house. I usually prepare the popular South Indian style okra fry, bhindi masala, raitha or these fat-free okra chips. The other day when I opened my fridge to see tender okra, I decided that I didn't want to make one of the same old dishes again.
I remembered that I had seen a stew recipe in Weight Watcher's Versatile Vegetarian cookbook and wanted to give it a shot. I had frozen corn and all the other ingredients listed. I pretty much followed the recipe but just changed the flavoring by using curry powder and cilantro instead of basil. It was a simple yet satisfying dish. The kids also liked it. So give this okra corn stew a chance the next time you buy okra.

| | | |
| --- | --- | --- |
| Okra and Sweet Corn Stew Recipe | | |
| Prep Time | Cook Time | Makes |
| --- | --- | --- |
| 10 Mins | 12 Mins | 4 Servings |
| Author | Category | Method |
| Madhuram | Stews | Cooking |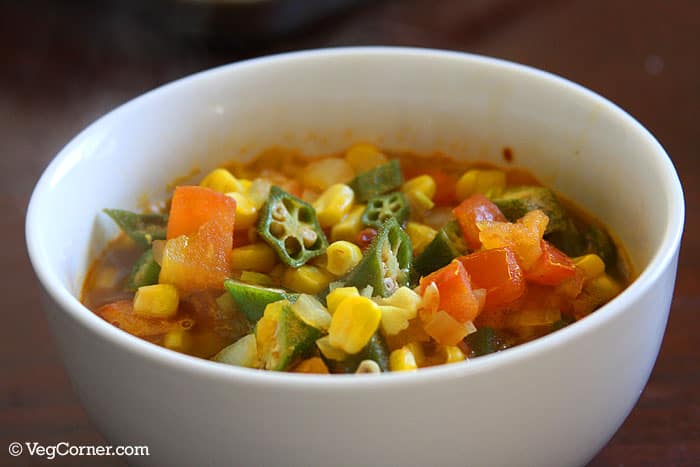 Brighten the dinner table with this vibrant okra corn stew. I prefer using fresh and tender okra for this recipe.

Ingredients:
1 tablespoon

extra-virgin olive oil

2 onions

finely diced

2 garlic cloves

minced

red pepper flakes

optional

2 tomatoes

chopped

2 cups

fresh or thawed frozen okra, sliced diagonally

2 cups

fresh or thawed frozen corn kernels

2 cups

vegetable broth

1 teaspoon

curry powder

1/4 teaspoon

salt

2 tablespoons

finely chopped cilantro
Procedure:
Heat the oil in a large skillet. Add the onions, garlic, red pepper flakes (if using) and a pinch of salt; cook for about 5 minutes, stirring as needed.
Stir in the tomatoes, okra, corn, broth, curry powder and salt; bring to a boil.
Reduce the heat and simmer for another 5 minutes or until the okra is softened. Stir in the cilantro.
My Notes:
I love the flavor of garlic and red pepper flakes together so I try to use it in all my recipes. It's purely optional.
Slicing the okra diagonally gives the dish a good look, but you could go the traditional way.
If you want to give this dish an Italian flavor, you could use about 1/2 cup of pasta/pizza sauce instead of tomatoes and go easy on the salt. I always do this while preparing soups. It's a good trick to use up the big bottle of sauce.
The sodium content in the nutrition information below is based on store bought vegetable broth. But if you use a low-sodium or no-salt added homemade vegetable broth like me you can reduce the amount of sodium considerably.
Nutritional Information for 1 Serving
Calories:

173.1


Total Fat:

4.6 g


Saturated fat:

0.7 g


Unsaturated fat:

3.8 g


Cholesterol:

0.0 mg


Total Carbohydrate:

32.8 g

Sugars:

6.1 g


Dietary Fiber:

6.2 g


Protein:

5.5 g


Sodium:

486.6 mg


Potassium:

588.2 mg

Try this recipe, click a pic and hashtag it #egglesscooking - Proudly showcase your creations on Instagram, Facebook & Twitter!