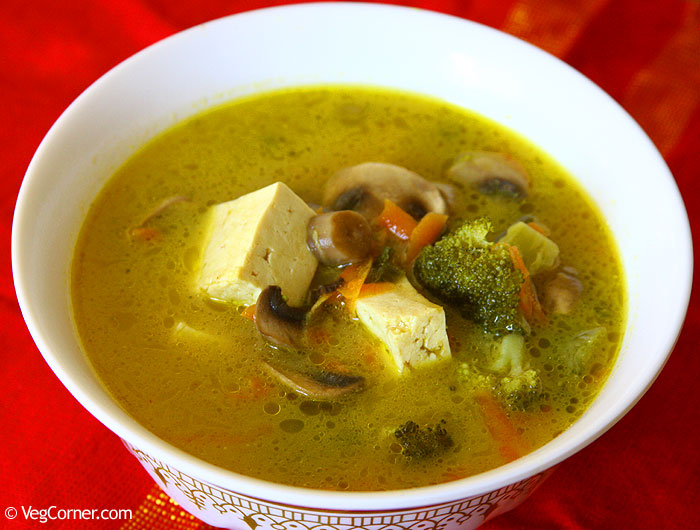 Thai Coconut Curry Soup: I have always wanted to explore Thai and Mexican cuisine. Pastas and pizzas have become as common as idlis and dosas in our house, but I haven't tried anything which is even remotely Thai and just the empanadas, quesadilla and a black bean/corn salad in the Mexican food fare.
The two times that I went to a Thai restaurant did not go well. The aroma that floated in the room was very appetizing making me literally drool but what ended up on my plate was not as good as I had expected.
Also, I kept wondering if everything on the plate was vegetarian, even after confirming with the waiter a couple of times. What if the curry paste had fish or oyster sauce, what if the soup had chicken stock?
That's when I decided that I'm never going to step into a Thai restaurant again, ever! So I'm looking for some basic Thai recipes, to begin with. Do you have any Thai favorites?
I came across this recipe for a vegetarian Thai coconut curry soup while browsing the Good Housekeeping's Family Vegetarian Cooking book. The recipe was simple and the picture looked very good.
Good enough to convince me to try it immediately. Like the carrot-apple soup recipe from that book, this one too turned out very tasty.
My kids loved it so much that they kept asking for seconds. Other than few minor changes, I pretty much followed the original recipe.

| | | |
| --- | --- | --- |
| Thai Coconut Curry Soup Recipe | | |
| Prep Time | Cook Time | Makes |
| --- | --- | --- |
| 15 Mins | 20 Mins | 6 Servings (About 12 Cups) |
| Author | Category | Method |
| Madhuram | Soups | Cooking |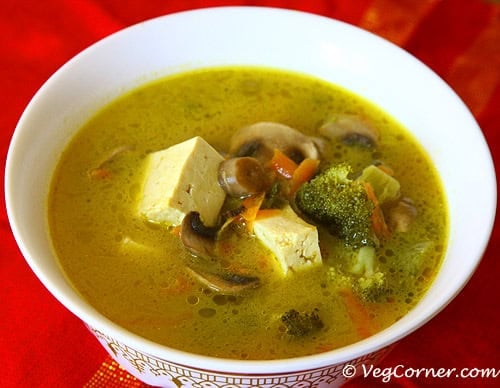 The mellow flavor of coconut milk infused with aromatic curry powder, ginger and garlic and a load of fresh vegetables makes this soup a very comforting and filling meal all by itself.

Ingredients:
2 cups

Coconut Milk (One 400ml/14.4oz can)

1 and 1/2 teaspoons

Curry Powder

1/4 teaspoon

Red Chili Powder

2 inch

Ginger, sliced into 4 pieces

2

Garlic Cloves, minced

4 cups

Vegetable Broth (I used Water)

1 cup

Water

2 cups

Slice Mushrooms

3 cups

Grated Carrots

1 cup

Thinly Sliced Red Pepper

2-3 tablespoons

Soy Sauce

1-2 teaspoons

Salt (as per taste)

2 cups

Broccoli

1 cup

Sugar Snap Peas, halved

2 stalks

Green Onions, finely chopped

1-2 tablespoons

Lemon Juice (as per taste)

1

Lemon Zest

1 pack

Extra Firm Tofu (I used a 10.5oz pack), drained and cut into small cubes
Procedure:
In a big pot (a 5-quart Dutch oven), heat 1/2 cup of coconut milk over medium until it's boiling. This will take about 3-5 minutes.
Add the curry powder, red chili powder, ginger and garlic to the boiling coconut milk and cook for a minute.
Now stir in the vegetable broth, water, mushrooms, carrots, red bell pepper, soy sauce, remaining coconut milk and salt.
Heat to boiling thereafter reducing the heat and simmer for a minute.
Stir in broccoli (if using), sugar snap peas, green onions, lemon juice and lemon zest. Discard the ginger. Cook for about 3 minutes.
Stir in the cubed tofu and cook over medium-high heat for another 3 minutes.
Taste:
This was the first time I ever tried coconut milk in a soup recipe and I was not sure if I would like it. I wanted to come out of my comfort zone and try something new and I'm very glad that I did it because we all loved this Thai coconut soup very much. The flavor of coconut milk was not overpowering and it was just right with the blend of spices I had used in the recipe. Go for this Thai coconut curry soup. You won't be disappointed.
My Notes:
I didn't have vegetable broth so used 5 cups of water instead of 4 cups of broth and a cup of water. If you are using store-bought vegetable broth then go easy on the salt because the broth itself will have a lot of sodium and the soy sauce too.
Broccoli was not used in the original recipe but I used it. Make sure that you do not overcook the broccoli because it will get soggy and we don't want mushy broccoli in our soup. Do you? So if you plan to prepare the soup ahead, I would recommend not cooking the broccoli with the soup. Instead, prepare the soup and just before serving, steam the broccoli with a little salt for 5-6 minutes and stir it in the soup.
Make it even healthier by adding baby spinach after stirring in the tofu and heat the soup just enough for the spinach to wilt.
Nutrition Facts
Thai Coconut Curry Soup
Amount Per Serving
% Daily Value*
Potassium 832mg18%
Total Carbohydrates
18.6g
7%
* Percent Daily Values are based on a 2000 calorie diet.


Try this recipe, click a pic and hashtag it #egglesscooking - Proudly showcase your creations on Instagram, Facebook & Twitter!

The recipe has been updated and republished from 2012 recipe archives.