I saw this recipe in Woman's Day magazine under Heart Healthy Recipes category.  I wanted to try this recipe because it had bulgur wheat as the main ingredient, which I have not tasted before.  I use cracked wheat regularly, so I always have it in home.  I thought that both were same.  So before using it in the recipe, I wanted to be sure and check if there was any difference between bulgur wheat and cracked wheat and found out the following; (Source: www.epicureantable.com)
Bulgur Wheat:
Partially hulled whole wheat kernels that are soaked, then steamed (hence precooked if you will), dried and then crushed are called bulgur.  It requires no or little cooking.  Though modern processes involve oven drying or roasting some villages still sun dry bulgur on their rooftops.
Cracked Wheat:
Raw whole wheat berries that are crushed to varying qualities of texture are called cracked wheat and require cooking.  These are also found in 3 grades of coarseness: fine, medium and coarse, the choice of which depends on use and preference.
To simplify it even more bulgur is wheat cracked after cooking and drying, whereas the wheat is cracked in raw stage for cracked wheat.
 
Are they interchangeable? 
This depends on whether the recipe requires cooking or not and your own degree of purism.  A salad recipe such as tabooli is uncooked, and so requires true bulghur as do recipes where bulghur is brought to the boil, cooked for a moment then left to rest off heat to swell as in a pilaf.   Recipes requiring longer cooking times or coarse grain bulghur can be replaced with cracked wheat, but will need more cooking time. But both bulgur and cracked wheat are excellent sources of fiber, minerals and vitamins for your diet.
Moving on to the recipe,  I have scaled down the measurements given in the original recipe; still we had a lot of chili.  I made it for dinner and it was very filling.

| Prep Time | Cook Time | Makes |
| --- | --- | --- |
| 10 Mins | 35 Mins | 5-6 Servings |
| Author | Category | Method |
| Madhuram | Tiffins/Main-Course | Cooking |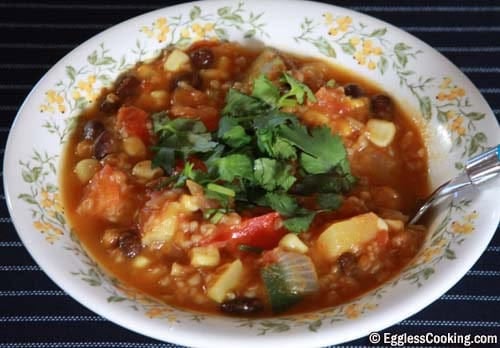 A very easy and heart healthy recipe to prepare vegetarian version of the ever famous chili, using bulgur wheat and canned pumpkin pure.

Ingredients:
5 Cups

Water

1/2 Cup

Bulgur Wheat

2 Teaspoon

Olive Oil

1/2 Cup

Chopped Onion

1/2 Cup

Chopped Red Pepper

1 Tablespoon Or As Per Taste

Chili Powder

1 Teaspoon

Minced Garlic

1 Teaspoon

Ground Cumin

1 Cup

Crushed Tomatoes

1 Cup

Pumpkin Puree (Canned)

1

Diced Medium Zucchini

1/2 Cup

Frozen Corn

1 Cup

Drained And Rinsed Black Beans (Canned)

1/4 Cup

Chopped Cilantro
Procedure:
Put 3 cups of the water and bulgur in a medium microwave-safe bowl. Cover and microwave on high until bulgur is tender, about 13 minutes.
Meanwhile, heat oil in a large nonstick skillet. Add onion and pepper; saute 5 minutes.
Add chili powder, garlic and cumin; saute until fragrant.
Add remaining 2 cups water, the tomatoes, pumpkin, zucchini and corn; bring to a boil over medium-high heat.

Reduce heat and simmer 10 minutes, stirring occasionally, until vegetables are tender.
Stir in beans and bulgur; heat through.

Remove from heat and stir in cilantro.
My Notes:
My husband loved the chili. The only thing I didn't like was the flavor of the red pepper. I will be trying it without the red pepper next time.

Try this recipe, click a pic and hashtag it #egglesscooking - Proudly showcase your creations on Instagram, Facebook & Twitter!