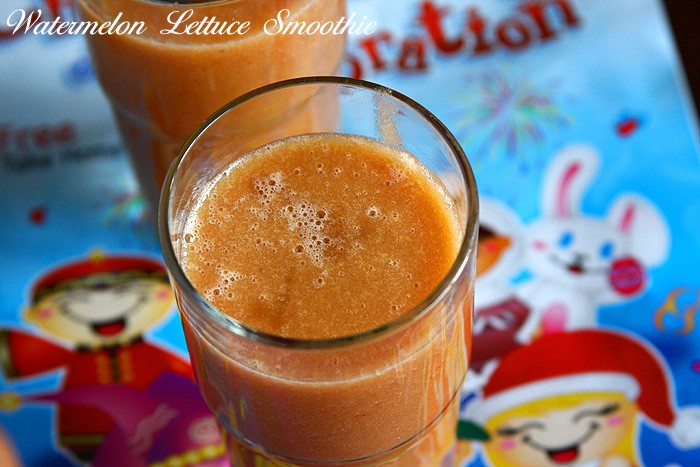 Happy Valentine's Day folks! The last couple of weeks has been quite hectic with my eldest son not feeling well. Our daily routine was messed up and we are slowly getting back on track. I have so many recipes to post here but don't find time to sit and write it, especially a lot of soup recipes.
I have been making soups almost every other day. When I got up this morning I made it a point to definitely post one recipe, so squeezing in some time after breakfast. Since time is the constraint I'm posting a recipe which you could try too when you are running late in the morning.
It just takes 5 minutes to prepare if you have the watermelon chunks ready already. It's healthy, tasty and I'm sure that your kids will like it too because my 6 year old loves this watermelon lettuce smoothie as much as he loves his spinach smoothie.
So I don't see why you shouldn't be trying this ASAP. I make this for breakfast and sometimes as an after-school snack. When introducing this to your kids for the first time or even for adults, start with more watermelon and less lettuce.
Once you start liking the taste you can do the opposite. You could use baby spinach too instead of the lettuce or a combination of both. This recipe is from the Green Smoothie Revolution I have mentioned earlier. Go grab a copy from the library if you haven't already. Can you believe that I'm 5th in the waiting list at my library?
I hear contradicting information about iceberg lettuce, that it has zero nutritional value and some say that's not true.
So these days I use only romaine and other lettuce greens. I usually try to avoid ingredients which is under a lot of debate. Soy products and canola oil are other examples on which the jury is not out (clear) yet. We do like our tofu, so I buy organic tofu once in a while.
The important thing to look for while buying soy products is, it should not be genetically modified. So look for non-GMO soybeans in the ingredients list. It's better to opt for fermented soy products like tempeh, miso, tamari etc. Organic edamame is also a good soy option.

| | | |
| --- | --- | --- |
| Watermelon Lettuce Smoothie Recipe | | |
| Prep Time | Cook Time | Makes |
| --- | --- | --- |
| 10 Mins | 02 Mins | 2 People |
| Author | Category | Method |
| Madhuram | Smoothies | Blending |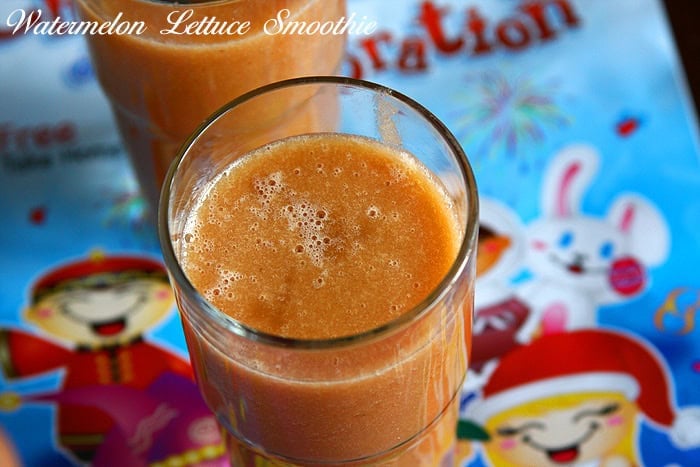 Make breakfast healthy and interesting by preparing this "so easy to make" watermelon green smoothie. Adding a scoop of whey protein is also a good option.

Ingredients:
2-3 cups

Watermelon chunks

4-5

Romaine Lettuce leaves

1

Banana
Optional:
1 small piece

Ginger

Lemon Juice

to suit your taste
Procedure:
Blend together the watermelon chunks, lettuce leaves and banana until smooth and creamy. Kick it up a notch by adding a small piece of ginger and some lemon juice.
Serve immediately.
My Notes:
If you are new to green smoothies, start with just 2 or 3 lettuce leaves and use about 3 cups of watermelon chunks. Once you get used to it, gradually increase the quantity of lettuce and use about 2 cups of watermelon. The color of the smoothie depends upon the quantity of the lettuce leaves you use. More the lettuce, greener the smoothie. Also, keep in mind that romaine leaves lightly a slight bitter taste which does not affect the overall taste of the smoothie. The picture above is not green because it was the first time I tried it and so use only 2 lettuce leaves. Nowadays I use at least 4 or 5 leaves and get a dark green smoothie.
I have made the prep time 10 minutes if you haven't already cut a big watermelon into small chunks. We usually cut a melon into a half, chop one half of the melon into bite size pieces and store the other half wihtout cutting it, in an air tight container in the refrigerator. So it just takes 3 minutes for me to prepare this smoothie.
Adding lemon and ginger was not mentioned in the original recipe. I was having the green smoothie as per the book and felt that it could use a little bit of kick and experimented with some lemon juice and ginger and loved it.

Try this recipe, click a pic and hashtag it #egglesscooking - Proudly showcase your creations on Instagram, Facebook & Twitter!