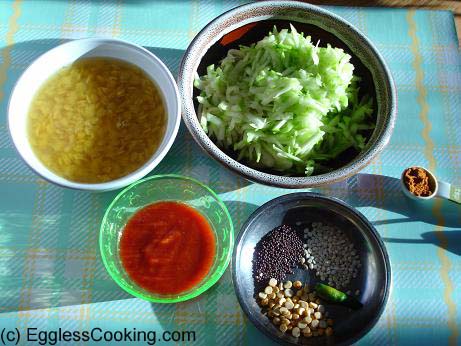 I love to create my own recipes. Since I'm a novice baker, I'm trying only other's recipes for now. I just try to tweak it here and there. So for the time being my experiments are limited to Indian cooking only. That's how I put together this recipe. May be some of you know this one already, but I'm very happy because, I tried it for the first time and it was very tasty.
I asked my husband to get 1 zucchini to try the oven baked zucchini fries, but he bought 4 instead. Anyway it worked out good because I was able to come up with 3 new recipes. They are zucchini pappu, chocolate chip zucchini bread and zucchini soup. I'll be posting the other 2 very soon. I wanted to post the zucchini bread first, but when I mentioned about the zucchini recipes to my friend Laksh of Lakshmusings, she told that she would try zucchini pappu. So I thought I should post that one first.
Ingredients:
Zucchini 1 medium size, peeled and grated (don't drain the water)
Tomato 1 medium size, cut into small pieces or 1/4 cup crushed tomatoes
Toor Dal 1/4 cup, pressure cooked
Sambar Powder 1 teaspoon
Green Chilli 1 medium, slit it
Salt 1/2-3/4ths of a teaspoon according to your taste
Water 1/4-1/2 cup as required
For Tempering:
Oil 2 teaspoons
Mustard seeds 1/2 teaspoon
Channa Dal and Urad Dal 1 teaspoon each
Curry leaves 3-5 leaves
Procedure:
1. In a sauce pan add the oil and after it heats add the rest of the tempering ingredients.
2. Once the dals turn golden brown add the grated zucchini, slit green chilly, tomato puree/tomato pieces and sambar powder,little water and close the lid. Zucchini itself has water content in it, so just add little water to make sure that the zucchini does not stick to the bottom of the vessel while cooking.
3. Once the zucchini is done add the cooked toor dal and let it boil for another 2-3 minutes.
4. Garnish it with cilantro.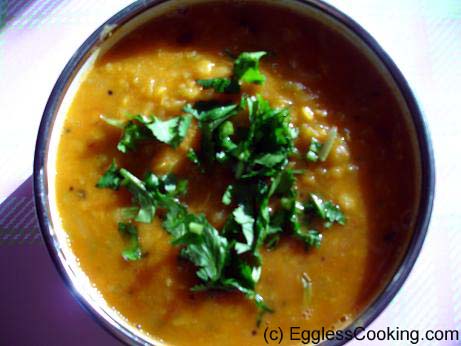 Variation:
I have tried the exact same recipe with ridge gourd and bottle gourd too.  They also taste very good.  You may also add a teaspoon of tamarind extract with the zucchini, if you like it sour.
My Notes:
Nowadays I use crushed tomatoes a lot in my cooking. It's very economical when you compare it with the price of fresh tomatoes and also saves you time in the kitchen. Once you open the can pour the contents into another jar/plastic box and store it in the refrigerator. One 32 ounce can lasts for 2 weeks for me and it's only 79 cents, when a pound of fresh tomatoes is anywhere between $1.50 to $2.00 and they also rotten quickly. Moreover I came across one more fact that cooked and canned tomatoes have more lycopene than the fresh ones. Anyway I'm not telling "don't buy fresh tomatoes", it's just my observation. I thought I can share it with everybody here.  Moreover my husband does not like too much of tomatoes in his diet, so this works for me.  His favorite dish with tomatoes is Tomato Rice, I use crushed tomatoes in that too.