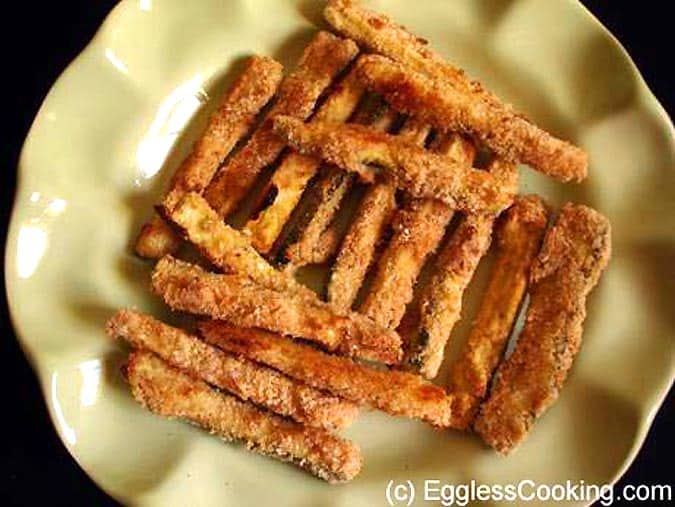 As long as there is Parents magazine, I will not have any problem finding easy baking recipes.  This is one such simple and tasty recipe.  I tried it for the first time yesterday with one zuchini.  It was crispy on the outside and tender inside.  Zucchini being a soft vegetable, when it cooks, the inside is not as firm as the potato fries. It tastes similar to the South Indian appetizer Bhaji, which has a crunchy exterior and soft/mushy inside.

| | | |
| --- | --- | --- |
| Baked Zucchini Fries Recipe | | |
| Prep Time | Cook Time | Makes |
| --- | --- | --- |
| 15 Mins | 25 Mins | 2 Servings |
| Author | Category | Method |
| Madhuram | Snacks/Appetizers | Baking |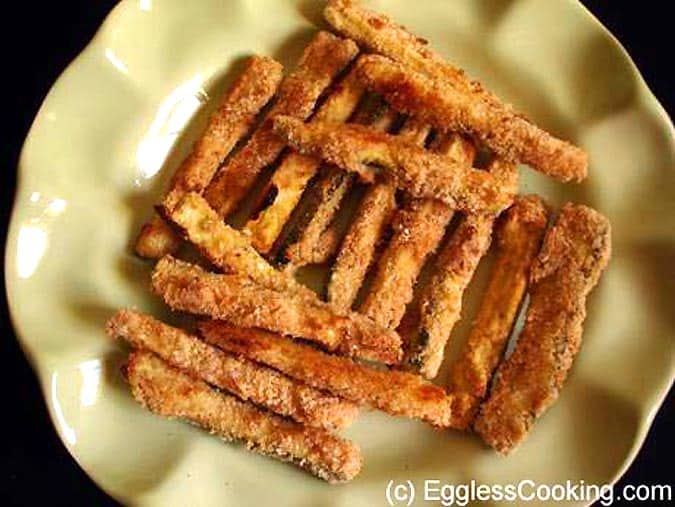 Looking for an alternative for french fries? Then this zucchini sticks recipe could be it.

Ingredients:
1/2 – 1 cup

Bread crumbs or cornflakes crumbs

1/4 teaspoon

salt

1-2

Zucchini, cut into 3 x 1/2-inch sticks

1/2 cup

Yogurt (I used low-fat)

Black Pepper or Red Chili Powder

To taste
Procedure:
Heat oven to 425°F. Spray a baking sheet with oil. Mix bread crumbs, salt and black pepper/chili powder, if using.
Coat zucchini sticks with yogurt. Press into crumb mixture a few at a time. Arrange on baking sheet. Bake 15 minutes, until golden brown and tender. I felt that the zucchini fries were not crunchy enough, so I kept baking until 24 minutes, checking every 2-3 minutes.
My Notes:
I used bread crumbs instead of cornflakes.
I also added some pepper powder and chilly powder for the adults version.
Beat the yogurt with a fork nicely and pour it in a plate so that dipping the zucchini sticks will be easy.
Dip 2 to 3 sticks at a time and put them in the bread crumbs mixture and shake the plate, so that the crumbs get evenly coated throughout the zucchini.
Place them in a greased baking sheet. I baked it for around 23-25 minutes to get the desired crunch, even though the recipe mentions only 15 minutes.
One zucchini is enough for 2 adults.
Update: One of my friend mentioned that the zucchinis burnt in the oven around 20 minutes. As I have mentioned in the notes section the baking time in the original recipe is only 15 minutes. But mine was not cruncy enough, so I kept increasing the time 2-3 minutes and was checking constantly and around 24 minutes mine was nice and crunchy. I guess I coated the zucchinis with too much yogurt and/or bread crumbs. So I would advice to bake for 15 minutes first and then bake for some more time if necessary.

Try this recipe, click a pic and hashtag it #egglesscooking - Proudly showcase your creations on Instagram, Facebook & Twitter!