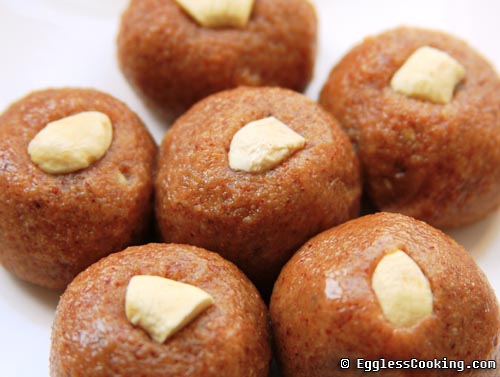 Earlier last week, I stumbled upon Rachna's blog and found a an interesting recipe for preparing laddus using peanut butter.  It's such an easy recipe, with no cooking at all.  Surprisingly I had all the ingredients at home and moreover it was my friend's daughter's birthday, so I went ahead and made it immediately.
First I tried it with peanut butter.  One thing I forgot to notice was, the peanut butter had sodium in it, so the laddus were both sweet and salty.  But we did like the taste.
Later I remembered about the almond butter which was lying in my pantry after using it for the almond butter bread.  Immediately I checked the nutrition label and I saw 0gm Sodium.  So I made the ladoos again with almond butter and it was absolutely delicious.
For my laddoos I used 1/2 a cup of almond butter, 1/4 a cup of regular icing sugar, 1/4 cup of khoya and a pinch of cardamom powder.  Simply combine all the ingredients and shape it into balls.  I got 13 small ladoos for this measurement.