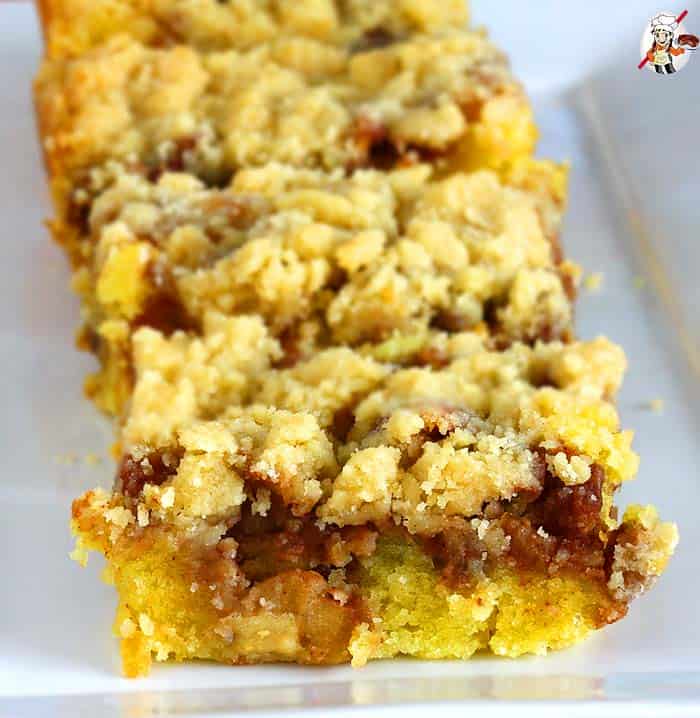 Browsing Pinterest has become my addiction these days! I have been trying a whole lot of new cooking and baking recipes over the past few weeks and that's how I landed on this apple pie cake recipe from Betty Crocker's website!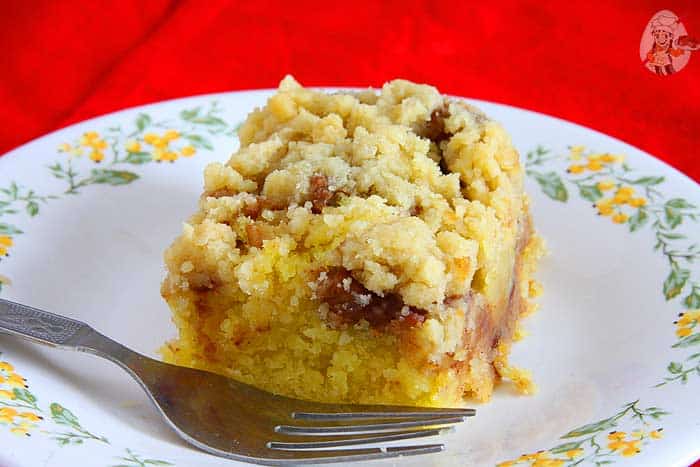 It's been a while since I baked with apples! I think this vegan cocoa apple cake was the one I baked a couple of years ago and ever since nothing if I remember right.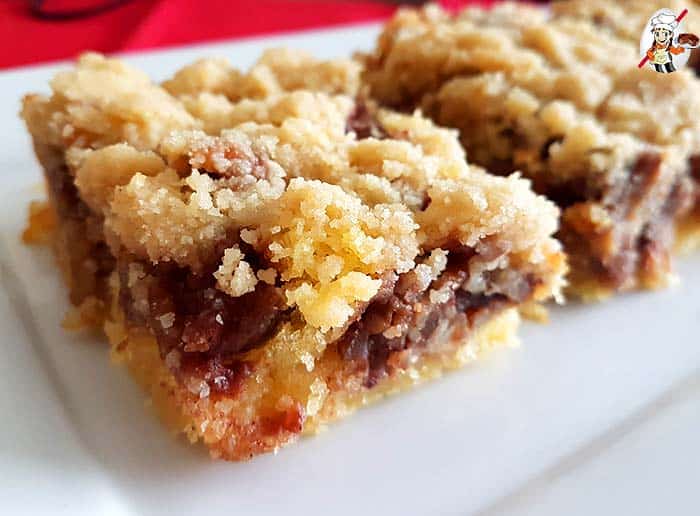 The procedure looked very easy to bake, with ingredients that I already had at home. This apple pie cake starts with a cake base made from a store-bought cake mix, an apple filling, and a streusel topping.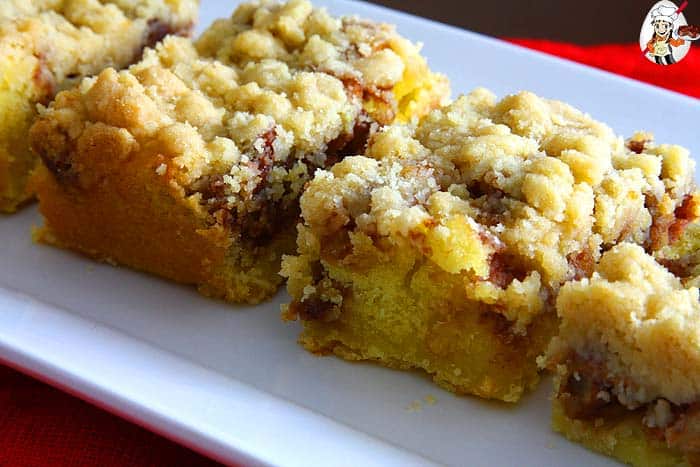 Instead of following the recipe for the apple filling which was simply sliced apples tossed in with some sugar and cinnamon I wanted to try this apple pecan filling.
I have used yogurt as the egg substitute for preparing the cake. Replaced 3 eggs with 3/4th of a cup of plain yogurt.
The cake turned out to be a great hit at home! The taste and texture were absolutely perfect.
How to make Eggless Apple Pie Cake?
Here are the step-by-step pictorial instructions to make this delicious eggless apple pecan pie cake: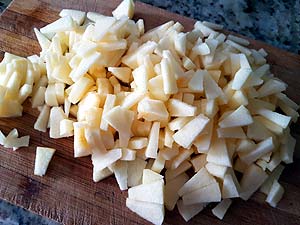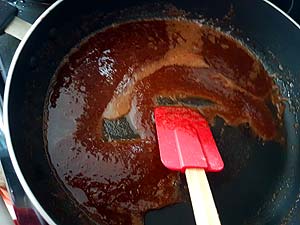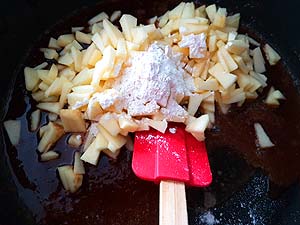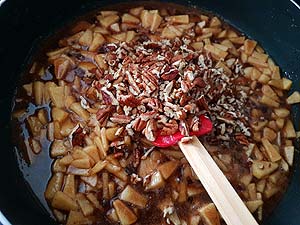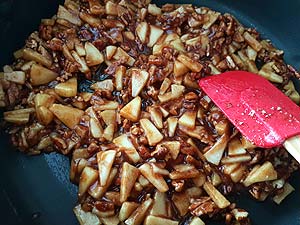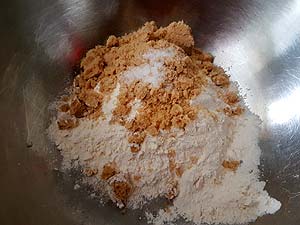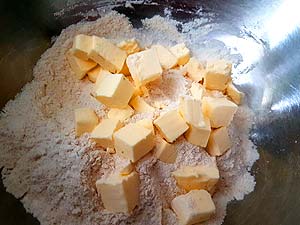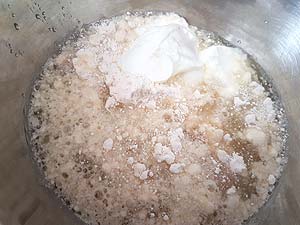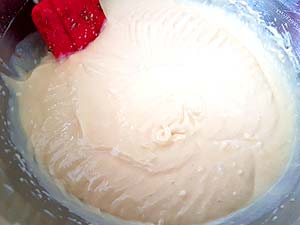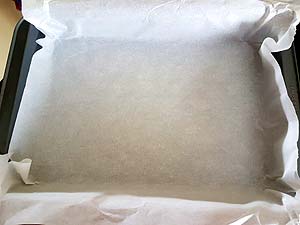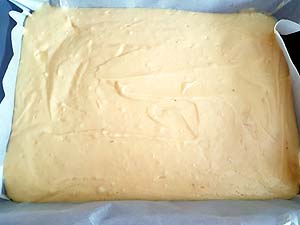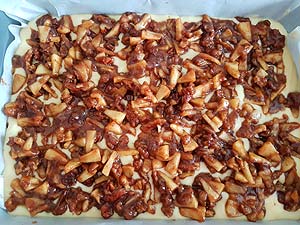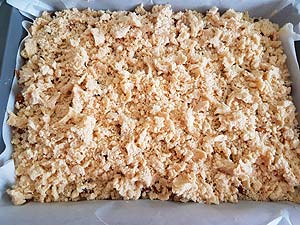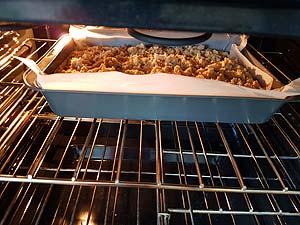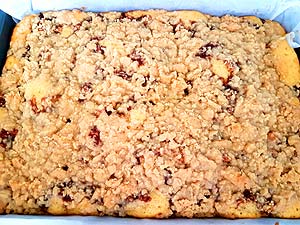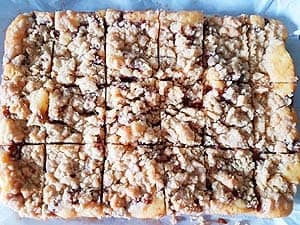 | | | |
| --- | --- | --- |
| Eggless Apple Pie Cake Recipe | | |
| Prep Time | Cook Time | Makes |
| --- | --- | --- |
| 30 Mins | 40 Mins | 18 Mins. |
| Author | Category | Method |
| Madhuram | Cakes | Baking |
This eggless apple pie cake recipe will be a great addition in your recipe box whenever you want to bake something fancy yet quick, easy and feed a crowd.

Ingredients:
Apple Pie Filling Mixture:
1/2 cup

unsalted butter

3 cups

finely chopped apple (2 medium-size apples)

3/4 cup

brown sugar, lightly packed

1 tablespoon

ground cinnamon

1 tablespoon

all-purpose flour

1 cup

chopped pecans
Topping:
1 cup

all-purpose flour

1/2 cup

packed brown sugar

1/4 teaspoon

salt

1/2 cup

unsalted butter, cut into small pieces
Cake:
1 box

yellow cake mix (468 gm)

1 and 1/3 cups

water

2 tablespoons

sunflower oil

3/4 cup

plain yogurt
Procedure:
For Filling:
In a large non-stick pan over medium-high heat melt the butter, then add the apples, brown sugar, cinnamon, and flour. Bring mixture to a simmer stirring gently.
Bring the mixture to a simmer. Lower heat and simmer 5 minutes. Remove from heat and stir in the chopped pecans. Leave it to cool.
For Topping:
In a medium bowl, add the flour, sugar, and salt. Cut in the cold butter cubes using a pastry blender until you have a crumbly mixture.
For Cake:
Preheat oven to 350F/180C (325F/160C for dark non-stick pans). Line the pan with parchment paper with some extra hanging on the sides so that lifting the cake will be easy.
In a large bowl add the ingredients listed under the cake and using a handheld beater beat well until the batter is smooth and creamy.
Pour the batter into the prepared pan. Spread the apple filling mixture on top of the batter. Sprinkle the topping evenly on top of the apple filling.
Bake 35-45 minutes or until a toothpick inserted in the center of the cake comes out clean. (See My Notes)
Remove the pan from the oven and place it on a cooling rack. Leave the cake undisturbed for about 30 minutes and then take it out of the pan using the parchment paper to lift it easily. Place it on the cooling rack for another 15-20 minutes before slicing it. If you prefer to serve it warm with cold ice cream you can do so but you might face issues getting perfectly shaped slices.
Taste:
This apple pie cake was a super-duper hit at home. It was soft, moist and decadent. The tons of butter I have used didn't hurt the taste but will, of course, hurt our hips!
My Notes:
The original recipe instructs to mix 6 slices of apple with a minimal quantity of brown sugar and cinnamon for the filling portion. But I had a different idea. Sometime earlier I had come across a recipe for sticky apple pecan cinnamon buns and I wanted to try using that apple pecan filling in this recipe. That recipe called for 1/4 cup of butter but I felt that it was not enough when it started melting and mixed with the apples and brown sugar, so I added another 1/4 cup of butter to make the apple pecan filling for this eggless apple pie cake.
Also, the original recipe mentions baking for 30-35 minutes. I set the oven for 35 minutes and when I did the toothpick test and the cake was not done. The toothpick had some batter sticking on it. I was not sure if it was the too much butter I had used in the filling or actually the batter. I was a bit worried that it was going to be more like pudding than cake but set the oven for another 10 minutes hoping that I would get a decent cake. When I did the toothpick test after 45 minutes it came out clean. So removed the pan from the oven and after about an hour or so when I sliced I got beautiful, neat slices of apple pie cake.
Nutrition Facts
Eggless Apple Pie Cake Recipe
Amount Per Serving
% Daily Value*
Potassium 90mg2%
Total Carbohydrates
45.8g
17%
* Percent Daily Values are based on a 2000 calorie diet.


Try this recipe, click a pic and hashtag it #egglesscooking - Proudly showcase your creations on Instagram, Facebook & Twitter!