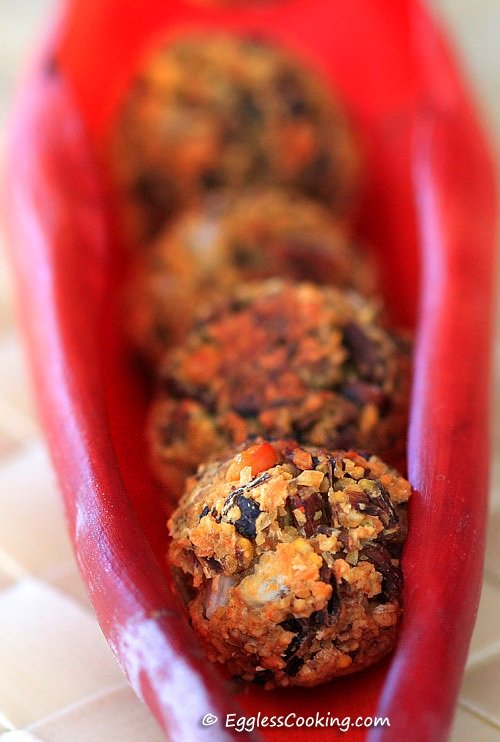 Back when I was in India before my marriage I rarely cooked because my grandmother and mother took care of it. I knew few basics like kootu, rasam and some poriyal (dry curry), so that was enough to help them out occasionally but certain things I did not know. One such thing is the procedure for cooking banana flower (vaazhai poo). Although my grandmother used to make usili and poriyal out of it I never bothered to learn how to prep the flower for cooking. After coming to US I did not see it in the local markets so I literally forgot that such a thing existed.
Last summer we went to New Jersey to see Dasavatharam. Yes, we drove 2 hours to watch that movie because my DH is a movie-enthusiast (that's my "good" me trying to sound poise but actually biting my teeth!). That experience by itself should qualify for another post of ranting. Anyway the only good thing from that trip (at least for me) was the visit to the Indian grocery stores there. I felt like I was in India and was so excited to see all the vegetables and greens, the variety of of flours, grains and nuts and more all laid out neatly. You should have seen the look in my face! For those of you who have come to NJ directly from India, you cannot relate to me, because in the place where I used to live (suburbs of Philly) we didn't have that many desi stuff and choices. I was so excited that I was asking my husband to look for a job in NJ and I started looking for apartments too. Really, I'm not kidding. So we (read it as I) literally filled up the car trunk with groceries and veggies including the exotic banana flower.
I didn't know how I was going to cook it but bought it anyway. Most of my purchases are like that only since I started this food blog! With the help of technology I learned how to prep it. No, no, no I did not Google it. I video chat with my mother everyday, so I had the banana flower in front of me and she was giving me the instructions. So finally it was done. My goodness it's a lot of work and takes so much time. (The how to's in another post.) She also had asked me to soak the chopped flower in buttermilk with little turmeric powder mixed to it, so that it would remove some of the bitterness. Yes, it's slightly bitter (thuvarpu in Tamil). Did everything as she said (a teaspoon of sugar can also be added while cooking) and prepared usili the next day as usual and it tasted so good, worth the trouble taken to prep it.
Fast forward one year, I'm in Canada now and happened to see banana flower in the store here. Brought it home with the same excitement, sat down patiently to prep the flower, chopped it and made the poriyal (dry curry) which my grandmother used to make, tasted a spoonful and yuck! It was so bitter and I was wondering what I did wrong. After talking with my mother I realized that I did not soak it in buttermilk this time. I tried every possible trick to make it right, but the bitterness was like a tough grease on a pan, it would not go. Even the thought of throwing it away was making me feel very guilty. It's not that I have not thrown away anything but to throw something as healthy as this and also after spending so much time on preparing it, it did not feel right. So I was just moping around until I saw the lentils I had soaked to prepare usili for the following day's lunch. Aaha! the light bulb went on!
I'm sure you would have guessed it by now. Vaazhaipoo vadai (banana flower patties) is the solution. Though I have heard about these vadais we have not prepared it in our home and I have not tasted it elsewhere too. Proceeded anyway because I know that anything deep fried in oil will definitely taste good!
Ingredients and Procedure:
So took about 1 cup of the soaked lentils (approximately 3/4 cup of chana daal, 1/4 cup toor daal and masoor dal or red lentils together ), drained the water and processed it in a food processor with 1 red chili and mixed the banana flower curry and finely chopped onions with the lentil batter. I even fried one batch of vadais and that's when another idea came. Why not bake it instead? I have seen a couple of recipes for baked falafel, so decided to give that a try and it worked too! Yay!
Preheat the oven at 375F for 15 minutes. Line a baking sheet with aluminum foil and coat it with cooking spray. Take a ping pong ball size of dough, roll it between your palms and place it on the baking sheet. You can either flatten it or leave it as it is. Repeat the same for the entire dough and spray the tops with non stick cooking oil spray and bake it in the oven for 18-20 minutes or until its golden brown. Check once in between and you may flip the patties. The only thing to be noted is that while grinding the lentils, be sure that the water is drained completely and sprinkle water little by little if necessary. If you add too much water, you will not be able to handle the dough and you would have to add rice flour or corn starch to bind it.
Surprisingly the oven baked vadais were crisp too. Crisp on the outside and soft inside. I had my doubts whether the lentils would be cooked inside because unlike falafel where cooked (canned) chickpeas is used, the lentils in this recipe was not cooked prior to the baking. So if you have that doubt too, don't anymore because it gets cooked. The vadai was not bitter also. It tasted very good the next day too. Of course not crispy as the the first day but definitely tasty.