Hi girls! It was so good to hear from so many of you that you missed my recipes. You won't believe how much of an "ego-boost" it is. It has lifted my morale very much. Thank you all for taking the time to record your comments in the previous post. This week I'm back with another healthy recipe.
Taste of Home's website has sort of become the recipe bible for me these days. I'm browsing for recipes there whenever I find time. The recipes I have bookmarked there is reaching infinity, I would say. The reason I go back there so often is, it works 100%. Unlike other recipe sites where users can submit their recipes and it gets published without being tested, these people only publish recipes which they have actually tested. I think that's why it works out perfect each and every time. If I remember right I have tried the Chewy Chocolate Chip Cookies, Butter Pecan Cookies and Blueberry Coffee Cake recipe from their baking book. I'm unable to choose my most favorite among these 3 because all of them are so good. And these 3 recipes are the recipes which I have baked the most number of times too. Whenever I want to bake something for my friends and family, its mostly one of these 3 recipes. I can swear that these 3 recipes were the easiest ones I have ever baked but gives the best results one could possibly expect. Actually it will fare so well beyond your expections and I'm not exaggerating here.
With so much good experience with their recipes, I was super excited to try this Blueberry Oats Cake recipe from their website. It had loads of healthy ingredients like fresh blueberries, oats and walnuts. It was also mentioned that it was a "contest winning recipe". So I was very confident that I had found yet another gem from that site. Was I right?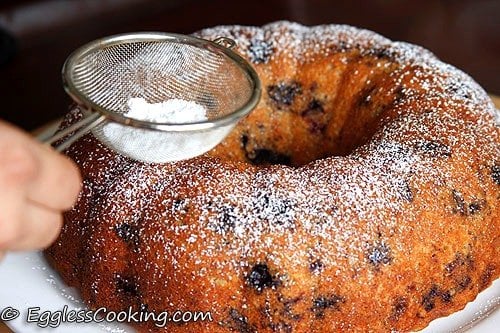 Hmm..If I say I would give a 10 out of 10 for the 3 recipes I have mentioned above, I think I would give a 6.5 out of 10 for this recipe. Maybe my rating would change if I make some minor alterations like using a 13×9 inch pan instead of a bundt pan and increase the quantity of sugar. I'm talking about the pan size because the bundt pan gives a very dense slice of cake. The cake was moist and heavy; not light and fluffy at all in-spite of adding vinegar and increasing the quantity of baking powder. Also the sweetness was very mild even for us. So if you have a sweet tooth maybe it would feel like you didn't add sugar at all in the batter. Interestingly my son loved it so much that he had this for breakfast everyday and I really didn't feel guilty at all giving it to him. My husband who is very conscious about the consumption of sweets, he himself told that it required some more sugar. So I guess this blueberry cake gets a mixed review.

| | | |
| --- | --- | --- |
| Blueberry Oats Bundt Cake Recipe | | |
| Prep Time | Cook Time | Makes |
| --- | --- | --- |
| 15 Mins | 50 Mins | One bundt pan |
| Author | Category | Method |
| Madhuram | Cakes | Baking |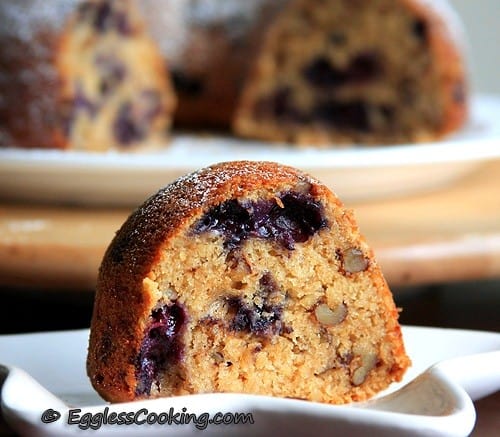 A healthy cake recipe loaded with anti-oxidant rich fresh blueberries, quick cooking oats and walnuts.

Dry Ingredients:
2 cups

All Purpose Flour

1 cup

Brown Sugar

2 and 1/4 teaspoons

Baking Powder

1 teaspoon

Baking Soda

1 teaspoon

Ground Cinnamon

1/2 teaspoon

Salt

2 cups

Oats (quick cooking)

2 cups

Fresh or frozen blueberries

1 cup

Chopped Walnuts (optional)

For Dusting

Confectioners sugar
Wet Ingredients:
1/2 cup

Unsweetened Applesauce

2 cups

Buttermilk

1/2 cup

Canola Oil (you could use vegetable oil too)

1 tablespoon

Vinegar
Procedure:
Preheat oven to 375F/190C for 15 minutes. Lightly grease and flour a bundt pan.
In a large bowl whisk together the wet ingredients and the brown sugar.
In another bowl combine together the flour, baking powder, baking soda and salt. Add this to the wet ingredients gradually until blended.
Fold in the oats, blueberries and walnuts.
Transfer the batter to the prepared pan and bake it for 45-50 minutes. Mine was done around 42 minutes itself. I tested for doneness using a tooth pick and also saw the cake pulling out from the sides of the pan.
Leave the pan undisturbed for 10 minutes and slowly invert it on a wire cooling rack to cool it down completely.
Dust the cake with confectioner's sugar.
My Notes:
As mentioned above I would use a different pan when I try this recipe the next time. I would either use a tube pan as mentioned in the original recipe or a 13×9 inch pan. If using a 13×9 inch pan the baking time would be somewhere around 25-30 minutes. So please keep this in mind if you are using a different pan size.
I would also increase the quantity of sugar to 1 and 1/3 cups or 1 and 1/2 cups.
If using frozen blueberries do not thaw it otherwise the color will start bleeding and you will have a blue cake.
I used cinnamon flavored applesauce so I did not add the cinnamon mentioned in the recipe.

Nutrition Facts
Servings: 15
Per Serving
% Daily Value*
Calories

283

Total Fat

13.4g

21%
Saturated Fat

1.2g

6%
Trans Fat

0g

Cholesterol

1mg

0%
Sodium

202mg

8%
Potassium 261mg
7%
Total Carb

36.2g

12%
Dietary Fiber

2.8g

11%
Sugars

13.9g

Protein

6.4g

Vitamin A 0% – Vitamin C 6%
Calcium 9% – Iron 11%

Try this recipe, click a pic and hashtag it #egglesscooking - Proudly showcase your creations on Instagram, Facebook & Twitter!