Hailing from India, plantain chips is not new to me, but I was unaware that we could make it fat free by baking plantain chips! Boy oh boy! Was I in for a huge surprise after trying the baked plantain chips recipe from my friend's blog a couple of years ago! Unfortunately she doesn't blog anymore and the blog is no longer online. I picked up quite a few healthy recipes and fitness tips from her blog.
Before I knew this recipe I used to wonder what to do with plantains when I saw it in the grocery stores. My husband being a healthy conscious person I knew he wouldn't eat plantain chips if I made it in the traditional way of deep frying it in oil. So I never bought it.
Fortunately one of those lousy afternoons when I was bored and didn't have nothing much to do landed upon the baked plantain chips recipe. Seeing the picture in that blog I couldn't believe my eyes! The chips looked thin, crispy and very delectable. I couldn't wait to try the plantain chips recipe.
I bought plantains in our next grocery trip and got straight into the baked plantain chips making process. Did a couple of batches to master the right size to be sliced for each chip. It should be neither thick nor too thin. If it's thick it will take lot more time and may not get crispy evenly either. On the other hand if the slice is too thin, you may end up burning it if you are not alert. Once you master that then there is no going back to deep fried plantain chips. You would prefer baking plantain chips over the former. Not only that you will also start experimenting the same procedure with other firm vegetables too. I know because I did!
I have tried it with raw banana, potato, bottle gourd. I have always wanted to try it with beets and carrots. Maybe one of these days I will.
If you are looking for a similar healthy snack recipe you should try the oven roasted chickpeas recipe. Easy to make, big on taste and healthy too.

| | | |
| --- | --- | --- |
| Baked Plantain Chips Recipe | | |
| Prep Time | Cook Time | Makes |
| --- | --- | --- |
| 25 Mins | 25 Mins | 5-6 cups of plantain chips |
| Author | Category | Method |
| Madhuram | Snacks/Appetizers | Baking |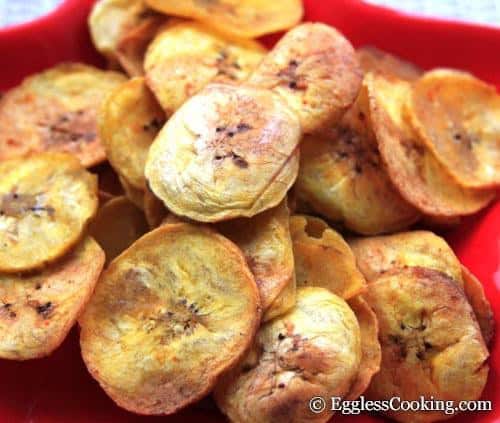 If you are wondering how to make plantain chips the healthy way, this baked plantain chips recipe is the answer. Healthy doesn't have to mean "not tasty" anymore!

Ingredients:
3 medium size

plantains or raw bananas, peeled/unpeeled

4 tablespoons

coconut oil

salt/red chili powder/black pepper

as per taste
Procedure:
Pre heat the oven at 425F/220C for 15 minutes. Line a big cookie sheet with aluminum foil or parchment paper.
Meanwhile in a large bowl whisk together the oil, salt and seasonings. Stir in the sliced plantain and coat it well with the spice rub.
Spread the sliced pieces onto the baking sheet and bake for about 20-25 minutes, flipping it once in the middle.
Taste:
The taste and texture of these baked plantain chips is exactly same as that of those fried in oil. Using coconut oil makes it even better.
My Notes:
The first time I made these, I cut the slices thicker, so it took around 30 minutes and it baked evenly. But this time I made it very thin, so it was getting burnt very soon. I think I should have reduced the oven temperature.

Try this recipe, click a pic and hashtag it #egglesscooking - Proudly showcase your creations on Instagram, Facebook & Twitter!