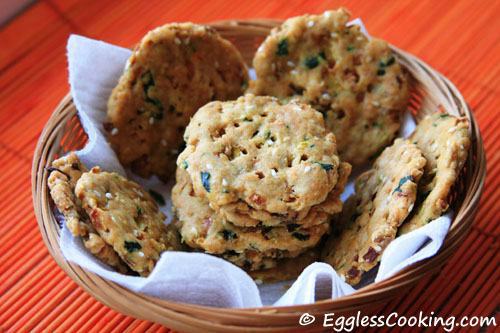 Happy Ugadi to those who celebrate Ugadi! Even though I bake a lot of sweet stuff I usually prefer savory snacks. So when Red Chillies (RC) posted a recipe for savory onion crackers (nippatu) I wanted to try it immediately. She had prepared this from Ramya's blog. So I would like to thank both of them for this awesome recipe. RC mentions that Nippatus are very famous in Bangalore but I have never heard of it until now, even though there are a lot of Bangalore Iyengar bakeries in Chennai, where I grew up.
The procedure for making/baking these cookies is as simple as kneading dough for rotis but the taste is too good for such a simple process. The taste is really addictive. These crackers have a melt-in-your mouth texture and you can't stop with even 2 or 3.
I made two batches of the recipe as in RC's blog. I was sending it with my husband (who was traveling to India) for my mother and in-laws. Everybody there loved it so much. I wish I remember how many crackers I got for the 4 cups of flour I used! It definitely made a huge batch of cookies. I made one batch at a time.
I wanted to try substituting half the flour with whole wheat flour but did not want to mess it up. So I will be trying it the next time. I would also try reducing the amount of oil and butter.
Changes I made:
1. Used red chili powder instead of green chillies, white onion instead of red onion.
2. Also I used "I Can't Believe It's Not Butter's" cooking and baking blend instead of real butter. The ICBNB has 50% less saturated fat than butter, and 0mg cholesterol.
3. I didn't use the entire 1/4 cup of warm water mentioned in the recipe. Use little by little as needed.
4. I omitted the sugar too.
This is my entry for this month's MBP – Snacks and Savories event hosted by Ashwini. MBP originally created by Coffee.