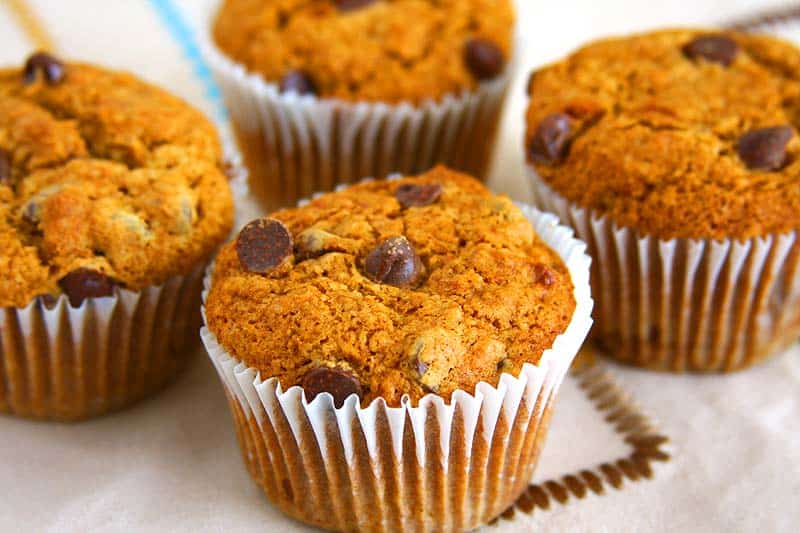 Banana Mocha Chocolate Chip Muffins: I have always had great success baking with bananas and blueberries. The huge collection of banana recipes and blueberry recipes here in the blog can vouch for that.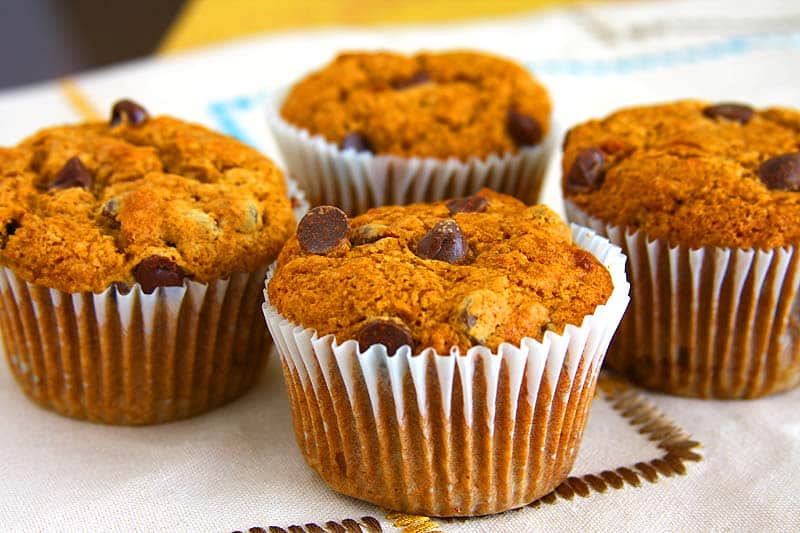 Sometimes when I have overripe bananas at home I think that I have done it all and there can't be any more recipes to bake using banana, and yet I find something just like this banana mocha muffins.
I'm neither a coffee addict or coffee hater. Back in India, I used to have 2 cups of coffee every day, one in the morning and one in the evening. After moving to the US that slowly reduced and now it's maybe once or twice a week.
I have used coffee powder in some of my baking recipes especially the ones which are chocolate based because I read that it brings out the flavor of chocolate.
The first time I saw it was in a chocolate cake recipe, and I was very hesitant whether to follow it or not.
It was going to be the very first birthday cake that I was baking for my eldest who was just three then and who wasn't exposed to coffee. I was wondering if it was okay for him to eat that cake, will it give him the jitters, etc.
After further reading, I was assured that the amount of coffee was so negligible that even if one eats the entire cake one may not get jitters from the coffee but a sugar rush from all the sugar in the cake and the frosting.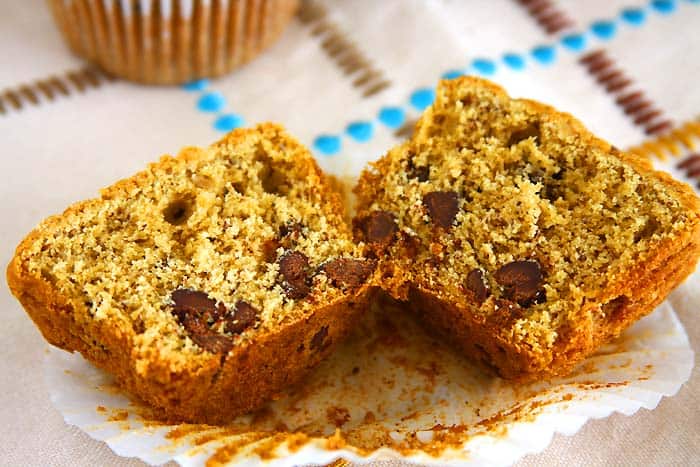 The first cake that I made is the best cake till date and it's the eggless chocolate cake I had made using silken tofu as an egg substitute.
Ever since I have used small portions of coffee in some of my recipes and they have all tasted great. So when I stumbled upon this banana coffee muffin recipe, I had to give a try because I haven't used the combination of banana and coffee.
The chocolate cakes/brownies I have baked so far were predominantly chocolate flavored, and the coffee I used did not overpower the chocolate flavor.
However, these muffins didn't have chocolate except for the chocolate chips so I wasn't sure how much of a coffee flavor would be ok for me. I used four teaspoons of instant coffee granules instead of 5 mentioned in the original recipe.
These mocha banana muffins were perfect. I got a hint of the coffee flavor, and it didn't mask the banana flavor. We were able to tell that it was a banana coffee combination and it was heavenly.
Start your day with a mild coffee jolt from these moist, flavorful banana mocha muffins. The flavor of coffee is present yet subtle which tickles your tongue and the brain for a lovely day ahead.
How To Make Banana Mocha Chocolate Chip Muffins?
Here are the step-by-step method to make these delicious banana mocha muffins.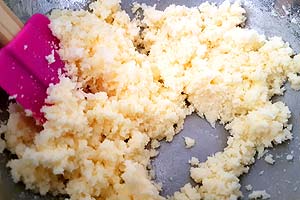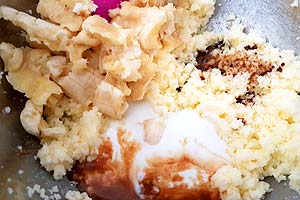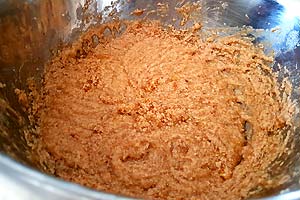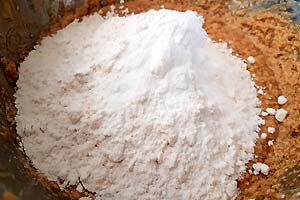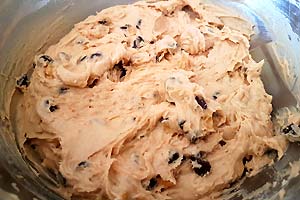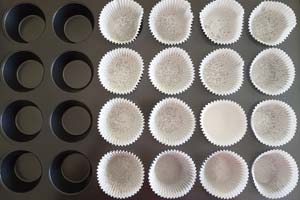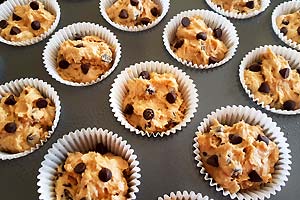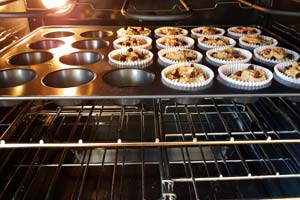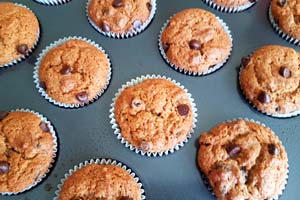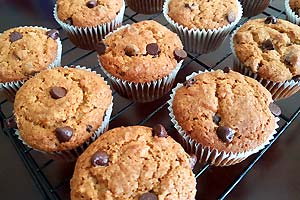 | | | |
| --- | --- | --- |
| Banana Mocha Chocolate Chip Muffins Recipe | | |
| Prep Time | Cook Time | Makes |
| --- | --- | --- |
| 20 Mins | 24 Mins | 15 Muffins |
| Author | Category | Method |
| Madhuram | Muffins | Baking |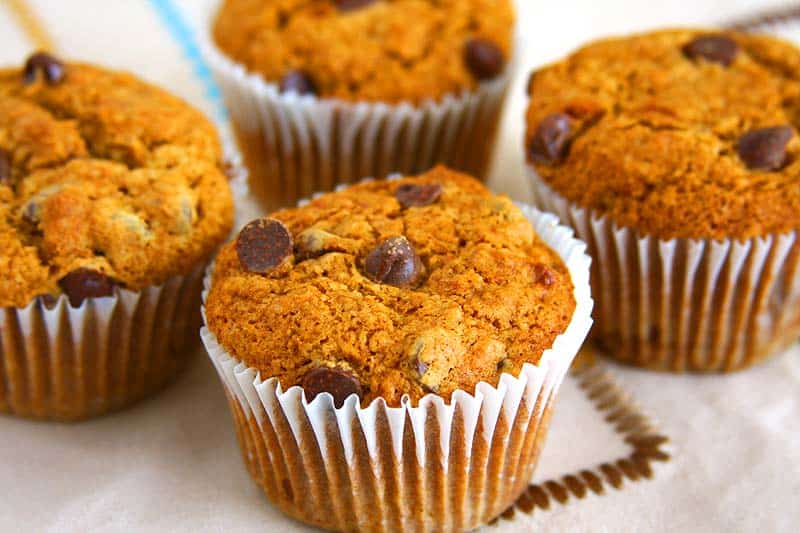 Start your day with a mild coffee jolt from these moist, flavorful banana mocha chocolate chip muffins. The flavor of coffee is present yet subtle which tickles your tongue and the brain for a lovely day ahead. Flax egg will also work as a good egg substitute in this recipe. Whole wheat flour can be used as well.

Ingredients:
4-5 teaspoons

instant coffee granules

5 teaspoons

hot water

3/4 cup

softened butter (unsalted)

1 and 1/4 cups

granulated sugar

1/4 cup

buttermilk (for 1 egg)

1 and 1/3 cup

mashed banana

1 teaspoon

vanilla extract

2 and 1/4 cups

all-purpose flour

1 and 1/2 teaspoon

baking powder

1 teaspoon

baking soda

1/2 teaspoon

salt

1 and 1/4 cup

semi-sweet chocolate chips

1-2 tablespoons

milk/water (optional)
Procedure:
Preheat oven to 400F. Line muffin tin/s with paper liner and lightly grease it with non-stick cooking spray.
In a small bowl, dissolve coffee granules in hot water and set it aside. I used 4 teaspoons of coffee powder instead of 5 mentioned in the original recipe.
In a large bowl, cream butter and sugar until light and fluffy. Add buttermilk; beat well.
Beat in bananas, vanilla and coffee mixture.
Combine flour, baking powder, baking soda and salt; add to creamed mixture just until moistened.
Fold in chocolate chips.
Fill paper-lined muffin cups two-thirds full. Bake for 12 minutes at 400F and reduce the temperature to 350F and bake for another 12 minutes or until a toothpick inserted in muffin comes out clean. Cool 5 minutes before removing from pans to wire racks.
My Notes:
Next time I bake these banana coffee muffins, I will use the 5 teaspoons of coffee granules.
You may want to add a few teaspoons of water or milk depending upon the consistency of the muffin batter.
I got only 15 muffins as against the 2 dozen mentioned in the original recipe. Don't know why.
Recently I made a pineapple carrot muffin recipe which was a bakery recipe and saw that they bake muffins at a higher temperature for a couple of minutes and then lower the temperature and finish baking it and that gives a nice dome like and slightly crunchy topping and brownness to the muffins. Ever since I have started following that tip while baking muffins and it's awesome!

Nutrition Facts
Servings: 15
Per Serving
% Daily Value*
Calories

161

Total Fat

1g

1%
Saturated Fat

0.5g

2%
Trans Fat

0%

Cholesterol

1mg

0%
Sodium

175mg

8%
Potassium 77mg
2%
Total Carb

36.6g

13%
Dietary Fiber

1g

3%
Sugars

19.1g

Protein

2.4g

Vitamin D 0mcg – 0%
Calcium 13mg – 1% | Iron 1mg – 6%

Try this recipe, click a pic and hashtag it #egglesscooking - Proudly showcase your creations on Instagram, Facebook & Twitter!