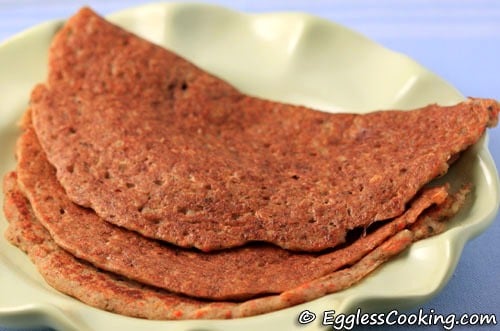 Adai is my favorite tiffin for 2 reasons. Unlike dosa batter this does not need fermentation and one can come up with different varieties of healthy adai recipes.
In general adai is also a savory crepe like dosa, but the ingredients are different. Dosas are made with a combination of white par boiled rice, white raw rice and urad daal, whereas adais are made with rice, channa daal and toor daal and also spiced with green and red chillies. Adai can be prepared as soon as the batter is ready.
For the past couple of months I have been substituting brown rice for white rice to prepare Brown Rice Pongal and Brown Rice Bisi Bela Bath.
Another dish is adai and I feel that adais with brown rice tastes better than ones with white rice. I have also been using a mixture of beans (like pinto, soy, black beans, kidney beans) instead of the regular daals for preparing adais. So this time I thought why not combine brown rice and these beans to prepare adais.
In the US you can find this ready made mix of legumes in the canned beans section. It's called the 16 beans mix, which is used to make beans soup . You can simply use any combination of beans you have at home. I also had some barley, so added that too. The adais tasted very good.
Something very funny happened at home the day I prepared these. While watching TV if some ad shows up for some meat/seafood stuff, my son asks me whether we can eat it and I tell him we cannot eat it because it is "non-vegetarian". This has been happening for about a month now and he knows that we can't eat anything "non-vegetarian".
The day when I prepared these adais, I gave him. As usual he did not like it and I was coaxing him to eat few bites. He gave me an answer which I didn't least expect. He told me that "it's non-vegetarian and we should not eat it". That was unbelievable! I was wondering whether we were as smart as these children when we were younger. At least I was not!

| | | |
| --- | --- | --- |
| Brown Rice & 16 Beans Adai Recipe | | |
| Prep Time | Cook Time | Makes |
| --- | --- | --- |
| 8 Hrs (Soaking Overnight Time) | 20 Mins | 10-12 Crepes |
| Author | Category | Method |
| Madhuram | Tiffins/Main-Course | Fermenting/Cooking |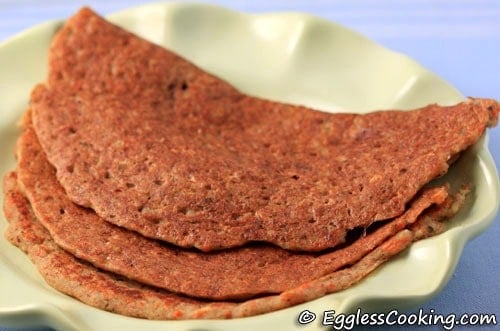 Healthy adai recipe using brown rice, barley and 16 beans.

Ingredients:
1 cup

Brown Rice

1/4 cup

Barley (I used Pearled Barley)

1 cup

16 Beans Mix

2 and 1 or as Aer Taste

Red & Green Chillies

1-2 tablespoons

Grated Ginger

As Per Taste

Salt

1/5 cup

Grated Coconut OR Finely Diced Onions
Procedure:
Wash and soak the brown rice, barley and chillies together and the beans separately in water overnight. I was going to prepare adais for the next day's dinner.

In the evening next day drain both the rice and the beans separately in a colander and reserve the water.
In a blender/Indian Mixie first take a small portion of the rice, chillies and grated ginger and grind it until the chilies are finely ground. Then add the soaked beans, remaining rice, little water and grind it until you get a coarse batter.
Add water little by little as necessary while grinding the rice and beans because if too much water is added the ingredients will not be ground properly and evenly. If using coconut, it can either be blended together with the rice and beans or you can simply mix it after transferring the batter to a bowl.
Unlike dosa batter which is very smooth the batter for adai should have the texture of semolina/sooji.
Transfer the batter from the blender to a large bowl and add salt; mix thoroughly. Now you may also add the finely chopped onions, if using.
Heat a non stick tava or an iron griddle (preferred for adai).
Once the pan is hot enough take about 1/3rd cup of batter in a ladle and add it to the center of the tava and spread it thin using the back of the ladle. Add ghee/oil/ around the crepes and flip it to the other side. I spray the crepes with non stick cooking spray instead of using ghee/oil. Once it is cooked on the other side too it is ready to eat.
My Notes:
In my cooking I use a combination of red and green chillies because it gives a very good flavor to the dish.
My mother found this brilliant idea of replacing coconuts with carrots in most of the dishes, especially if you are grinding some masala. Simply replace grated coconuts with grated carrots and increase the quantity of chilies and the dish tastes great. So I decided to use finely shredded carrots instead of coconut in this adai. The adai tasted great. But just make sure that you use 1 or 2 extra chillies otherwise it would be sweet.

Try this recipe, click a pic and hashtag it #egglesscooking - Proudly showcase your creations on Instagram, Facebook & Twitter!

This is my entry for: My Legume Affair hosted by Srivalli. The even originally created by Susan.