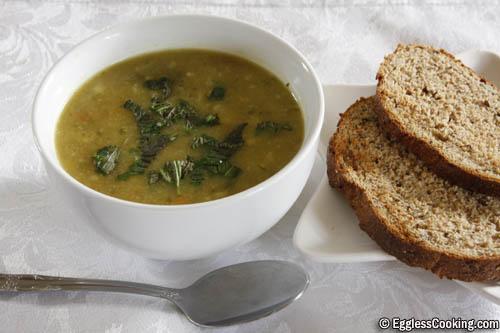 Zlamushka of Burnt Mouth (Tried and Tasted) has come up with this brilliant idea of visiting one blog every month and cooking from that blog.
This month it's Nupur's, One Hot Stove.  Since I have started "Your Recipe Rocks" event, where we have to cook a non-rice wholesome food, from another blog, I chose to make this Spicy Cauliflower Soup.  Also, cauliflower is my husband's favorite vegetable and I have not tried a soup out of it.
If cauliflower is your favorite vegetable and you are looking for more recipes, then try this oven roasted cauliflower recipe.
I did not have red pepper flakes, so I substituted it with half a red chili, dry roasted it with the cumin, coriander seeds and powdered it.  Other than that I did not make any changes to the original recipe.  The soup was very tasty.
Originally this soup is from a book, "The Art of Simple Food" by Alice Waters.  Nupur thank you very much for introducing us to such a wonderful recipe.  We all loved it absolutely and I'm gonna keep making it regularly.