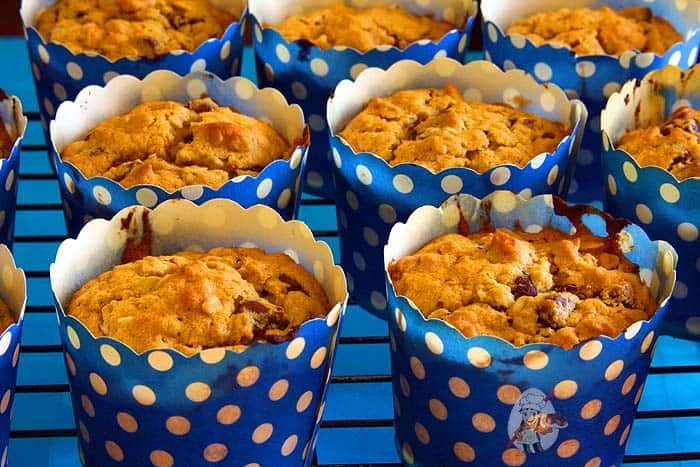 Who here doesn't like chocolate chip muffins? I think every baker has a classic chocolate chip muffin recipe in their collection which they bake regularly.
For me, it was this vegan chocolate chip muffin recipe. As much as I like this muffin recipe I always do some slight modifications every time I bake it like adding some nuts, dried fruit, etc.
This time I wanted to try adding significant quantity of oats but was wondering how it will turn out so did a search for chocolate chip oatmeal muffins in my favorite website and landed in this recipe.
It looked pretty simple to bake and had very good reviews, so instead of tinkering my vegan chocolate chip muffin recipe, I thought of giving this chocolate chip oatmeal recipe instead.
I had 2 big packs of rolled oats which I had bought to make homemade granola and had lots of leftover oats after making 2 big batches of granola so I doubled the recipe for the chocolate chip oatmeal muffins.
I also had kefir at home which was nearing its expiry date so used that as an egg substitute instead of yogurt.
The original recipe used all-purpose flour which I switched to whole wheat pastry flour like I always do in most of my recipes.
Even after all these changes, I was pleasantly surprised that these chocolate chip oatmeal muffins turned out to be one of the best muffins I have ever baked!
How To Bake Chocolate Chip Oatmeal Muffins?
Here are the step-by-step instructions on how to make delicious chcolate chip oatmeal muffins from scratch.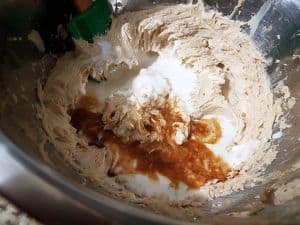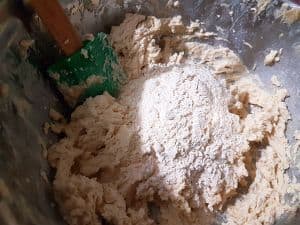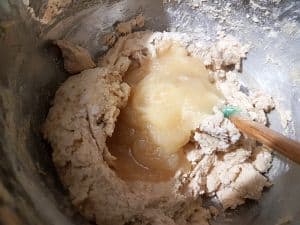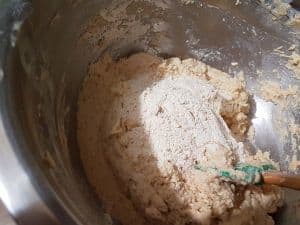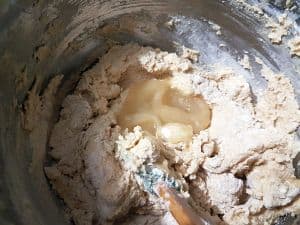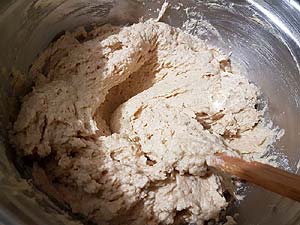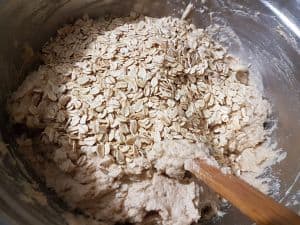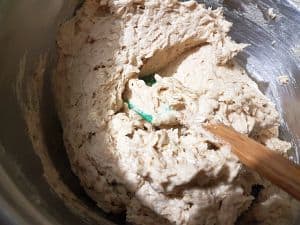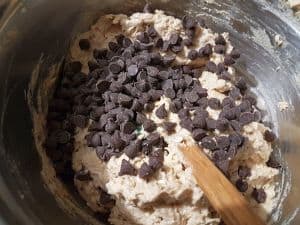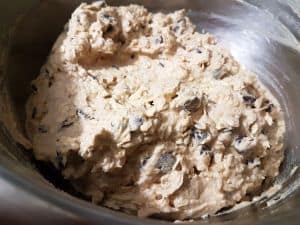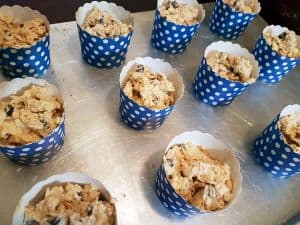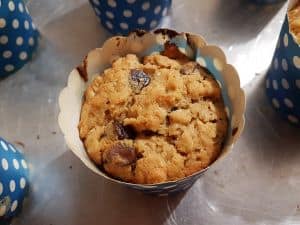 | | | |
| --- | --- | --- |
| Chocolate Chip Oatmeal Muffins Recipe | | |
| Prep Time | Cook Time | Makes |
| --- | --- | --- |
| 20 Mins | 25 Mins | 16-18 Muffins |
| Author | Category | Method |
| Madhuram | Muffins | Baking |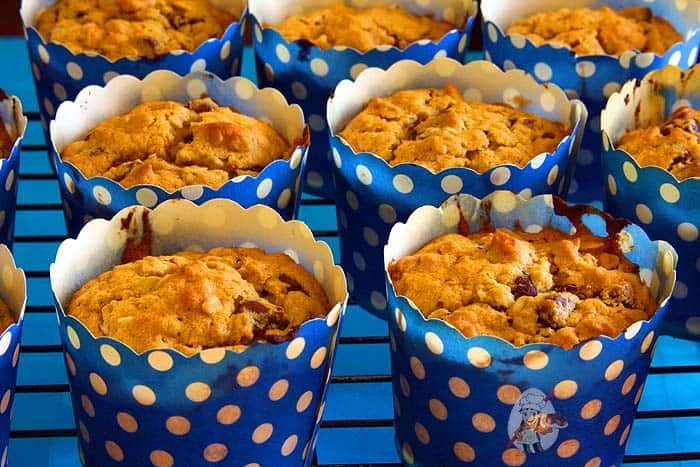 Want to make a wholesome snack at home which has some nutritional benefits yet tastes good and will be liked by the kids? Then this whole wheat, chocolate chip oatmeal muffin recipe should be your "go-to" recipe.

Ingredients:
1 cup

butter, softened

1 and 1/2 cups

brown sugar, packed

1/2 cup

kefir

1 teaspoon

vanilla extract

2 cups

whole wheat pastry flour

1 teaspoon

baking powder

1 teaspoon

baking soda

1/2 teaspoon

salt

1 and 1/2 cups

unsweetened applesauce

2 cups

rolled oats

2 cup

semisweet chocolate chips
Procedure:
Preheat oven to 400F/200C for 15 mins. Line 2 (12 cups) muffin pans with paper liner and grease it lightly with non-stick cooking spray.
In a large bowl, cream butter and sugar until light and creamy.
Add the kefir and vanilla extract.
Combine dry ingredients (flour, baking powder and soda); add alternately with applesauce to the creamed mixture.
Stir in oats and chocolate chips. Fill paper-lined muffin cups three-fourths full.
Bake at 400F for 15 minutes and then reduce the temperature to 375F and bake for another 8-10 minutes or until a toothpick inserted in the center of the muffin comes out clean.
Taste:
This chocolate chip oatmeal muffin had the perfect texture; it wasn't dense and had the perfect sweetness from the chocolate chips.
After years of baking with whole wheat pastry flour, we hardly notice any difference at all as against muffins made with all-purpose flour.
So do give it a try to get some portion of the recommended fiber. If you are still on the fence and worried that you won't like the taste try a combination of all-purpose flour and whole wheat flour.
My Notes:
I have used 1/2 cup of kefir as an egg substitute for 2 eggs in this chocolate chip oatmeal muffin recipe. You can use the same measurement of yogurt instead. Flax egg is another option. If using flaxseed meal, it would be 2 tablespoons of ground flaxseed mixed with 6 tablespoons of water.
I have tried this recipe using unsweetened applesauce only. Another option could be using mashed banana which will be similar to this Banana Chocolate Chip muffin recipe or pureed pumpkin (vegan pumpkin chocolate chip muffins) or sweet potato.
Nutrition Facts
Chocolate Chip Oatmeal Muffins
Amount Per Serving
% Daily Value*
Potassium 104mg2%
Total Carbohydrates
52.6g
19%
* Percent Daily Values are based on a 2000 calorie diet.


Try this recipe, click a pic and hashtag it #egglesscooking - Proudly showcase your creations on Instagram, Facebook & Twitter!