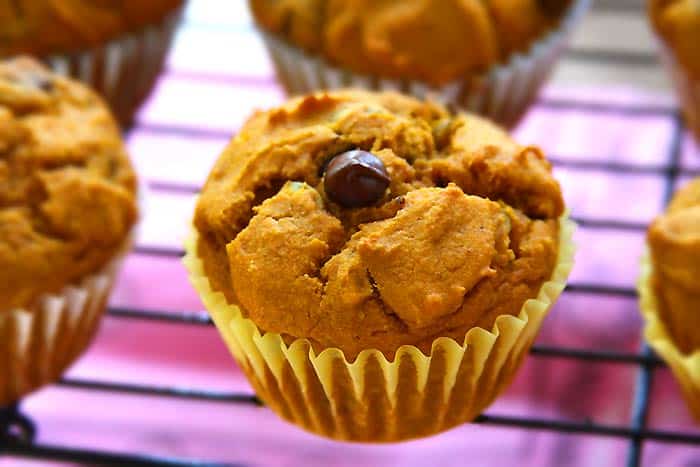 Have you baked whole wheat vegan pumpkin muffins? I hadn't until now. I had some leftover pumpkin puree after I tried a pumpkin biscuit recipe. Wanted to try these biscuits on Thanksgiving day so this was a trial run sort of a thing.
Unfortunately the biscuits didn't turn out good enough to blog about it and I was looking for recipes to use the rest of the pumpkin puree. I already have a couple of pumpkin recipes in the blog including my decadent pumpkin cupcakes, pumpkin chocolate chip cookies and vegan pumpkin cake roll.
I saw a recipe for pumpkin chocolate chip muffins here and I thought that it was a good idea. I took some input from there and combined it with my famous vegan blueberry muffins and came up with this vegan and whole wheat pumpkin chocolate chip muffins. The result was excellent.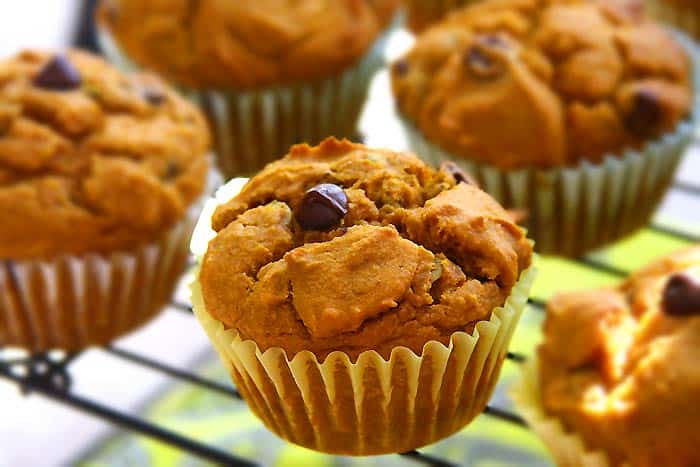 I didn't set out to make it as vegan pumpkin muffins. Just wanted to bake some healthy muffins using the leftover pumpkin puree so started the substitution with the flour. All-purpose flour was used in the original recipe which I wanted to replace it with whole wheat pastry flour.
I have been using whole wheat pastry flour in most of my baking for almost 4 years now and I don't miss all-purpose flour at all. I think it needs quite a bit of time to get used to its taste and flavor.
But once you get used to it you would never go back to using all-purpose flour at least for your regular baking and limit it for special occasion cakes and pastries. So if you want to start incorporating whole wheat flour in your baking recipes do it with whole wheat pastry flour instead of whole wheat flour for better taste and result. These whole wheat pumpkin muffins without eggs is a classic example.
If you are not keen about making vegan pumpkin muffins you can simply make it eggless by substituting dairy milk for the almond milk I have used. Also be sure to use vegan chocolate chips if you want to make it vegan muffins. You can make gluten free pumpkin muffins by replacing the whole wheat flour with a gluten-free baking mix.
In that case I would suggest making it as mini muffins because experience has taught me that when baking gluten-free it works the best as mini muffins like these gluten free banana applesauce muffins.

| | | |
| --- | --- | --- |
| Whole Wheat Vegan Pumpkin Chocolate Chip Muffins Recipe | | |
| Prep Time | Cook Time | Makes |
| --- | --- | --- |
| 20 Mins | 20 Mins | 12 Muffins |
| Author | Category | Method |
| Madhuram | Muffins | Baking |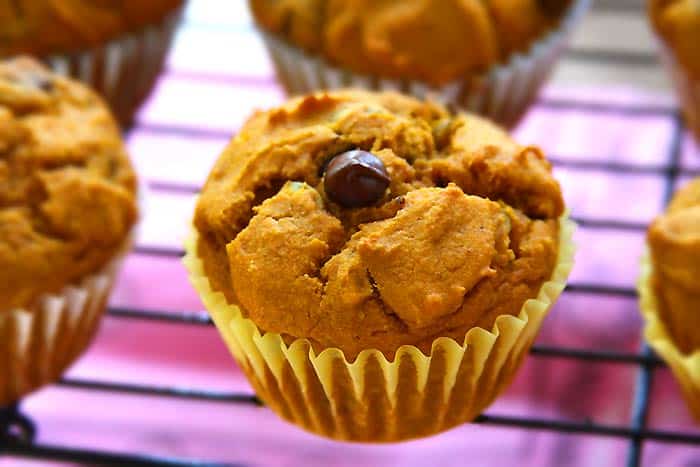 Why don't you adorn this year's Thanksgiving Day breakfast table with the best whole wheat vegan pumpkin muffins! What a delicious way to start the special day!

PART 1:
2 cups

whole wheat pastry flour

1 and 1/2 teaspoon

baking soda

1/2 teaspoon

salt
PART 2:
1 cup

pumpkin puree

3/4 cup

white sugar

1 cup

almond milk

1/3 cup

avocado oil

1/2 tablespoon

apple cider vinegar

1 teaspoon

vanilla extract
PART 3:
3/4 cup

chocolate chips

1/2 cup

pumpkin seeds, toasted
SUBSTITUTES:
whole wheat pastry flour – 1 cup each whole wheat flour and all-purpose flour
pumpkin puree – sweet potato puree
almond milk – any milk of your choice
avocado oil – any oil of your choice
apple cider vinegar – white vinegar
chocolate chips – any dried fruit like raisins, cranberries, etc
pumpkin seed – any seeds or nuts of your choice
Procedure:
Preheat oven at 375F/190C for 15 minutes. Line a 12-cup muffin liner with paper liners or grease it with non-stick cooking spray.
In a medium sized bowl stir together the ingredients listed in Part 2 and set aside.
In a large bowl, stir together the Part 1 ingredients.
Stir in the wet ingredients into the flour mix and combine until just moistened.
Mix in the chocolate chips and pumpkin seeds.
Scoop out about 1/3rd of a cup of batter for each muffin and fill the tin.
Bake for 18-20 minutes or until a toothpick inserted in the middle of the muffin comes out clean.
Remove the pan from the oven and place it on a wire rack to cool for at least 5 minutes. Then take the muffins out of the pan and let it cool completely on the wire rack before storing it.
My Notes:
I got 11 muffins for the recipe but I could have got 12 exactly if I had used less batter. The muffins rose up beautifully. I would say that these pumpkin chocolate chips muffins were the best I have baked so far with respect to the look of it because it rose so well. I think the extra batter made it puff up nicely.
I used pumpkin seeds to make it nut-free so that my son can take it to school. Otherwise my choice would have been toasted walnuts.
Nutritional Information for 1 Muffin
Calories:

317.4


Total Fat:

13.6 g


Saturated fat:

4.4 g


Unsaturated fat:

6.5 g


Cholesterol:

0.0 mg


Total Carbohydrate:

46.6 g

Sugars:

23.9 g


Dietary Fiber:

4.9 g


Protein:

4.2 g


Sodium:

324.4 mg


Potassium:

103.2 mg

Try this recipe, click a pic and hashtag it #egglesscooking - Proudly showcase your creations on Instagram, Facebook & Twitter!