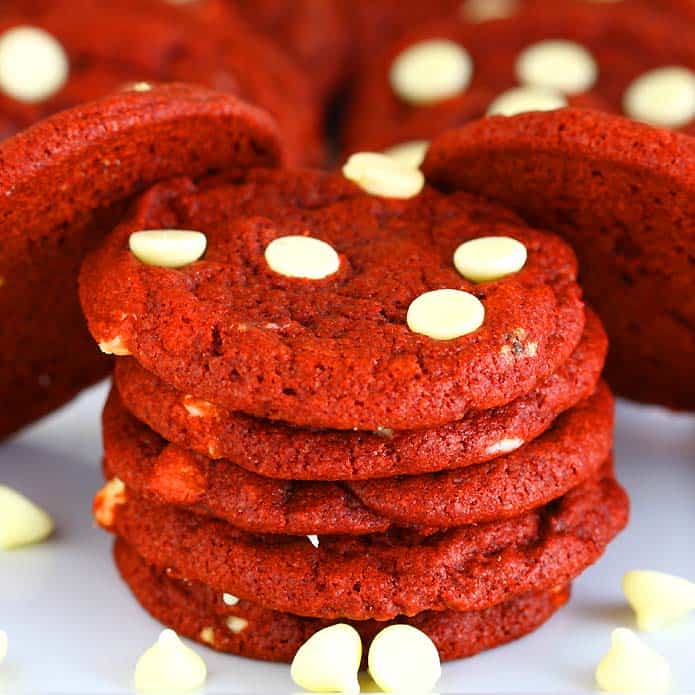 I personally feel that the words "red velvet" itself make any baked treat very special and sexy! Is it just me, or is it like that for everybody, I wonder! Red velvet chocolate chip cookies recipe has been in my "to-try" list like forever!
I have already tried vegan red velvet cupcakes and was very pleased with its appearance and taste. Ever since have bookmarked recipes for red velvet chocolate chip cookies, red velvet doughnuts, red velvet cake, etc.
Being Christmas cookie swap time, I decided to try the red velvet chocolate chip cookies recipe first and the rest later. There were so many recipes, and I had bookmarked two. One was a red velvet chocolate chip cookie recipe from cake mix, and another was from scratch. Since I didn't have cake mix on hand thought of trying the red velvet chocolate chip cookie recipe from scratch.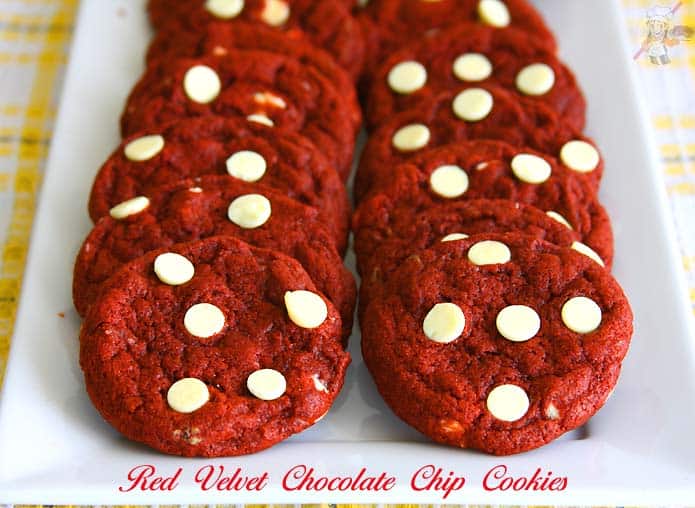 Like any other chocolate chip cookie recipe, these cookies also start with the usual ingredients, the only difference being adding cocoa powder and red food color. Chocolate chip cookie recipes are a huge hit in my house and have tried many variations of it. I was eager to add this red velvet chocolate chip cookie recipe to that list.
As always made some changes to the original recipe to make it egg-free. The only thing I felt missing was the dark red color because I guess I didn't have the correct red food color. I used the gel paste instead of the liquid color, so the red color was not as good as I expected. So get the right color.
How To Make Red Velvet Chocolate Chip Cookies?
Here is the step-by-step pictures on making the simple egg-free red velvet chocolate chip cookies from scratch: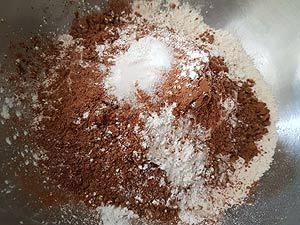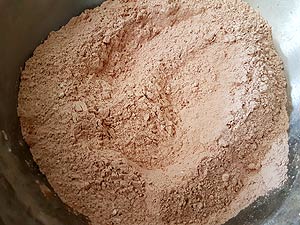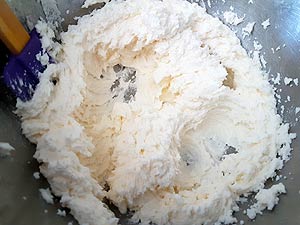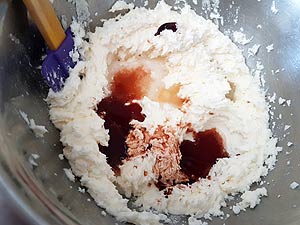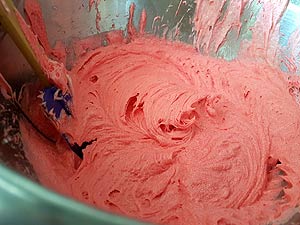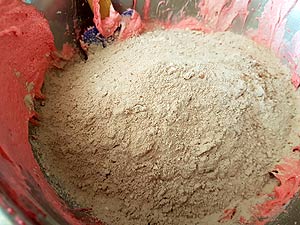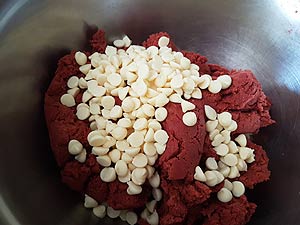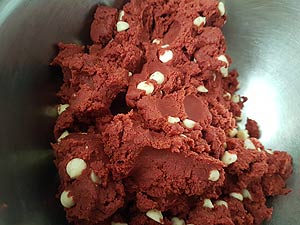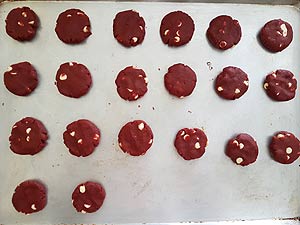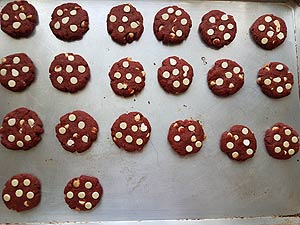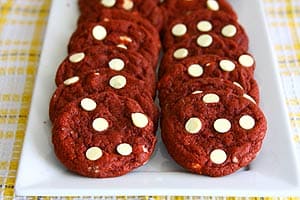 | | | |
| --- | --- | --- |
| Red Velvet Chocolate Chip Cookies Recipe | | |
| Prep Time | Cook Time | Makes |
| --- | --- | --- |
| 15 Mins | 10 Mins + Cooling Time | 24 Cookies |
| Author | Category | Method |
| Madhuram | Cookies | Baking |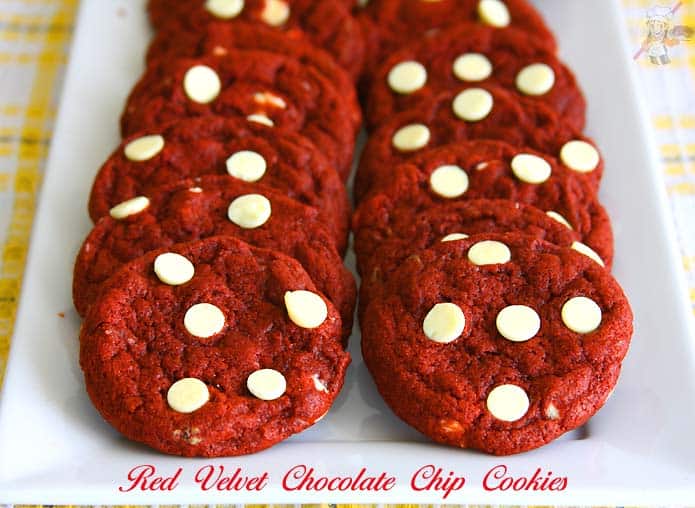 I can assure you that this is the best red velvet chocolate chip cookies recipe. Simple ingredients, easy instructions, yields these gorgeous looking cookies.

Ingredients (Part 1)
1 and 1/2 cups

all-purpose flour

2 and 1/2 tablespoons

unsweetened cocoa powder

1 teaspoon

cornstarch

3/4 teaspoon

baking powder

1/8 teaspoon

salt
Ingredients (Part 2)
1/2 cup

butter, softened

1 cup

granulated white sugar
Ingredients (Part 3)
1 teaspoon

white vinegar

1 and 1/2 teaspoons

Ener-G egg replacer

3 tablespoons

water

1 and 1/2 teaspoons

vanilla extract

1 and 1/2 teaspoons

red food color
Ingredients (Part 1)
3/4 cup

white chocolate chips
Procedure:
In a mixing bowl stir together the flour, cocoa, cornstarch, baking powder, salt and set aside.
In another large bowl beat together the butter and sugar until its light and creamy.
Now add the vinegar, Ener-G, water, vanilla extract, food color and beat well.
Stir in the flour mix into the wet mix and mix well. Stir in about 1/2 cup of the chocolate chips and retain the rest. (See My Notes).
The dough might appear to be sticky, so I would suggest to refrigerate it for at least an hour before you can bake the cookies.
Preheat the oven at 375F/190C for 15 minutes.
On a lightly greased cookie sheet scoop out about a tablespoon of dough for each cookie and slightly flatten it. (See My Notes)
Bake for about 9-11 minutes. Remove the cookie sheet from the oven and leave it on a wire cooling rack for it to cool. Now press the reserved chocolate chips on the warm cookies in a neat pattern to make it look attractive.
After about 8-10 minutes remove the cookies from the cookie sheet and let it cool completely on the wire rack before storing it in an air-tight container.
Taste:
These eggless red velvet chocolate chip cookies start out to be crisp around the edges and have a chewy center when it's fresh and then becomes softer throughout after a couple of hours. It has the perfect sweetness, taste, and texture. My kids loved it. So did I.
My Notes:
For cookies, I suggest you do a test bake with one or two cookies, see how it turns out, and then bake the rest accordingly. This will give you a clear picture if a cookie will spread too much or not if you should flatten it or not.
I was skeptical about sticking the chocolate chips on warm cookies but did it anyhow and was pleasantly surprised with the result. It had a neat appearance and looked beautiful. This is especially a great idea if you want to photograph the cookies. But the chocolate chips will be in a semi-solid state because of the heat from the cookies, so you might have to wait for a while to store the cookies in a container, or else when you top one cookie over the other, the melted chocolate chip with a stick to the cookies.
Nutrition Facts
Red Velvet Chocolate Chip Cookies
Amount Per Serving
% Daily Value*
Potassium 42mg1%
Total Carbohydrates
13.7g
5%
* Percent Daily Values are based on a 2000 calorie diet.

Try this recipe, click a pic and hashtag it #egglesscooking - Proudly showcase your creations on Instagram, Facebook & Twitter!