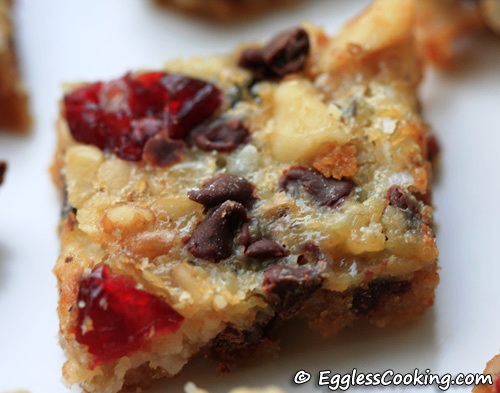 Yesterday there was the annual Christmas party in my husband's office. I wanted to bake something special and not very time consuming also. Long time back I had preserved a recipe for cookie bars which came with a condensed milk can. I thought it should be perfect because it was simply layering of ingredients, baking and then cutting them into bars. But the only drawback, I gained 2 pounds simply reading the recipe! I'm not kidding here. The recipe had way too much sugar.
So I have made few changes to the original recipe, like using fat free condensed milk, reducing the amount of chocolate chips by using miniature chips, reducing the quantity of coconut flakes and adding some dried cranberries. Even then the cookie bars were very sweet. It was more like a caramel candy with nuts and dry fruits. They are so tasty and very addictive too. So bake these when you are having a lot of company only.
I got around 45 pieces and few scraps. I just retained the scraps and sent everything to the party. My husband told me that everybody in his office liked it very much.

| | | |
| --- | --- | --- |
| Eggless Cookie Bars Recipe | | |
| Prep Time | Cook Time | Makes |
| --- | --- | --- |
| 15 Mins | 25 Mins + Cooling + 10 Min Freezing | 45 Small Pieces |
| Author | Category | Method |
| Madhuram | Bars | Baking |
A very simple recipe to bake eggless cookie bars using graham cracker crumbs and condensed milk.

Ingredients:
1 And 1/2 Cups

Graham Cracker Crumbs

1/2 Cup (1 Stick)

Melted Butter/Margarine

1 Can (14 Oz)

Sweetened Condensed Milk (I Used Fat Free)

1/2 Cup

Semi Sweet Chocolate Chips (I Used Mini)

1/2 Cup

Flaked Coconut

1/2 Cup

Chopped WalNuts

1/2 Cup

Dried Cranberries
Procedure:
Preheat oven to 350F (325F for glass baking dish) for 15 minutes.
If not using ready to use graham cracker crumbs, place the crackers in a ziploc bag, seal it and use a rolling pin to powder it. Alternatively pulse it a few times in a food processor.
Cut the butter into small pieces, place it in a microwave safe bowl and melt it. First time it for 15 seconds, stir it once and keep increasing the time as needed. Mine took 1 minute to melt completely. Let it cool enough to handle with your hands.
In a bowl, combine the graham cracker crumbs and butter; mix well.
Press crumb mixture firmly on bottom of 13×9 inch baking pan.
Pour sweetened condensed milk evenly over the crumb mixture.
First add 1/4 cup of the semi sweet chocolate chips evenly over the condensed milk layer. Next add the coconut similarly.
Evenly spread the nuts over the coconut layer. Then top it off with the dried cranberries and the remaining 1/4 cup of the chocolate chips.
Bake 25 minutes or until lightly browned. Cool completely. I kept it in the freezer for 10 minutes. Cut into bars or diamonds. Store the cookie bars covered.
My Notes:
Always remember that miniature chocolate chips can be substituted for the regular ones and only half as much as the regular is required if using the mini chips. For instance, the original recipe mentions to use 2 cups of semi sweet chocolate chips, which is way too much sugar and calories. I substituted it with mere 1/2 cup of miniature chocolate chips.
Dried cranberries was also not mentioned in the recipe. I added it to balance the sweetness of the bars.
I think lining the pan with aluminum foil and then layering it with the crumbs and other toppings will make the clean up and cutting easier, because you just lift the entire bar with foil and cut it outside. I lined it with wax paper, the clean up was easy and I was able to lift it up, but the paper got stuck to the bars a little bit.
During the Christmas season (or Diwali) if you plan to bake goodies and give it to friends and relatives preserve the plastic boxes which you get while buying strawberries, baby spinach, blueberries etc. You can use these boxes to gift your homemade cookies etc. Below I have used a box which came with baby spinach. On the cover there was a big sticker of the product. I was wondering what to do and I got this idea. Anyhow I had to write the ingredients used in the bars because of the food allergies prevalent here, so that people in the office can decide whether they can have it or not. So I cut the plain side of a greeting card which I had received, wrote the ingredients in that card and taped it on top of that sticker.

Try this recipe, click a pic and hashtag it #egglesscooking - Proudly showcase your creations on Instagram, Facebook & Twitter!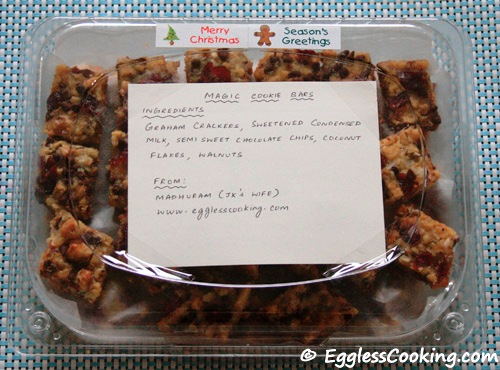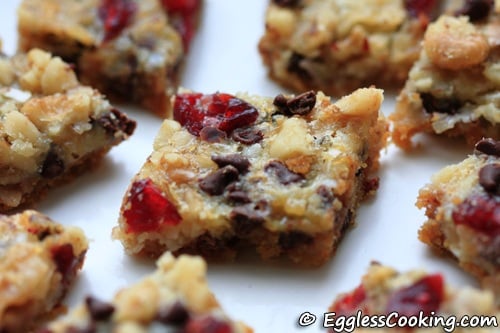 These cookie bars go to:
1. Sharmi's Cookie Baking Event.
2. Happy Cook's Homemade Christmas Gifts.
3. JZ's Santa's Holiday Challenge.
4. Vandana's Baking for Beginners.
5. Susan's Eat Christmas Cookies. Check here for cookies from around the world.