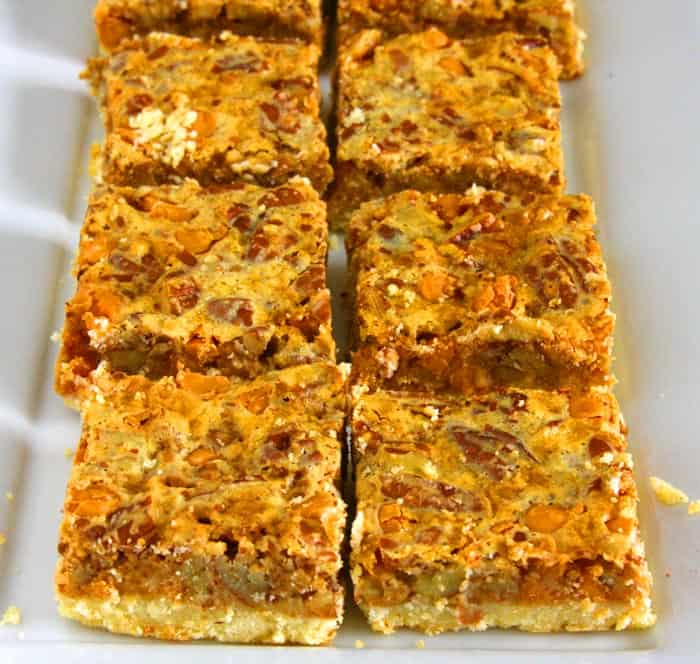 I was planning to make a triple-layer chocolate ganache cake for my mom's birthday. That cake recipe had a lot of steps; making a filling, ganache topping, then a glaze, etc. It was going to be one special cake. As much as I was thrilled to bake something extravagant like that I was sort of worried too.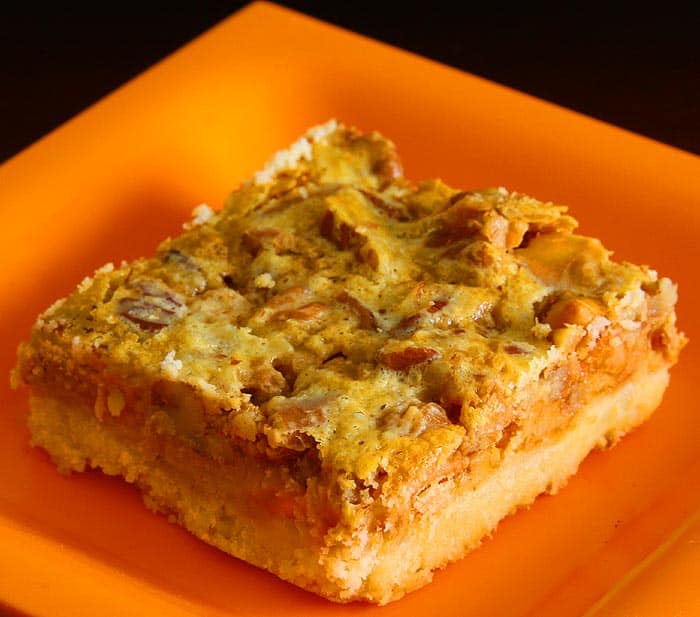 Would I be able to pull it off? What if something goes wrong and I don't have anything homemade for my mom's birthday?
I remembered that she relished a pecan bar I got from a bakery a few months back. I thought maybe I will bake something similar and have that as a backup in case I mess up the cake.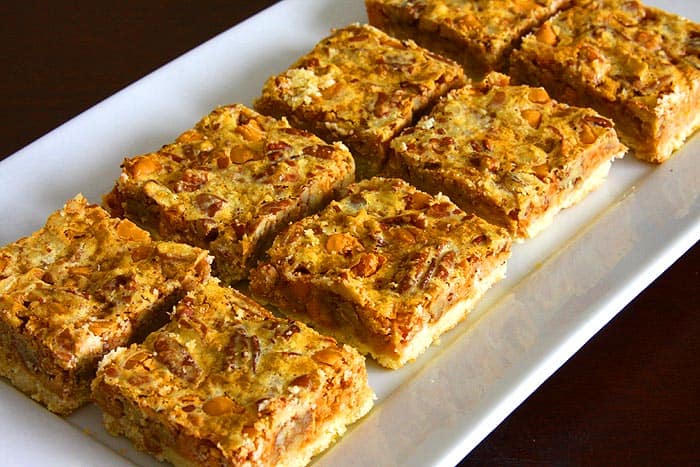 I already have a delicious eggless pecan bars recipe in the blog which I tried a couple of years back. Yet I wanted to try another recipe and found this pecan pie bar recipe in my favorite recipe website, Taste of Home.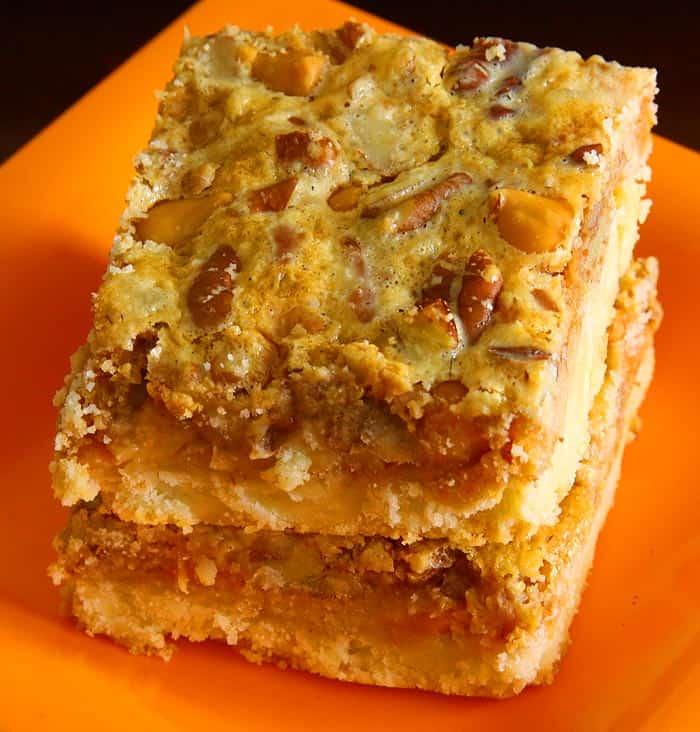 It had only one egg which is very easy to replace and I used Ener-G as an egg substitute because that works best in cookies and crusts like this.

| | | |
| --- | --- | --- |
| Eggless Pecan Pie Bars Recipe | | |
| Prep Time | Cook Time | Makes |
| --- | --- | --- |
| 15 Mins | 35 Mins | 24 Bars |
| Author | Category | Method |
| Madhuram | Bars | Baking |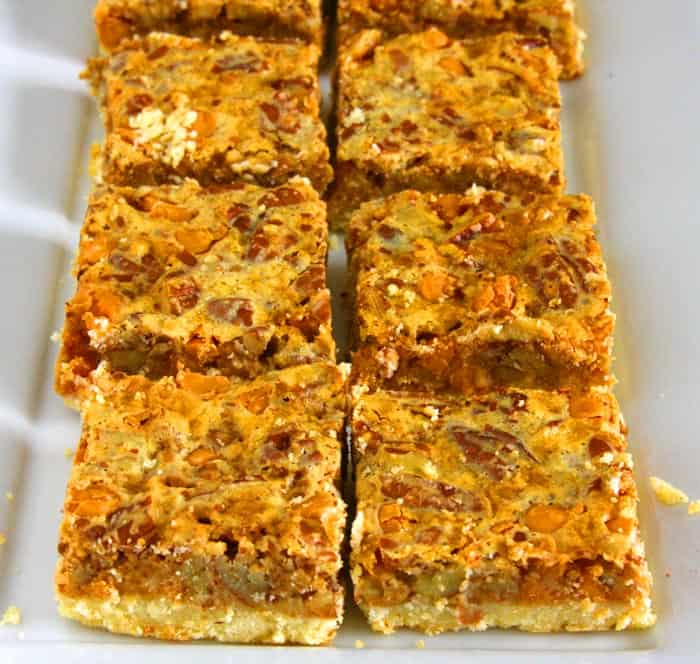 Easy to bake yet rich and decadent pecan pie bars will be a perfect dessert to take on pot lucks and other special occasions.

Ingredients:
2 cups

all-purpose flour

1/2 cup

confectioners' sugar

1 cup

butter, softened

1 can

(14 ounces) sweetened condensed milk

1 and 1/2 teaspoons

Ener-G egg replacer

2 tablespoons

water

1 teaspoon

vanilla extract

1/8 teaspoon

salt

1 and 1/2 cups

toffee bits and butterscotch chips (See My Notes)

1 and 1/2 cups

chopped pecans (See My Notes)
Procedure:
Preheat oven to 350F/180C. Stir together the egg replacer and water and set aside.
In a large bowl, combine flour and sugar. Cut in butter until mixture resembles coarse meal.
Press the dough firmly onto the bottom of a greased 13×9-in. baking pan. (See My Notes)
Bake at 350° for 15 minutes.
Meanwhile, in a large bowl, beat the milk, egg replacer mixture, vanilla, and salt until smooth. Stir in toffee bits and pecans; spread evenly over baked crust.
Bake until lightly browned, 20-25 minutes longer. Once you see the edges turning slightly brown you can remove the pan from the oven and place it on a wire rack for it to cool completely before you can cut it into pieces and store it in an air-tight container.
Taste:
These pecan pie bars tasted very good with a crumbly shortbread texture at the bottom and an ooey-gooey texture on the top. These bars weren't too sweet. I thought with the addition of toffee bits and butterscotch chips the bars will be extremely sweet but to my surprise, it was just right.
My Notes:
I think I did not grease the pan well enough before baking the shortbread crust so after the bars were done baking I had some issues cutting it into pieces, especially around the corners. It was sort of getting stuck to the pan. The pieces in the middle came off easily. So either grease the pan generously along the edges too or try baking the crust after lining the pan with parchment paper.
The original recipe used 8 ounces of English toffee bits. I didn't have that much so used butterscotch chips instead.
I also increased the quantity of pecans by 1/2 cup.
I cut the bars into 24 pieces. So got decent size and of course, it will be more on the calories too. You can choose to cut them into smaller pieces and reduce the calorie load.
Nutrition Facts
Eggless Pecan Pie Bars
Amount Per Serving
% Daily Value*
Potassium 83mg2%
Total Carbohydrates
27.2g
10%
* Percent Daily Values are based on a 2000 calorie diet.


Try this recipe, click a pic and hashtag it #egglesscooking - Proudly showcase your creations on Instagram, Facebook & Twitter!