It was a lousy afternoon and I felt like eating something and reached out to the bran flakes cereal box only to find out that it was almost over and what was left was about a cup or so of crumbled flakes.
No point in pouring milk on it and making it soggy. I thought maybe I will make a banana cereal smoothie like before then changed my thought and decided to bake something using the bran flakes.
Also I wanted to break the bad baking spell I was going through. Yes the 3 things I had baked during the weeks prior to that, all were a terrible disaster for some unknown reason. So wanted to bake something simple and straight-forward like cookies or muffins.
I was browsing for recipes in Pinterest and later moved over to the All Bran website to see if I could find anything interesting and found this chocolate chip cookie bars recipe.
It was nothing fancy, used simple ingredients and I just had to replace 1 egg. Initially I thought of using Ener-G as it works best in all types of cookie recipes. But whenever I post a recipe using Ener-G I keep getting asked what else can be use instead of it, we don't get it here, etc.
The other substitute for this recipe or any cookie recipe mostly is flax egg but the drawback using flax is it will make the cookie soft and chewy. You won't get a crispy cookie. I didn't want these no egg chocolate chip cookie bars to be soft.
That's when I thought maybe I should try cornstarch in place of the egg in the recipe. I have never tried that as an egg substitute. If you look at the ingredients in the Ener-G egg replacer it is mainly potato and tapioca starch.
So I was thinking why won't cornstarch work in the recipe. It will act as a binding agent, which I think is the purpose of the egg in this bran cookie bar recipe.
So what is the verdict? Is cornstarch alone a good egg substitute in baking recipes? Not sure yet. I cannot come to that conclusion based on this recipe alone. I think it worked well pretty good in this recipe. I'm not sure if the texture would have been different had I used Ener-G.
How To Make Chocolate Chip Cookie Bars Without Eggs?
Here are the step-by-step instructions with pictures: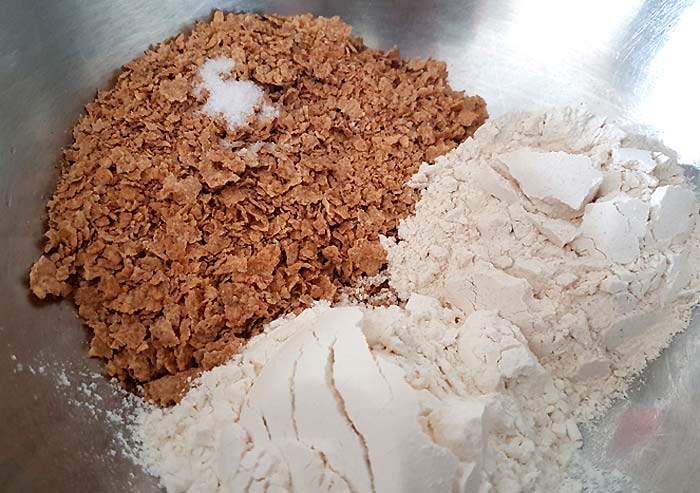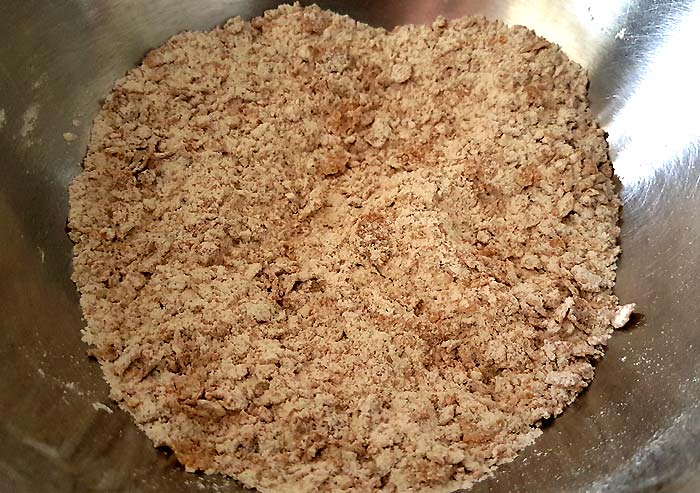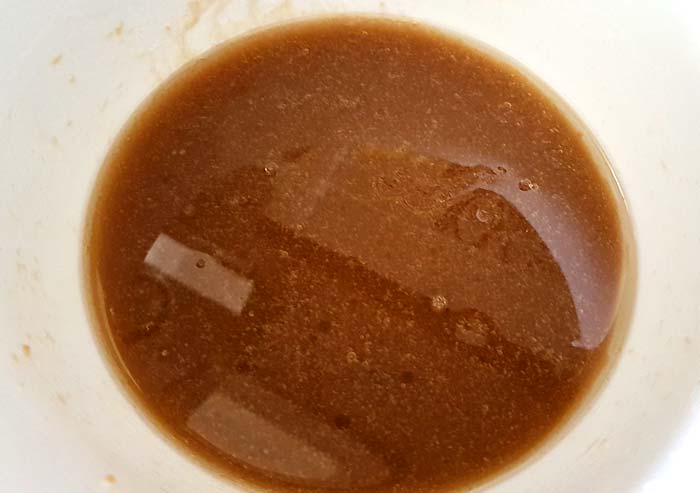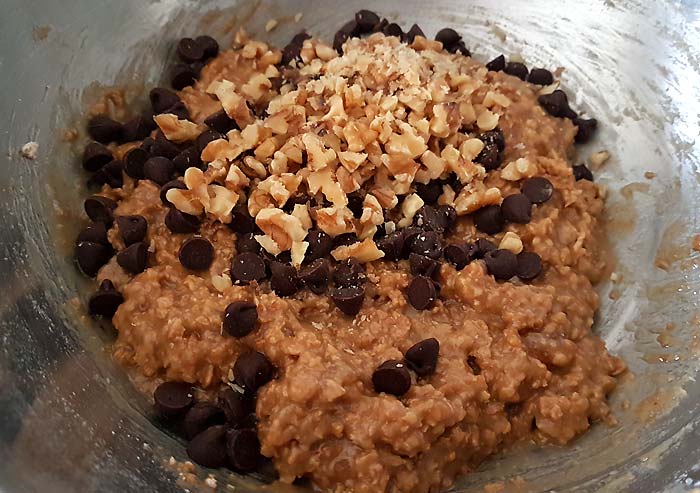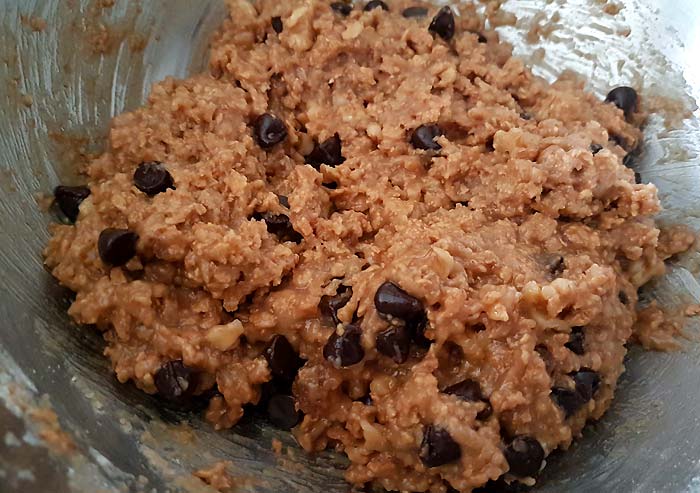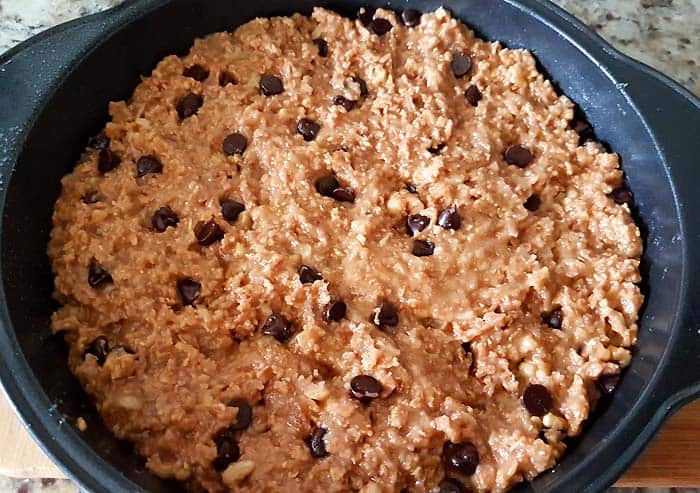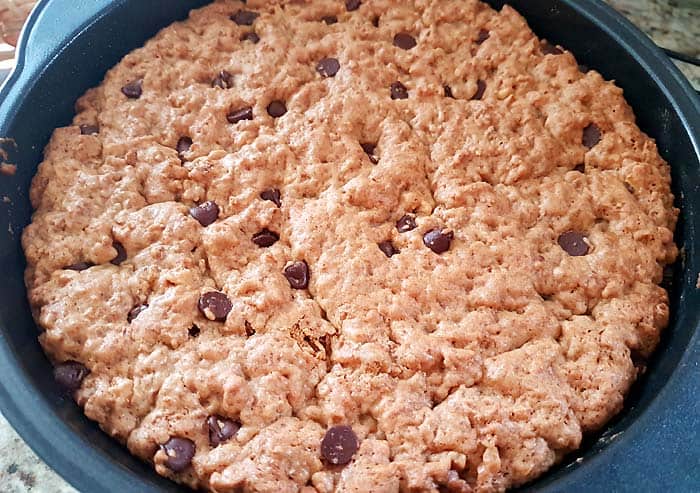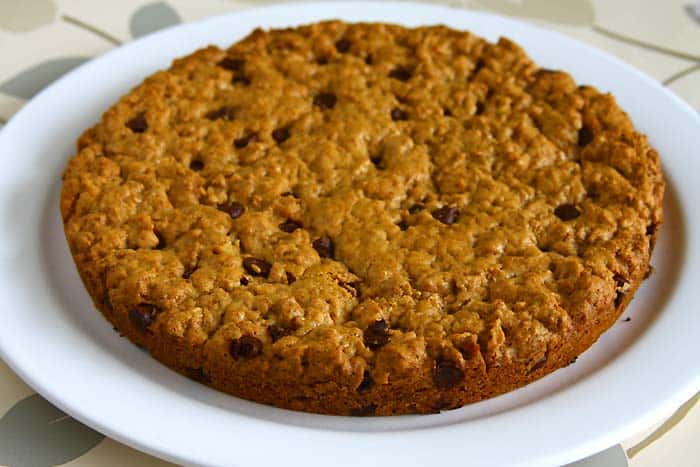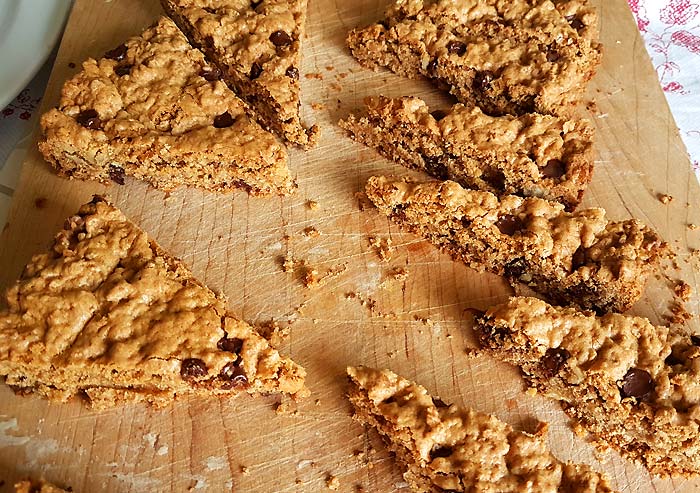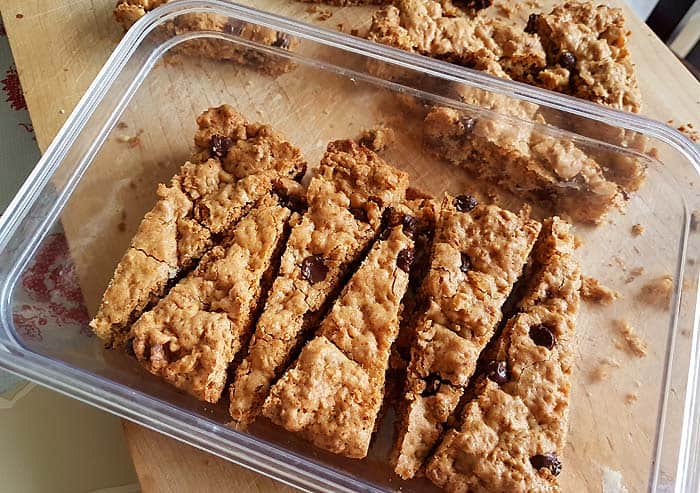 Hope to experiment more with cornstarch in the future. Now to the eggless chocolate chip cookie bar recipe.

| | | |
| --- | --- | --- |
| Chocolate Chip Cookie Bars Recipe | | |
| Prep Time | Cook Time | Makes |
| --- | --- | --- |
| 15 Mins | 30 Mins | 12 Cookie Wedges/Bars |
| Author | Category | Method |
| Madhuram | Bars | Baking |
Chocolate Chip Cookie Bars using Bran Cereal
4.5

from

2

reviews
Wondering what to do with the crumbled bran cereal that nobody even wants to touch? Make these delicious egg free chocolate chip cookie bars using the leftover cereal.

Ingredients:
Part-1:
1 and 1/2 cups

bran flakes (I used All Bran)

1/2 cup

whole wheat pastry flour

1/2 cup

all-purpose flour

2 teaspoons

baking powder

1/4 teaspoon

salt
Part-2:
1 and 1/2 cups

brown sugar

1/3 cup

oil (I used avocado)

1 tablespoon

cornstarch

5 tablespoons

water

1 teaspoon

vanilla extract
Add-ons:
1/2 cup

semi-sweet chocolate chips

1/2 cup

chopped walnuts
Procedure:
Line a 9-inch round baking pan with parchment paper. (See My Notes)
In a large bowl, mix together the dry ingredients listed in Part 1.
In another medium size bowl, whisk together brown sugar, oil, cornstarch, water and vanilla.
Stir in the wet mix into the cereal mixture. You may have to add a tablespoon or two of water if the consistency of the dough is too thick.
Spread batter evenly in prepared pan.
Bake in a preheated oven at 350F/180C for about 30-32 minutes or until golden brown.
Remove the pan from the oven and cool it on a wire rack for a few minutes. Then take the cookie out and let it cool completely before you can cut it into wedges.
My Notes:
The original recipe had mentioned to use a 9x13 inch pan. But I wanted to use a circular pan to get triangle shaped cookie bars. So choose any pan size you prefer but make sure that you adjust the baking time accordingly.
I used cornstarch to replace the one egg in the recipe but I think flax egg would be a better option. You might get a softer cookie bar.

Nutrition Facts
Servings: 12
Per Serving
% Daily Value*
Calories

184

Total Fat

6.7g

10%
Saturated Fat

2g

10%
Trans Fat

2g

Cholesterol

0mg

0%
Sodium

58mg

2%
Potassium 183mg
5%
Total Carb

31.1g

10%
Dietary Fiber

1.5g

6%
Sugars

23.6g

Protein

2.9g

Vitamin A 0% - Vitamin C 1%
Calcium 6% - Iron 3%

Try this recipe, click a pic and hashtag it #egglesscooking - Proudly showcase your creations on Instagram, Facebook & Twitter!