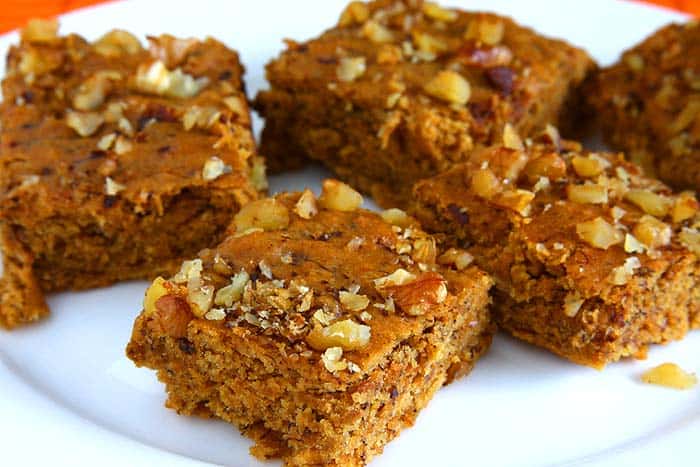 I think this vegan banana bars recipe is the umpteenth recipe I have in the blog using bananas. I guess I'm banana about bananas! It's such a versatile fruit, takes so many roles in a recipe, like fat substitute, egg substitute and also a sugar substitute to some extent.
No wonder I have a huge collection of banana recipes!
I came across this banana bars recipes and I knew I had to do it seeing so many overripe bananas on the kitchen counter.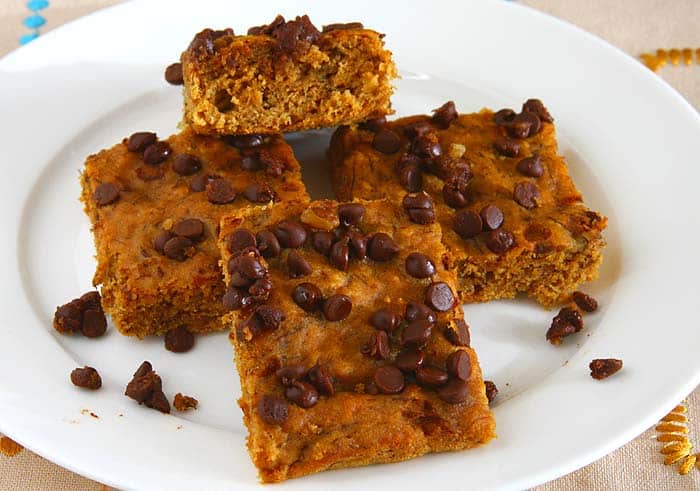 I usually use a lot of bananas in smoothies but that particular week the kids and I rarely had a smoothie for breakfast. I thought I would freeze it but somehow missed it and had to use it all within a day at most or everything would end up being trashed.
These vegan banana bars had the texture of a soft cake rather than the bars we are used to, like granola bars. Since the author of the original recipe had named it banana bars, I too have done the same. What's in the name as long as it tastes good. Right?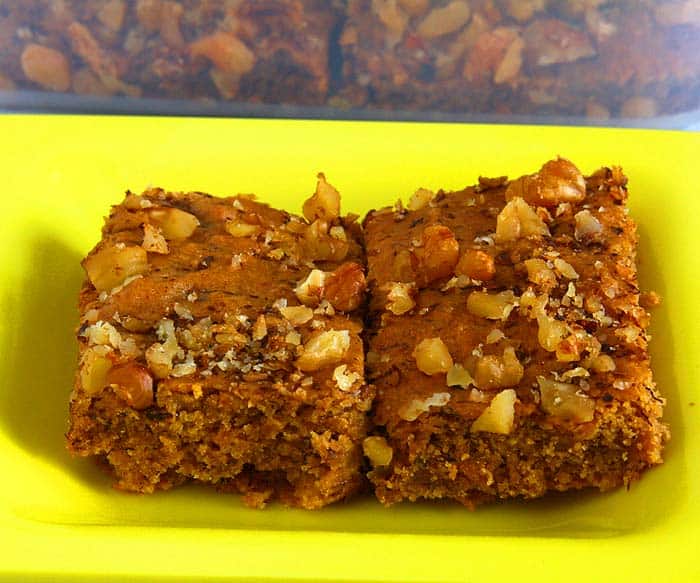 I have used whole wheat pastry flour instead of all-purpose flour listed in the original recipe and it didn't feel any different or "healthy" at all.
The kids also have got used to the taste and texture of whole wheat flour because I have been using it a lot over the past couple of years.
I made half of it with walnuts because my husband doesn't eat anything chocolate flavor and the rest with chocolate chips because the kids can't take the bars with nuts to school because it's a nut free zone.

| Prep Time | Cook Time | Makes |
| --- | --- | --- |
| 20 Mins | 22 Mins | 40 Banana Bars |
| Author | Category | Method |
| Madhuram | Bars | Baking |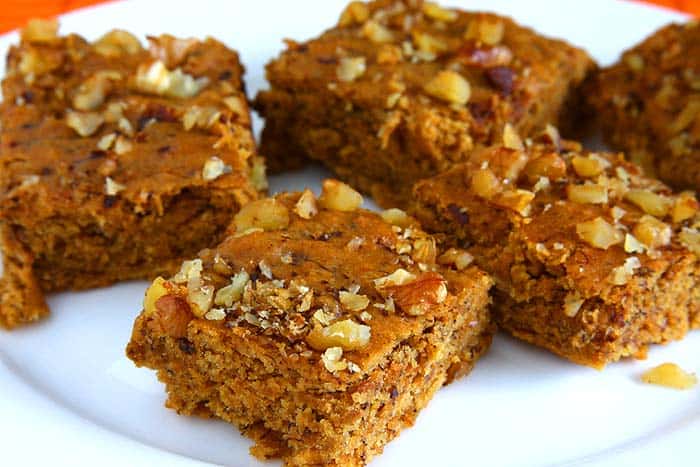 Vegan banana bars recipe made with easily available ingredients and can be made in a jiffy. No need to wait for the butter to soften, creaming fat and sugars, nothing!

Ingredients:
PART 1:
2 cups

mashed ripe bananas (about 4-5 bananas)

1 cup

coconut palm sugar

1/2 cup

unsweetened almond milk

1/4 cup

oil, any (I used avocado oil)

2 tablespoons

ground flaxseed

1 teaspoon

vanilla extract
PART 2:
1 3/4 cups

whole-wheat pastry flour

1 teaspoon

baking soda

1/2 teaspoon

salt

1 teaspoon

ground cinnamon
ADD-ONS:
1/4 cup

vegan chocolate chips

1/4 cup

chopped walnuts
Procedure:
Preheat oven to 350F/180C for 15 mins. Line a 15×10 inch pan with aluminum foil with some hanging on the sides (so that lifting the baked banana bars will be easy) and lightly grease it with non-stick cooking spray.
In a large bowl mash the bananas. Add rest of the ingredients listed under Part 1 and mix well.
To this add the dry ingredients listed under Part 2. The batter is ready.
Spread the batter into the prepared pan. Since I was going to use chocolate chips and walnuts, I topped half the batter with chocolate chips and half the batter with walnuts.
Bake for 20-24 minutes or until a toothpick inserted in the center comes out clean. Mine was done in 22 minutes.
Taste:
These vegan banana bars have a soft, cakey texture. It had a texture similar to the chunky monkey banana blondies. The sweetness was just right for us. I thought my kids will like the chocolate chip version but was surprised that they preferred the walnut banana bars instead.
My Notes:
I have used 2 tablespoons of flaxseed meal to replace 2 eggs in the original recipe. Usually, I make flax eggs by whisking the ground flaxseed and water and then add it to the rest of the ingredients. This time I just added the flaxseed meal with the rest of the wet ingredients and whisked it well and this method worked too.
Nutrition Facts
Vegan Banana Bars (w/ Chocolate Chips)
Amount Per Serving
% Daily Value*
Potassium 137mg3%
Total Carbohydrates
26.3g
10%
* Percent Daily Values are based on a 2000 calorie diet.
Nutrition Facts
Vegan Banana Bars (w/ Walnuts)
Amount Per Serving
% Daily Value*
Potassium 146mg3%
Total Carbohydrates
24.5g
9%
* Percent Daily Values are based on a 2000 calorie diet.


Try this recipe, click a pic and hashtag it #egglesscooking - Proudly showcase your creations on Instagram, Facebook & Twitter!