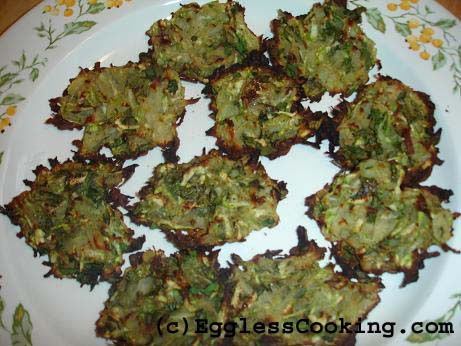 This recipe comes from Sunita, who is yet another inspiration for me. I think she is an "Ace of Pastries". The coriander rosti is both simple and delicious. You can find her recipe here.
When I first came across this recipe I thought she had skipped some of the ingredients, so ignored it and went further. I went back once again and checked the comments section to see if I could gather some information. Then only I was assured that the recipe really required only 3 ingredients. Baking can't get any simple!
Potato Rosti:
Baking it for the first time, I tried it with 1 large potato. Peel the potato, cut into 4 parts and microwave for 4 minutes. Cool it and grate it. I divided the grated potatoes into 2 parts. For the first batch I simply followed her recipe, mixed half of the grated potatoes, coriander, salt and pepper. Baked it for 40 min at 400F. It was very crispy and tasty. It's a very healthy snack without oil. I think that depending upon your taste you can also reduce the baking time to 35 min, so you may not feel that the bottom is burnt. I got 8 rostis for this quantity. It was good by itself, we also had some ketchup with it.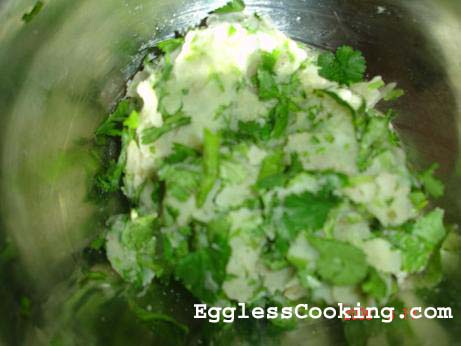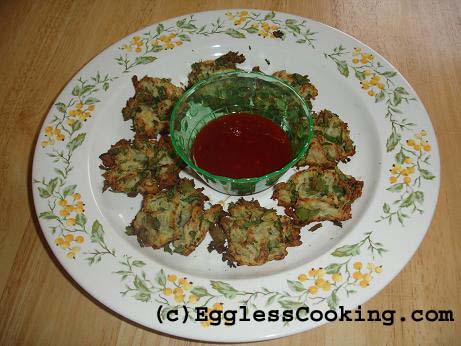 Zucchini Rosti:
I always like to give a twist to a recipe by adding some other ingredient(s). I think it's fun to experiment. Moreover with a toddler around, I have to do a lot of sneaking vegetables. I don't know why I chose zucchini, but as soon as I thought about making some modification, zucchini just flashed in my mind. 
I used the other half of the grated potato, 1 medium zucchini (grated), coriander, salt and pepper to taste. Dropped spoonful of the mixture on a greased baking sheet and baked it for 40 min at 400F. These rostis were very green in color and the top was not fully cooked as in the previous case. So I set the oven to broil mode for another 2 minutes. I got another 10 rostis. The taste was very good but this one was not as crispy as the potato rostis. Either I should have reduced the quantity of zucchini or should have baked it for some more time. Anyway I was very happy because my son just loved it.