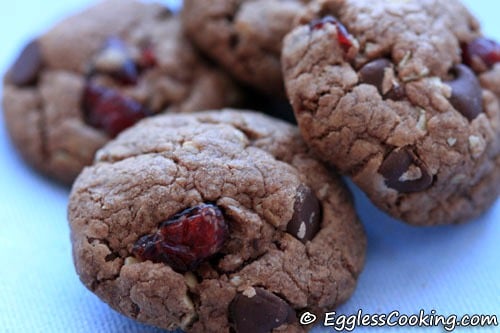 In my previous post I had mentioned that I had to bake cookies for my son's class. This was the other cookie I baked for his friends. I used this recipe, but instead of using silken tofu as the egg replacement, I used EnerG egg replacer powder. The instructions in the EnerG box mention that it does not work well with store bought mixes. I took a chance anyway and was surprised that the cookies came out so well. These cookies were also chewy and did not spread as much as the silken tofu ones. Last time I had used Duncan Hines cake mix and this time I used Betty Crocker's german chocolate cake mix and I felt that the latter ones had a smell which I didn't relish. I think the flavorings in the Betty Crocker cake mix gave that smell. Nobody else could really feel it. I'm known for my exceptional "nose-power". So the next time I bake these cookies I'm definitely going to use Duncan Hines. Also this time I used dried cranberries instead of raisins, reduced the amount of chocolate chips and increased the quantity of dried fruit.

| | | |
| --- | --- | --- |
| Cranberry Chocolate Chip Cookies Recipe | | |
| Prep Time | Cook Time | Makes |
| --- | --- | --- |
| 15 Mins | 11 Mins + 5 Mins Cooling | 45-50 Cookies |
| Author | Category | Method |
| Madhuram | Cookies | Baking |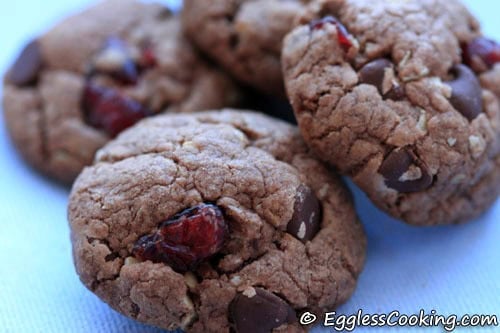 Easy to bake eggless cranberry chocolate chip cookies using german chocolate cake mix and EnerG.

Ingredients:
1 pack, 18.25oz

German Chocolate Cake mix (I used Betty Crocker)

3 teaspoons

EnerG

4 tablespoons

Water

1/2 cup (1 stick)

Melted Butter

1/2 cup

Oats (Quick Cooking)

3/4 cup

Semisweet Chocolate Chips

3/4 cup

Dried Cranberries
Procedure:

Try this recipe, click a pic and hashtag it #egglesscooking - Proudly showcase your creations on Instagram, Facebook & Twitter!

These Cranberry Chocolate Chip Cookies go to Egg Replacement Event – Egg Replacer Powder hosted by me.