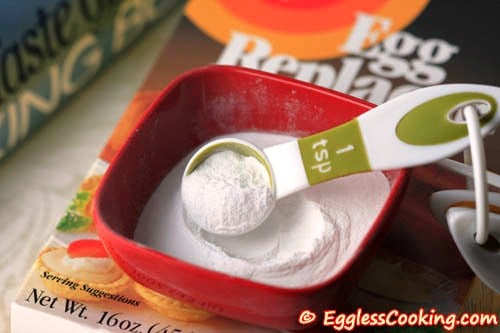 In the past 4 months we have baked a lot of goodies using silken tofu, flax seed powder and pureed fruit as egg substitutes. This month I'm calling all of you to bake with egg replacer powder like EnerG. I see that more people are using the commercial egg replacer powder and EnerG in particular these days. I for one do not have any experience baking with EnerG. I did buy a packet 3 months back, but have not opened it until now.
I think there are 2 brands of commercial egg replacer powder available. One being EnerG and the other one Bob's Red Mill. I was able to find EnerG in the regular grocery store in the natural foods/organic aisle. Alternatively you can buy it online from Amazon or directly from the manufacturer itself.
EnerG is a combination of potato starch, tapioca flour and leavening agents. It's dairy free too. The packet comes with instructions and recipe ideas.
Instructions for use: EnerG suggests 1 and 1/2 teaspoons powder mixed in 2 tablespoons warm water in place of 1 egg. Food allergies cookbook author Carol Fenster recommends using 2-3 times as much powder in the same amount of water for better results. She also mentions to whip the mixture in a food processor or blender for 30 seconds for added lightness. EnerG also suggests that it works best in scratch recipes and not in all store bought mixes. Trial and error is the only way to determine its effectiveness with a particular mix. Detailed information on measuring the powder and substituting it for egg whites, egg yolks is also available in the packet.
Now for the rules of the event:
1. Bake/cook anything from cookies, cakes, cupcakes, muffins, breads, tarts, pies, etc using EnerG or any other commercial egg replacer powder and post about it in your blog between
Jan 6th 2009 and Feb 10th 2009
. It can be anything sweet, salty or spicy.
2. Post the recipe in your blog, with a picture and link back to this post. Also feel free to share your experiences and tips while using the substitute regardless of the outcome. This would provide the much needed insight about that particular egg substitute.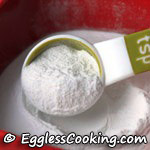 3. Since the idea behind the event is to help those who are searching for tried and tested eggless baking recipes, you can also send me the recipes which you have posted earlier in your blog using EnerG as an egg substitute. Reposting is not necessary, but link it to this event. That being said, I would really appreciate if you could try new recipes too and post it, because eggless recipes are never enough.
4. Also multiple entries are welcome more than ever for this event.
5. Email me your name, blog URL, name of the recipe, recipe URL, photo in 150wx120h size to ere(at)egglesscooking.com with EnerG as the subject.
6. Non bloggers are also welcome to send your recipes, tips and picture of your creation and I will include it in the round up.
7. Last date to send your entries is the 10th of Feb 2009
Check here for the round up of recipes using EnerG egg replacer as an egg substitute.