Happy Ugadi to all of you!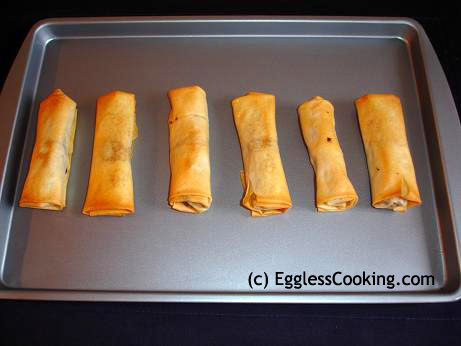 I have wanted to try baking spring rolls for a long time now.  While in Canada, I saw an episode in Food TV where the host was preparing baked spring rolls using phyllo pastry sheets.  I remembered the procedure, but forgot the temperature and time it has to be baked.  I searched for the recipe in Canada's Food TV website but could not find it.  Then I found it here.  I got spring roll pastry from the Indian store.  I checked the ingredients and it doesn't have eggs.
Filling:
1. Shred cabbage and carrots, slice scallions finely.  You can also add thinly sliced green peppers.
2. In a frying pan add a tablespoon of oil and saute all the vegetables, add salt, soy sauce and pepper powder.
3. Let it cool.
Procedure:
1. Thaw the spring roll pastry as per the instructions in the package.
2. Carefully remove a sheet and spray with non stick spray on both the sides.  (I don't know whether spraying on both the sides is necessary, but I did it anyway.)
3. Keep the filling in the bottom and wrap it as you would wrap a tortilla.
4. Grease the baking sheet and place the wrapped spring rolls and bake it at 350F for 30-35 minutes or until they are golden brown.
5. I also flipped the rolls after 15 minutes and flipped them back again after 30 minutes.
The spring rolls were very crispy and tasty.  Everybody loved it, especially my son had 2 of them at one go.  You would never deep fry your spring rolls again, once you taste this.
My Notes:
1. The sheets have to be removed very carefully, because they are fragile and tend to tear easily.  A couple of mine tore but I was able to wrap them anyway and the filling did not come out.  The author of the recipe has clearly explained how to remove the sheets in the "Reviews" section of her post, but I did not go through it at first.  I saw it after putting the rolls in the oven.  Next time I'll surely follow her tips. 
Variations:
1. I think we can make potato puffs with these wrappers instead of using the puff pastry sheets which are very high in fat content.
2. As I have mentioned earlier, baked spring rolls can be made with phyllo pastry sheets also, but I have not tried it.