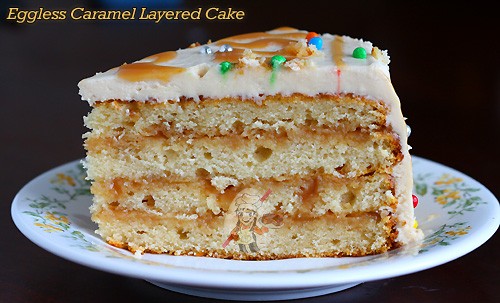 My sons have been asking for a caramel cake for quite sometime now. The eldest one wanted it for his birthday but I ended up making egg less pumpkin cupcakes, vegan vanilla cupcakes and a raw, vegan cheesecake. Hearing his brother constantly mentioning caramel cake, the little one too started asking for it and he said he wanted it for his birthday. Now who can ignore a soon to be turning 3 year old's cute request, who didn't even know what he was asking for! So I set off my search for a good caramel cake to only see that there were many. I sifted through the search results and picked this and this as a base for my version of caramel cake; egg free.

| | | |
| --- | --- | --- |
| Eggless Decadent Caramel Cake Recipe | | |
| Prep Time | Cook Time | Makes |
| --- | --- | --- |
| 25 Mins | 32 Mins | One 4 Layered Cake |
| Author | Category | Method |
| Madhuram | Cakes | Baking |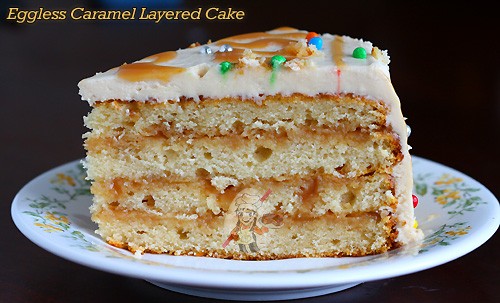 Decadent and delicious 4 layered egg free caramel cake will be a show stopper fetching you a lot of compliments.

DRY INGREDIENTS:
1 and 1/4 cups

all-purpose flour

1 and 1/4 cups

cake flour

2 teaspoons

baking powder

1/2 teaspoon

baking soda
FOR THE WET MIX:
1 and 1/4 cup

white sugar

1 cup

salted butter, softened

2 tablespoons

vanilla extract

1/2 cup

yogurt

1/4 cup

sweetened condensed milk

1 and 1/2 cups

evaporated milk
Procedure:
Preheat oven to 325F/180C for 15 minutes. Line two 8 or 9 inch cake pans with parchment paper.
Sift the dry ingredients together and set aside.
In a large bowl, beat together the sugar, butter and vanilla until the mixture is light and fluffy.
Add the yogurt and beat well again and repeat the same with condensed milk too. Now the wet mixture is ready.
Now add the dry flour mix and evaporated milk to the wet mix alternately, beating after each addition. So you would be adding the flour mix thrice and the milk twice. Make sure that you don't over mix it and end up having sinking cake/cupcake.
After making sure that there are no lumps in the batter, pour it in the prepared 2 pans equally. Bake it for 30-35 minutes or until a toothpick inserted in the center of the cake comes out clean. Leave the pan on a cooling rack to cool for about 10 minutes. Then take the cake out of the pan and cool it completely on the wire rack before frosting.
ASSEMBLING THE CAKE:
Slice each cake to make two layers each. Prepare simple syrup and brush it on all the 4 layers like I have mentioned in the strawberry cream cake recipe. Depending on how much time you have you can let the cakes soak up the syrup for at least 30 minutes or even overnight.
FROSTING:
Prepare caramel sauce. There are a lot of recipes available online. I followed this. Once the caramel sauce is ready proceed to prepare the caramel frosting from here. I followed the instructions of frosting the cake too. I didn't get the caramel sauce right the first time around, so had to do a second batch of it. It does require patience and sense of timing.
My Notes:
I used salted butter because that was used by the grandmother of one of the bloggers from whom I took inspiration for this caramel cake. Grandmas can't be wrong! So I didn't add additional salt in the recipe and the cake was not salty at all. You would need to add about 1/4 teaspoon of salt if using unsalted butter.
I love the texture of cakes/cupcakes baked using cake flour but care needs to be taken while doing so because over beating the batter with an electric beater ends up in sinking cupcakes. So my suggestion would be mixing the batter with a wooden spoon instead of a hand-held beater. It would require some elbow grease but at least we can be sure about the cake.

Try this recipe, click a pic and hashtag it #egglesscooking - Proudly showcase your creations on Instagram, Facebook & Twitter!