Last week I got a chance to bake the easiest and tastiest vegan vanilla cupcakes ever! It was my son's birthday and I was in a huge dilemma about choosing a cake recipe to bake for his big day. But he made it pretty simple by saying that he wanted a cheesecake because one of his friends cut a cheesecake for his birthday.
Now this was even more difficult for me because I have not baked an egg free cheesecake so far. That's when I decided to take the easy route of making a raw vegan cheesecake, which was also quite new to me. So I wanted to have a back up if the raw cheesecake flopped and planned to bake some eggless pumpkin cupcakes with cream cheese frosting. Then I needed to have a back up for that too or let's say that I just wanted to have an alternate for the kids to choose and wanted to bake some plain eggless vanilla cupcakes.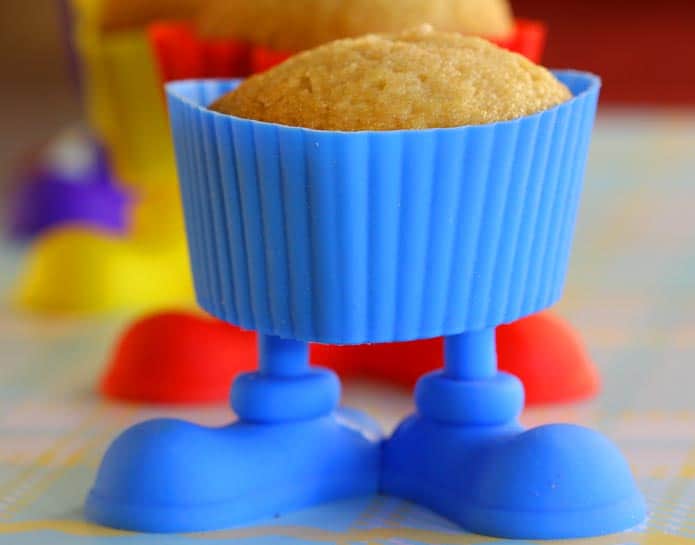 I didn't go with my usual recipe for vanilla cupcake recipe without eggs this time because I found another pretty simple vegan vanilla cupcake recipe in Chloe's Vegan Desserts. I had to try that because I have tried a couple of vegan vanilla cupcake recipes before but not satisfied with the taste or texture or the both.
Tried one with soy milk for an apparently moist vanilla cupcake recipe but all it was just a sticky, gooey mess. Ever since I have stopped using soy milk for vegan baking. It's either almond milk or rice milk. My personal favorite is rice milk.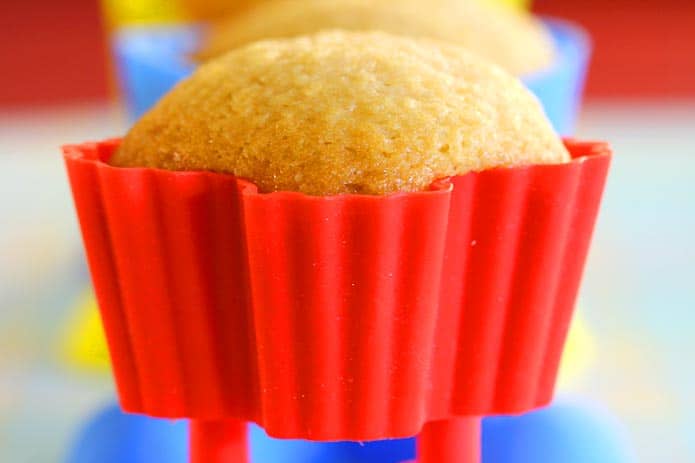 The vegan chocolate cake with vinegar is a fool-proof recipe and I wanted to have a similar recipe for vanilla cupcakes too to put together when I'm on a time crunch. So I took a leap of faith and tried this recipe and I'm very happy with the result.
I was a bit worried that the flavor and taste of vinegar might show in the cupcakes because it was more than the quantity used in the vegan chocolate cake. Surprisingly they turned out good without any such after taste or smell and I would say that it is the best vegan vanilla cupcakes I have tried so far.

| | | |
| --- | --- | --- |
| Vegan Vanilla Cupcakes Recipe | | |
| Prep Time | Cook Time | Makes |
| --- | --- | --- |
| 15 Mins | 18 Mins | 10-12 Cupcakes |
| Author | Category | Method |
| Madhuram | Cupcakes | Baking |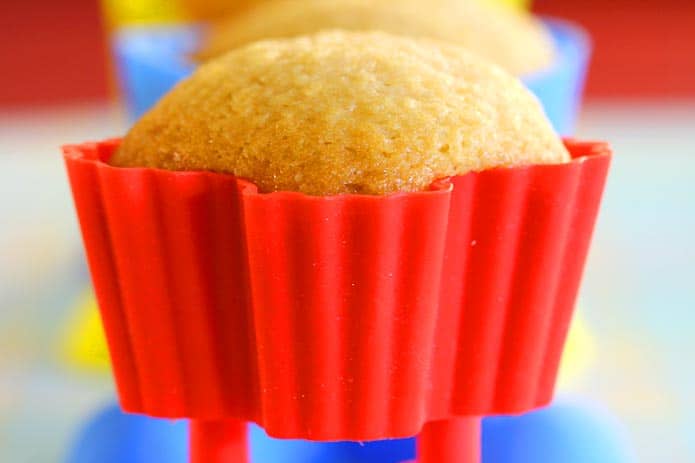 If you are wondering how to bake vanilla cupcakes, here is a simple vanilla cupcake recipe from scratch that is very easy to put together and tastes excellent whether you are vegan or not.

Dry Ingredients:
1 and 1/2 cups

all-purpose flour

1 cup

white sugar

1 teaspoon

baking soda

1/2 teaspoon

salt
Wet Ingredients:
3/4 cup

non-dairy milk (I used rice milk)

1/2 cup

oil (I used avocado oil)

2 tablespoons

apple-cider vinegar

1 tablespoon

vanilla extract
Procedure:
Here is the step-by-step recipe for
Vegan Vanilla Cupcakes
:
Preheat the oven to 350F/180C. Line a 12-cup muffin pan with paper liners.
In a large bowl, whisk together the dry ingredients.
In another bowl, whisk together the wet ingredients.
Pour the wet mix into the dry mixture and stir until just combined. Do not over-mix.
Fill the cupcake liners about tow-thirds full with batter. Bake for about 18-20 minutes, or until a toothpick inserted in the center of the cupcake and comes out clean.
Let the cupcakes cool completely on a wire rack before frosting.
My Notes:
I avoid using soy milk in baking recipes because I have tried it before and didn't like the texture of the baked goods. Almond milk and rice milk is my favorite.
The same with vinegar too. I don't like the smell or after taste of white vinegar in baked goods, so I always prefer apple-cider vinegar.
Substitute 1/4 cup of oil with unsweetened applesauce to make low-fat cupcakes.
Frost the cupcakes with vegan buttercream icing. Use non-hydrogenated vegan butter substitute like Earth Balance instead of the Crisco shortening.

Try this recipe, click a pic and hashtag it #egglesscooking - Proudly showcase your creations on Instagram, Facebook & Twitter!