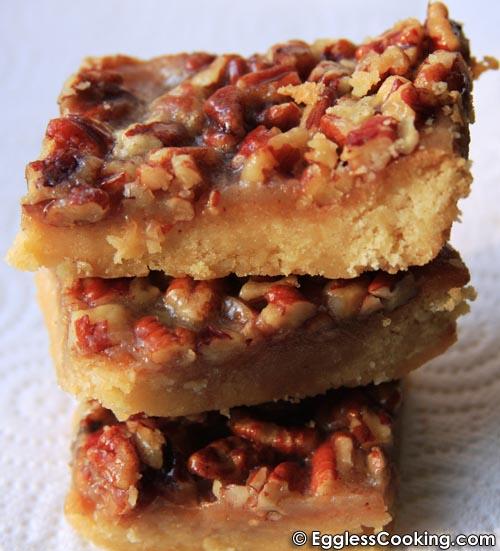 We had been to New York last month and happened to taste a wonderful pecan bar. Ever since I have been searching for a good recipe to bake it myself, but all I found had eggs in it. Yesterday I went to the library and I found a recipe for eggless pecan bars in Martha Stewart's Cookies book. The recipe is from John Barricelli, Martha's longtime friend and she herself tells that she has tried lots of pecan bars over the years, but John's are the absolute best. So how can I not try it, when it is eggless too?

| | | |
| --- | --- | --- |
| Eggless Pecan Bars Recipe | | |
| Prep Time | Cook Time | Makes |
| --- | --- | --- |
| 30 Mins | 40 Mins + Cooling Time | 3 Dozen Bars |
| Author | Category | Method |
| Madhuram | Bars | Baking |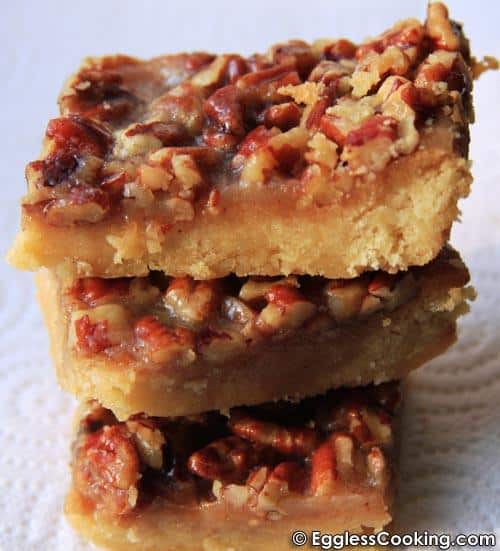 A very easy recipe to prepare eggless pecan bars for any occasions!

Ingredients For The Crust:
1 Cup Plus 2 Tablespoons (2 And 1/4 Sticks)

Unsalted Butter At Room Temperature

3/4 Cup

Light Brown Sugar Packed

1/2 Teaspoon

Salt

3 Cups

All Purpose Flour
Ingredients For The Filling:
1/2 Cup (1 Stick)

Unsalted Butter

1/2 Cup

Light Brown Sugar Packed

1/4 Cup Plus 2 Tablespoons

Honey

2 Tablespoons

Granulated Sugar

2 Tablespoons

Heavy Cream

1/4 Teaspoon

Salt

2 Cups

Pecan Halves (I Used Chopped Pecans)

1/2 Teaspoon

Vanilla Extract
Procedure To Make Crust:
Preheat oven to 375F for 15 minutes.
In a large mixing bowl put butter, brown sugar and cream it using an electric mixer in medium speed until light and fluffy.
Mix in salt.
Add flour, 1 cup at a time, mixing until fully incorporated after each addition.
Continue mixing until dough begins to come together.
Press dough about 1/4 inch thick into a 9 by 13 inch baking pan. (See My Notes)
Prick the dough with a fork.
Chill until firm, about 20 minutes.
Bake it golden brown, 18 to 20 minutes.
Transfer to a wire rack to cool completely.
Reduce oven to 325F.
Procedure To Make Filling:
Place butter, brown sugar, honey, granulated sugar, heavy cream in a saucepan over high heat.
Bring to a boil, stirring constantly until mixture coats the back of a spoon, about 1 minute.
Remove pan from heat; stir in salt, nuts and vanilla.
Pour filling into the cooled crust.
Bake until filling bubbles, 15 to 20 minutes.
Carefully transfer it to wire rack to cool completely.
Run a paring knife around edges of the pan and invert onto cooling rack. (See My Notes)
Invert again onto a cutting board.
With a sharp knife cut into 1 by 3 inch bars.
My Notes:
Instead of using all butter, I used a combination of butter and Smart Balance 50/50 Unsalted Blend.
In the original recipe, stand mixer was used to prepare the dough for the crust. Since I don't have one I used a hand held mixer. It's a bit difficult if you are doing it alone because, you have to cream the mixture, simultaneously scrape the edges and also add 1 cup of flour at a time. I was able to do it with the help of my mother and my husband. So be sure to catch hold of your husband while preparing these bars. If you are going to use a stand mixer, use the paddle attachment in medium speed.

For making the crust, the dough has to be spread evenly in a 9×13 inch pan. This was a little bit tricky. So my husband gave a wonderful idea to do the job neatly. After spreading the dough with a rubber spatula, he asked me to cut a wax paper to the size of the pan and lay it over the dough and then smooth it with my hands. Then my mother gave the idea of using a small vessel on top of the paper to get a smooth finish. Both the ideas worked out very well.
I was not able to invert the bar on the cooling rack because it was sticking to the pan. So I cut them into small bars in the pan itself and removed it using a spatula.
Bars can be stored in an air tight container at room temperature up to 1 week.

Try this recipe, click a pic and hashtag it #egglesscooking - Proudly showcase your creations on Instagram, Facebook & Twitter!