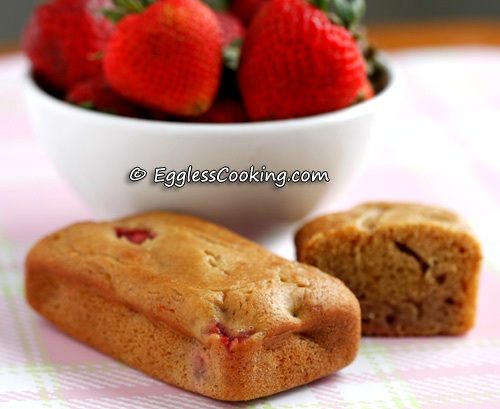 For a long time now I have wanted to try a mango bread using the mango puree we get in Indian grocery stores. We get it very rarely to make mango milkshake. This milkshake was my favorite drink while in Chennai. I used to live on mangoes during summers in India. Especially the "banganapalli" variety of mangoes were my favorite and milkshake made with this variety is pure heaven, topped with or without vanilla ice cream.
Living abroad the closest (not the best) thing is to buy the mango puree and mix it with milk. But what to do with the rest of the puree? I'm not a fan of mango lassi. That's how the mango halwa and tofu-mango pudding idea struck me. What else can be done? Any ideas welcome. So I thought the next better thing is to use it up while baking.
When I saw Sweatha's recipe for mango muffins, I knew I have to try it, because it was very simple and also it was a small batch measurement.
With the low-fat baking event happening here, I immediately decided to substitute the mango puree for the 1/4 cup oil (pureed fruit is a good substitute for fat in a baking recipe) used in the original recipe. The other reason was I didn't have fresh mangoes.
Actually, in the place I'm currently residing we have access to a lot of mangoes when compared to the US, but that day I didn't have it. So I also strawberries instead of the fresh mango pieces Sweatha had used for the mango muffins.
Another change I made was using a mini loaves pan. I bought it a year back but did not get a chance to use it, so decided to go with mango quick bread. First I thought maybe mango strawberry is a weird combination, but when googled I saw a lot of recipes for mango strawberry quick bread, so I decided to proceed with it.
So here is the recipe for fat free mango bread.

| | | |
| --- | --- | --- |
| Fat Free Mango Strawberry Quick Bread Recipe | | |
| Prep Time | Cook Time | Makes |
| --- | --- | --- |
| 15 Mins | 20 Mins | 5 Mini Loaves. |
| Author | Category | Method |
| Madhuram | Breads | Baking |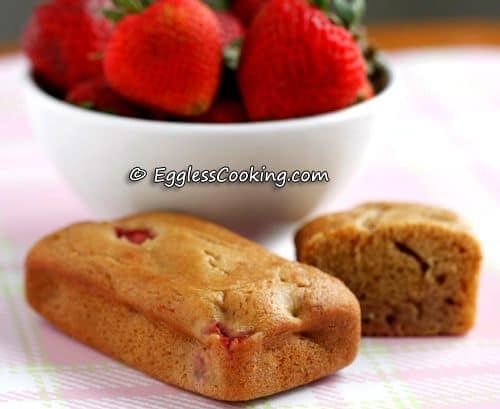 Can you believe that this moist and spongy mango bread is fat free?

Ingredients:
1 cup

All Purpose Flour

1 teaspoon

Baking Soda

1/4 teaspoon

Salt

1/2 cup

Plain Non-Fat Yogurt (Gelatin Free)

6 tablespoons (See My Notes)

Mango Puree

1 tablespoon

Apple Cider Vinegar

10

Fresh Strawberries cut into small pieces

1/4 cup plus 1 tablespoon

Sugar

1/4 teaspoon

Cardamom powder

a pinch

Saffron strands
Procedure:
Preheat oven to 350F for 15 minutes. Lightly grease the bread pan.
Wash the strawberries, hull them and cut each strawberry into 4 pieces. Place it in a bowl and sprinkle a tablespoon of sugar and mix it and leave it for at least 5 minutes.
In a big bowl mix together the yogurt, mango puree, vinegar, sugar, cardamom powder and saffron strands. To this add the cut strawberries.
In another small bowl sift together the flour, baking soda and salt. Actually I placed the sieve over the big bowl and added the dry ingredients directly into the wet mixture. Mix it until just moistened.
Fill the bread loaves 3/4th full and bake it for about 18-20 minutes or until a toothpick inserted in the center comes out clean. Mine was done in 19 minutes.
Remove the pan from the oven and place it on a wire rack and cool for 5 minutes. Take out the bread from the pan after 5 minutes and let it cool on the wire rack. This is very important. I left the bread in the pan itself for more than 30 minutes and the bottom became soggy.
Taste:
I can swear that it did not taste "healthy or fat free". It tasted like any other regular quick bread, but I don't know why my son did not like it. My husband liked that it was fat free but he did not like the saffron/cardamom combination that much. The bread was soft and spongy inside, which is because of the vinegar I think. It was not a very sweet bread, which is perfect for me. You may want to add another 1-2 tablespoons of sugar if you want it sweeter.
As for the texture, it was a bit soggy (see Procedure point no.6 and Notes point no.1). So I kept it on two sheets of paper towel and stored it covered in the fridge overnight and it was good in the morning. With minor alterations, this recipe will yield perfect mango quick bread. Check my Notes for further details.
One more observation, if you are looking for a mango bread recipe with a lot of mango flavor, I think it's ideal to omit cardamom powder, saffron and use either vanilla extract or mango extract or a combination of both, or maybe use puree made from fresh mangoes. The recipe I have mentioned did not have the mango flavor. I think the cardamom overpowered the mango's flavor. The brand of mango puree can also be a reason, I guess because I used a brand which I have never used before. I think it's better to use the Kesar Mango puree. And of course, using chopped mangoes instead of the strawberries I have used will also add to the mango "ness".
My Notes:
I wanted to substitute the mango puree for the oil used in the original recipe, which is 1/4 cup, but I wanted to increase the mango flavor and added another 1/4 cup, so that's one of the reason for sogginess. 1/2 cup is 8 tablespoons, that's why I have reduced it to 6 tablespoons in the ingredients list.
Increase the quantity of sugar by 2-3 tablespoons if you go with 6 tablespoons of mango puree. Since the mango puree has sugar I had used only 1/4 cup sugar in place of the 1/2 cup mentioned in the original recipe. So if you reduce the quantity of mango puree, you may want to increase the quantity of sugar.
I think this measurement will yield about 8-9 regular size muffins and you will have to double the measurement to prepare a regular size quick bread. Sweatha has baked the muffins at 375F.
Mango lassi is a combination of mango, yogurt, and sugar. So you know what to do if you have a cup of leftover mango lassi! Make this wonderful moist mango bread.

Try this recipe, click a pic and hashtag it #egglesscooking - Proudly showcase your creations on Instagram, Facebook & Twitter!