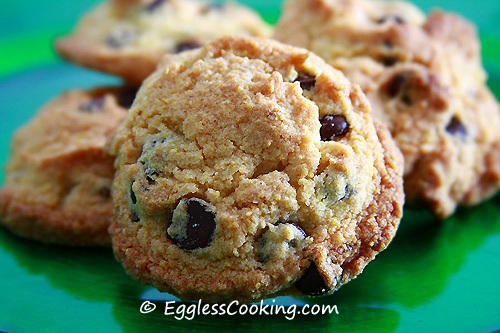 Until recently I had not tried my hands on gluten free baking because I thought that gluten free and egg free baking is quite a challenging one. I have a book called Vegetarian, which I got from Barnes and Nobles and there is one recipe for gluten free chocolate chip cookies using cornmeal and rice flour, but of course with egg. Since I'm hosting the Corn event this month, I thought that I should give that cookie recipe a try using an egg substitute.
I have already baked eggless chocolate chip cookies using EnerG egg replacer powder and was floored by the result. So I decided to use EnerG in this recipe too. I also had some brown rice flour along with whole cornmeal and that's what I have used in this recipe. I was really surprised (this is an understatement) that these gluten free cookies tasted as good as any other chocolate chip cookies. You have to actually try this recipe to believe me.

| | | |
| --- | --- | --- |
| Gluten Free Chocolate Chip Cookies Recipe | | |
| Prep Time | Cook Time | Makes |
| --- | --- | --- |
| 15 Mins | 15 Mins | 16 cookies |
| Author | Category | Method |
| Madhuram | Cookies | Baking |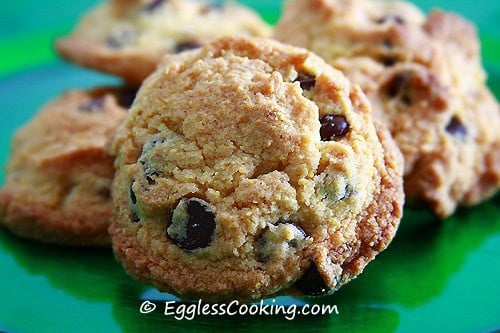 Gluten Free, Egg Free & Whole Grain Chocolate Chip Cookies
5.0

from

2

reviews
Gluten free and egg free chocolate chip cookies using whole cornmeal and brown rice flour.

Ingredients:
6 tablespoons

Vegetable Oil Spread/Margarine

1/4 cup

Light Brown Sugar

1/4 cup

Granulated Sugar

2 teaspoons

Ener-G Egg Replacer

3 tablespoons

Warm Water

1 teaspoon

Vanilla Extract

3/4 cup

Brown Rice Flour

3/4 cup

Whole Cornmeal (use fine grind)

1 teaspoon

Baking Powder

A pinch

Salt

2/3 cup

Semisweet Chocolate Chips

1/4 cup

Coarsely Chopped Walnuts (optional)
Procedure:
Preheat the oven to 375F/190C for 15 minutes. Grease 2 baking sheets.
In a medium bowl, cream together the margarine and sugars until light and fluffy.
In a blender blend together the EnerG and warm water until its frothy. Add this and vanilla extract to the creamed sugar mixture and beat it well.
Fold in the brown rice flour, whole cornmeal, baking powder, salt, chocolate chips and nuts (if using).
Drop tablespoonfuls of dough on the baking sheets leaving space between each cookie. Bake for 10-15 minutes, until the cookies are lightly browned. I took out mine after 13 minutes. If you are using a dark coating non stick pan, be alert as the bottoms tend to brown very quickly. I used an aluminum pan, so mine took 13 minutes.
Place the baking sheets on cooling racks. Let the cookies stand for 5 minutes. Transfer the cookies to the wire rack using a spatula. Let cool completely before storing in an airtight container.
Taste:
Take my word on this and bake these cookies as soon as you can. You won't believe that these are egg free and gluten free cookies also made with whole grain flours. It tasted just like the usual chocolate chip cookies, crunchy on the outside and soft in the middle. Since I couldn't find fine grind whole cornmeal, I had to powder and sieve the medium grind cornmeal a couple of times before using. Even then it was little gritty. Otherwise there were no issues at all with this recipe. I'm definitely making this again and again at least with the regular fine grind cornmeal available in the supermarket.
My Notes:
Be sure to check that all the ingredients you are using is gluten free if you are baking these for gluten allergic people.
The original recipe uses regular cornmeal and white rice flour. I have used whole cornmeal and brown rice flour to incorporate whole grains.
The ratio of EnerG and water given in the pack is 1 and 1/2 teaspoons and 2 tablespoons of water. The EnerG egg replacer powder I'm having is almost a year old. So I wasn't sure if it was good enough, so I increased it to 2 teaspoons and 3 tablespoons of water and this did not affect the cookies. In fact the cookies came out very good, the shape, texture and taste was awesome.

Try this recipe, click a pic and hashtag it #egglesscooking - Proudly showcase your creations on Instagram, Facebook & Twitter!