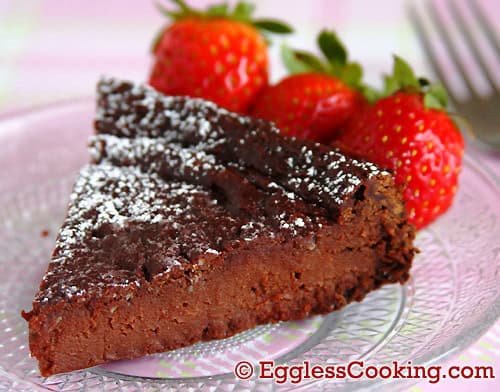 Hope you folks had a lovely Valentine's Day! I tried 2 muffin recipes early in the first week of February and was vowing not to bake anything until March because you guys know that I'm trying to eat healthy and lose weight. But Valentine's Day sort of made me weak. How can I not bake something? That's when I remembered the gluten-free chocolate cake recipe I came across in Reader's Digest magazine. What was unusual about the recipe was that it used just chickpeas and eggs. "How weird is that?", I thought initially. But if you know me very well, you would have guessed by now that I love all these type of recipes. I get my high by sneaking unusual ingredients in the everyday recipe.
Note: Although the following recipe is called a chocolate cake, the texture is not similar to that of usual cakes. This gluten-free chocolate cake is not light, fluffy or crumbly. Instead it is smooth and has a fudge like texture and I don't have anything to complain about that because it tastes awesome. So if you are looking for something different than the regular cake or want to try a gluten-free and flour-less recipe, then this is absolutely perfect.

Download Gluten-Free Diabetic-Safe Mouthwatering Desserts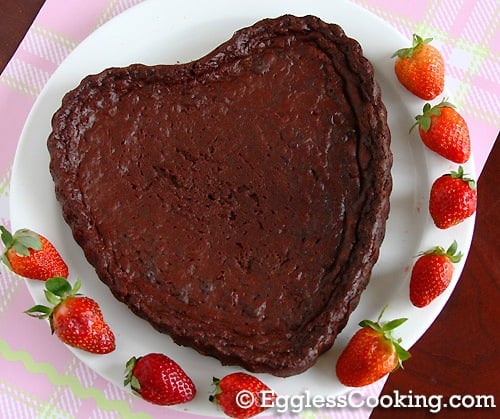 As much as I was excited about trying the recipe, I had my doubts too, if it will really work. So I Googled to see if anybody else has tried the recipe and found this one. So Reader's Digest had pulled out the recipe from AllRecipes. The recipe had about 400 reviews, most of them claiming it to be excellent. But we have a different challenge though, trying to make it eggless. So I started reading each and every review and saw that some of them had tried a vegan version with flax seed meal and I was not sure about that. That's when I had a light bulb moment and I decided to use pureed beets for some of the eggs and use some organic, refined coconut oil to replace some of the fat from the eggs. Actually I had pressure cooked some beets to prepare the beets version of red velvet cupcakes, but I decided to use it in this recipe instead to see if I can pull off a gluten-free and red velvet chocolate cake. I guess I was greedy! The cake didn't turn red or even purplish but just brown like any other chocolate cake. Or maybe I will notice a difference in color if I compare this one to another cake baked using some other pureed fruit. Maybe the other cake would not be as bright as this one. I don't know, it's just a guess. Anyhow I'm not complaining at all because the taste makes it up for all the other ifs and buts.

| | | |
| --- | --- | --- |
| Gluten-Free, Flourless & Vegan Chocolate Cake Recipe | | |
| Prep Time | Cook Time | Makes |
| --- | --- | --- |
| 30 Mins | 50 Mins | 9 Inch Cake |
| Author | Category | Method |
| Madhuram | Cakes | Baking |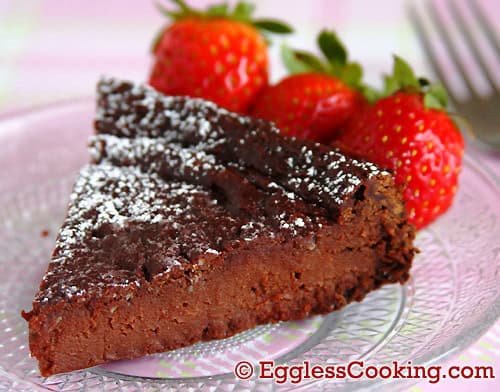 The unusual combination of chickpeas, beets and chocolate come together and transforms into this delicious and decadent gluten-free, flour-less and vegan chocolate cake.

Ingredients:
2 cups

Chickpeas (canned or freshly cooked)

3/4 cup

Beets (cooked and pureed)

1/2 cup

Sugar

1/4 cup

Coconut Oil, melted

1 teaspoon

Baking Powder

1/2 teaspoon

Coffee Powder (I used instant granules)

2 tablespoons

Lemon Juice (optional)

1/2 teaspoon

Vanilla Extract

1 and 1/2 cups

Chocolate Chips (I used vegan and mini)
Procedure:
Cook the beets, cool it and blend it into a smooth paste using the beet cooked water itself. Set aside. Peel the skin off the chickpeas and puree it smooth using little water.
Preheat the oven at 350F/180C for 15 minutes. Line the pan with parchment paper and very lightly brush it with the melted coconut oil. Melt the chocolate chips in a microwave oven in small time intervals until the chocolate is completely melted.
Now in a food processor/blender, blend together the pureed chickpeas, beets and sugar. The mixture has to be lump free. Now also incorporate the coconut oil, baking powder, coffee powder, lemon juice and vanilla extract. Once all these ingredients come together, blend in the melted chocolate chips too and run the mixer for a couple of minutes until all the chocolate is mixed evenly throughout the batter.
Pour the batter into the prepared pan and tap the pan to avoid any air bubbles and put it in the oven for 40-50 minutes. If you think the corners might get burnt, loosely cover the pan with aluminum foil. Note that the cake does not firm up in the middle. (See My Notes)
Remove the pan from the oven and cool it on a wire rack. Let it cool completely. Mine was still wiggly in the middle after a couple of hours, so put the cake in the refrigetor overnight thinking that it would firm up by the next morning and it did. Gently slide off the cake from the pan and place it on a serving platter and sprinkle some confectioner's sugar and serve it with strawberries and a dollop of whipped cream or devour it just like that.
Taste:
I couldn't wait to taste the cake. I was so excited that I literally couldn't sleep that night and it was well worth the wait when I tasted it the next day. The cake firmed up very nicely in the middle. I was also able to get the cake off the pan without any difficulty. I tasted a small piece and the cake was very soft and smooth. It didn't actually feel like a cake but more like a fudge. I haven't tasted a flour-less cake, so I don't know if this is supposed to be the texture. That being said I don't think it really matters because who doesn't like chocolate? We were not able to smell or taste the chickpeas or beets. It tasted just like chocolate and nothing else. My husband and son couldn't believe that it was made with just chickpeas and beets. They kept asking for more.
My Notes:
The prep time will be way less if you are going to use the chickpeas without removing the skin and also if you use beets straight from a can.
Regarding the baking time: The original recipe suggested baking the cake for about 40 minutes, but mine was all bubbly in the center even after 45 minutes. The corners seemed to firm up well but not the middle. So I covered the pan loosely with aluminum foil and kept baking it for additional increments of 5 minutes up to 60 minutes but the center did not seem to firm up at all. I did not want the whole thing to get burnt, so took it out of the oven and put the pan on a cooling rack, while I was thinking of ways to save the cake. That's when I got the idea of putting in the fridge for the cake to firm up. So once the cake cooled completely in the pan, I stored the cake with the pan in the fridge by covering it with a plate. I left it in the fridge over-night. Around 10am the following day, I pulled out the pan and saw that it had firmed up nice, so tried removing the cake gently from the pan and it did come off easily. So do not forget to line the pan with parchment paper or use a spring-form pan. If you are going to just grease and flour the pan, you will not be able to get the cake out of the pan because it's heavy and dense when you invert the pan like you do for the regular cakes, chances are very bright for it to fall apart.
I went through the hundreds of reviews for the original recipe and have incorporated a lot of changes based on those reviews, which are: 1) removing the skin off the chickpeas (yes it was a painstaking chore but I think it's worth the effort), 2) including some fat (coconut oil) while making it vegan to mimic the fat from the eggs, 3) increasing the quantity of baking powder, and 4) cutting back on the quantity of sugar.
The lemon juice was my addition. I thought that maybe the baking powder, lemon juice and beets would create a magic and make it a red velvet cake as well but it did not happen. The batter had a magenta hue to it but when it baked the cake was dark brown like any other chocolate cake. It did not turn red or at least crimson. So you can very well omit the lemon juice. The lemon juice did not lend its flavor or taste either.
Adding coffee powder was also my idea. Coffee enhances the flavor of chocolate.
I pressure cooked the beets and pureed it using some of the beet water. You can also use canned beets instead to simplify the whole process.
I have used Spectrum's Organic, Expeller Pressed and Refined coconut oil. As it is refined it does not smell coconutty, and because it is organically refined, extreme heat and harsh chemicals are not used in the process making the oil toxic.
I used Enjoy Life Brand's vegan mini chocolate chips as against the regular sized chocolate chips in the original recipe and felt that maybe I could have used a little bit less. Maybe around 1 and 1/4 cups. Even being chocoholic myself, I felt that the cake was a bit too chocolatey.
I will be including some chopped walnuts the next time I bake this chocolate cake.

Try this recipe, click a pic and hashtag it #egglesscooking - Proudly showcase your creations on Instagram, Facebook & Twitter!