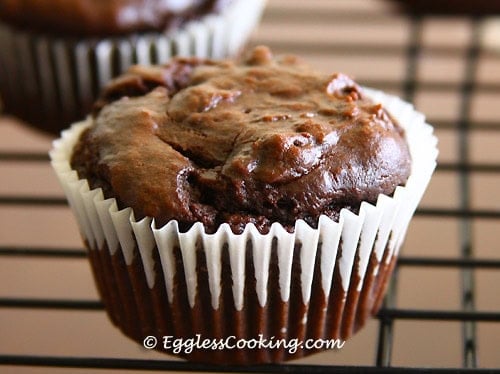 Avocados have become as common as onions and tomatoes in our home and I don't see why it shouldn't become a staple in yours too. An apple a day keeps the doctor away. In my opinion, avocado should also join the list. You too will agree with me once you know how nutrient dense avocados are.
Long time back I had bookmarked a chocolate cupcake recipe using avocado and I have been wanting to try it forever and finally got to it. So the next time you have a very ripe and mushy avocado, you know what to do! But a note though, cooked avocado is not as healthy as raw avocado. So I'm not calling this a healthy cupcake recipe but just a recipe which uses avocado. The pureed avocado replaces the eggs and some of the fat in this recipe, which is the specialty of pureed fruit. It plays a dual role; as an egg substitute in baking and as well as a fat replacer.
This chocolate cupcake recipe does call for oil and I have used organic, expeller pressed, refined coconut oil from Spectrum instead of canola oil or vegetable oil I normally use. Those of you who are following my posts regularly, would by now know that I'm trying to incorporate some healthy changes in our kitchen. I had shared my concern about oil and fats in the vegan banana bread post. Since then I have been using only coconut oil, butter and ghee for medium to high heat cooking; extra virgin olive oil and sesame oil for raw and very mild heat cooking. All other vegetable and seed oils are out of sight now but for the very rare deep frying occasions.
I was still having a problem when it came to vegan baking. I didn't know which oil to use. Some people are all praises for Grapeseed oil, which is supposed to be very stable at high temperature. But what I learned from my research did not prove that Grapeseed oil was any better. Then I heard from Bee that organically refined coconut oil is a good option for baking, because it is refined, it doesn't smell coconutty. Also since it is solid, it can replace butter or margarine too. Unlike non-organic oils, where extracting the oil and refining is done at very high temperatures and using a lot of chemicals, altering the chemical structure of the original oil, organically refined oils are not subject to such high temperatures or those harsh chemicals making it the best option. For those who have been led to believe that coconut oil is not healthy, my simple statement is "don't believe that". I have been reading about this extensively and truly believe that it is perfectly fine to consume coconut oil everyday. Yes it has saturated fats and again we have been led to believe that saturated fats are bad by effective lobbying of the manufacturers of the other oils. Another good option is avocado oil. It also has a very high smoking point. I'll write more about avocado oil once I start using it.
In the same context, butter is better than the array of so called healthy spreads available in the market these days. I agree that I too was using all types of soft tub margarine thinking that it was good but now I know much better than that. The more you read about it, the more you come to know about the extreme processing (including mechanical, heat and chemical) a product undergoes and it's really a nightmare. For those who are not aware of all this, I once again say that ignorance is bliss. I think I will have to do a detailed post about this subject to make it even clear.
For starters, read the product labels to see if you are able to identify the ingredients. The key is to keep it simple to keep it safe. I'm slowly trying to eliminate all (store-bought) processed food, by preparing everything at home or buying organic products when time is a constraint and convenience becomes more important.

| | | |
| --- | --- | --- |
| Vegan Chocolate Avocado Cupcakes Recipe & Video | | |
| Prep Time | Cook Time | Makes |
| --- | --- | --- |
| 15 Mins | 23 Mins | 12 Cupcakes |
| Author | Category | Method |
| Madhuram | Cupcakes | Baking |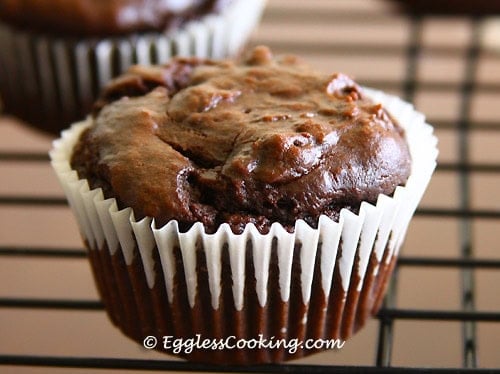 Pureed avocado replaces eggs and fat to make these super moist chocolate cupcakes and it's vegan too!

Ingredients:
1 and 1/2 cups

All Purpose Flour

3/4 cup

Cocoa powder

1 teaspoon

Baking powder

3/4 teaspoon

Baking soda

3/4 teaspoon

Salt

1

Avocado, pitted, peeled and diced

1 cup

pure maple syrup

3/4 cup

Non-dairy milk (I used almond milk)

1/3 cup

Coconut Oil (Organic, Expeller Pressed and Refined)

2 teaspoons

Vanilla extract
Procedure:
Preheat oven to 350F/180C for 15 minutes. Line a 12 cup muffin pan with paper liners.
In a large bowl sift together the flour, cocoa powder, baking powder, baking soda and salt.
In a blender/food processor puree together the avocado, milk, oil, maple syrup and vanilla extract. It has to be smooth and creamy without any lumps.
Stir in the wet mixture into the flour mix. Do not over mix.
Divide the batter evenly among the 12 cups and bake it for 23-25 minutes or until a toothpick inserted in the center of the cupcake comes out with crumbs attached.
Remove the pan from the oven and let the cupcakes cool in the pan for 5 minutes on a wire rack. After 5 minutes remove the cupcakes from the pan and cool it completely on the cooling rack before you can frost it.
Taste:
These avocado cupcakes tasted pretty much like the black bean cupcakes I have baked earlier. The texture was more like that of a muffin than a cupcake. It was moist and dense but nevertheless tasty.
My Notes:
I used my Indian blender to prepare the avocado puree. First blend the avocado with some of the milk to make it into a fine paste and then add the rest of the wet ingredients to prepare a smooth puree.

Try this recipe, click a pic and hashtag it #egglesscooking - Proudly showcase your creations on Instagram, Facebook & Twitter!