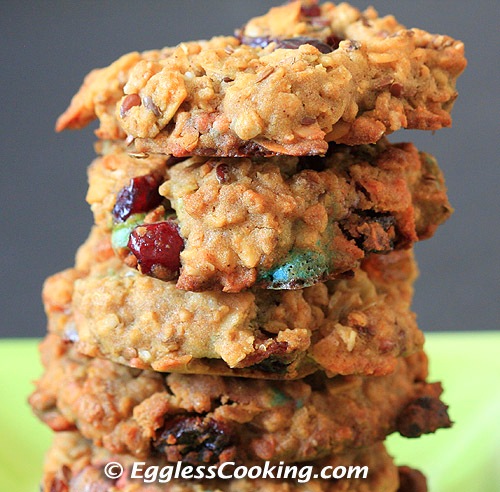 For the past couple of days I have been baking a lot of muffins and quick breads that my son started asking me to bake some cookies for a change. I feel that muffins are the easiest to bake because there is no waiting for the butter to soften, no creaming of butter and sugar; simply mix, pour and bake. With the hectic schedule I'm on these days, I prefer baking more and more of quick breads than anything else.
I couldn't postpone baking cookies anymore, so started looking for some easy cookie recipes and found this simple oatmeal cookies recipe here. I can very well name these "everything-but-the-kitchen-sink-oatmeal-cookies". The ingredients list sure seems to be pretty big but you shouldn't have any problem finding any of it. If you are like me you must be having most of it in your pantry already. Moreover the original recipe is very flexible I would say because I too have substituted quite a bit with the ingredients I had in hand. More about it in the My Notes.
As for the taste, we all loved it. These gluten free oatmeal cookies were nice and crunchy. I think that brown rice flour gives extra crispiness to the cookies. I have noticed this already in these oat flour and brown rice flour cookies and as well as in these cornmeal and brown rice flour cookies. The cookies had an amazing melt in your mouth texture. Of course the oatmeal cookies don't have that texture but it was definitely quite crispy (See My Notes #2) and I think it wouldn't have been like that had I used any other flour other than the brown rice flour.
Also note that this recipe for oatmeal cookies is gluten free if you use gluten free certified oats and other ingredients.

| | | |
| --- | --- | --- |
| Gluten Free Oatmeal Cookies Recipe | | |
| Prep Time | Cook Time | Makes |
| --- | --- | --- |
| 15 Mins | 24 Mins | 48 cookies. |
| Author | Category | Method |
| Madhuram | Cookies | Baking |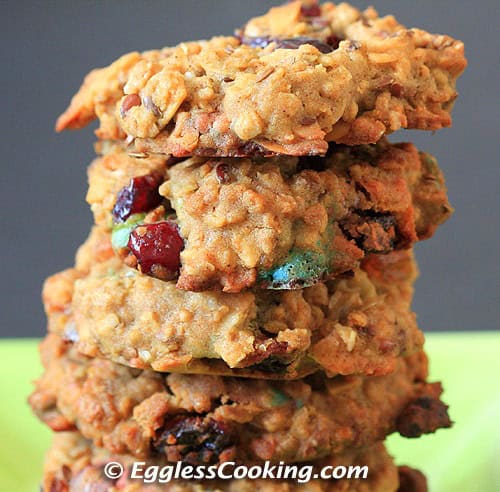 Gluten Free Oatmeal Cookies
5.0

from

3

reviews
Baking gluten free and egg free oatmeal cookies can't get any easier. Try these oatmeal cookies and you would definitely agree with me.

Dry Ingredients:
2 and 1/4 cups

Quick Cooking Oats

2 cups

Brown Rice Flour

1 and 3/4 cups

Slivered Almonds

1/2 cup

Unsweetened Shredded Coconut

1/4 cup

Flax Seed

3/4 cup

Sugar

1/2 tablespoon

Ground Cinnamon

2 teaspoons

Salt

3/4 cup

Mini M&Ms

3/4 cup

Golden Raisins

1/2 cup

Dried Cranberries
Wet Ingredients:
3/4 cup

Oil (I used Canola)

1/4 cup

Molasses

1 and 1/4 cups

Rice Milk
Procedure:
Preheat oven to 350F/180C for 15 Mins. Line cookie sheets with parchment paper. I also sprayed the parchment paper with some non stick cooking spray.
Stir together the dry ingredients in a large bowl.
Mix together the wet ingredients in another small bowl.
Add wet ingredients to the dry ingredients and stir until just combined. I felt that the cookie batter was a bit watery so I covered the bowl of dough with plastic wrap and refrigerated for 15 minutes.
Scoop about a tablespoonful of dough and place it on the prepared cookie sheets. Flatten it gently either with a fork or back of a spoon.
Bake it until lightly browned or for 24 minutes. I took out mine after 22 minutes.
Leave the cookies on the cookie sheet for about 5 minutes and then transfer it to a cooling rack to cool completely before storing them in an air tight container. I baked mine in 3 batches.
My Notes:
The changes I have made are using brown rice flour instead of spelt flour, slivered almonds instead of sunflower seeds and pumpkin seeds, golden raisins and cranberries instead of raisins, mini M&Ms instead of chocolate chips and rice milk instead of soy milk and water. I kept the measurements of all the ingredients same except for the chocolate chips and sugar, so the oatmeal cookies turned out good without any problem.
To cut back on sugar I used just 3/4th cup of mini M&Ms instead of 1 and 3/4th cup of dark chocolate chips and 3/4th cup of white sugar instead of the 1 cup mentioned in the original recipe. Also I used just half the quantity of ground cinnamon because we are not spice fans.
The gluten free oatmeal cookies were very crispy on the day I baked it but it lost its crispness in the following days. It became very chewy. I had stored half the batch in a ziploc bag in the refrigerator and the other half in an airtight container and left it on the counter. The cookies stored in the fridge retained some of its crunch but the ones at room temperature became chewy.
I see in some of the baking websites that honey or maple syrup can be substituted for molasses measure to measure. So you can try it if you don't have molasses in hand. Similarly any flour should work too I guess.

Try this recipe, click a pic and hashtag it #egglesscooking - Proudly showcase your creations on Instagram, Facebook & Twitter!