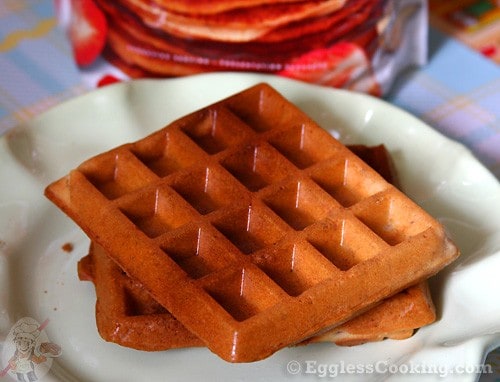 I successfully completed a whole body cleanse recently and feel so good both within and outside. It was for a month, suggested by my Naturopathy doctor. I was on a Hypoallergenic diet, meaning I had to follow a gluten-free, sugar free, egg free, dairy free diet and had to cut back on some of the vegetables and fruits as well to pinpoint the triggers which was causing my stomach woes. I was not sure how I was going to survive without gluten because then I would have to forgo my baking but it was not as bad as I thought it would be.
So I was on a quest for gluten-free products and alternatives and found some interesting products. One such find was the gluten-free pancake and waffle mix by Wild Roots. It is a mix of whole grain flours like brown rice, sorghum, amaranth, quinoa, teff and millet.
It also contains potato starch, rice flour, sugar, baking powder and salt. Potato and sugar was off my cleanse list but I bought it to test it with the rest of my family. I got it in Costco and it's one of the best places to find interesting and "new-in-the-market" gluten-free items.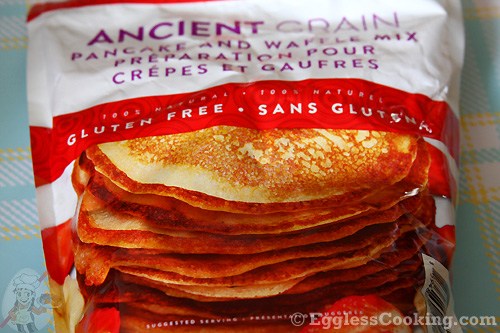 The pack comes with instructions to make pancakes as well as waffles, but you need to use eggs. While I was picking it up at Costco, I was thinking of using flax seed meal or vinegar as an egg substitute, but when I set out to make it I decided to incorporate both.
The first time around I was adding the wet ingredients as I went and the mix was taking in much more liquid than I anticipated but all in all the waffles turned out absolutely great. I can't still get over how crunchy the waffles were. The texture was perfect. The second time around I knew the measurements and went in one go and loved the waffles. I think the potato starch and rice flour gives these gluten-free waffles that crispy texture. But be careful because it might get too crispy for your liking. I tried these waffles once my cleanse was over and loved it and so did the rest of my family. My husband and I were able to sense a slight bitter after taste which none of the others could notice, but again it's just us and we have an acute sense of taste and I wouldn't let this to stop me from using the mix.
So if you are looking for a gluten-free pancake/waffle mix, give this one a shot. (I'm not an affiliate for this product nor this is an advertisement. For the past couple of months I have been receiving mails from visitors asking for gluten-free options and since I was on a gluten-free diet, I thought I'll share my experience with gluten-free baking/cooking with my readers here). I'm also thinking of using this mix to bake cookies and muffins. I'll blog about it once I try it.

| | | |
| --- | --- | --- |
| Gluten-Free, Vegan Vanilla Waffles Recipe | | |
| Prep Time | Cook Time | Makes |
| --- | --- | --- |
| 15 Mins | 05 Mins | 7 Waffles |
| Author | Category | Method |
| Madhuram | Waffles | Cooking |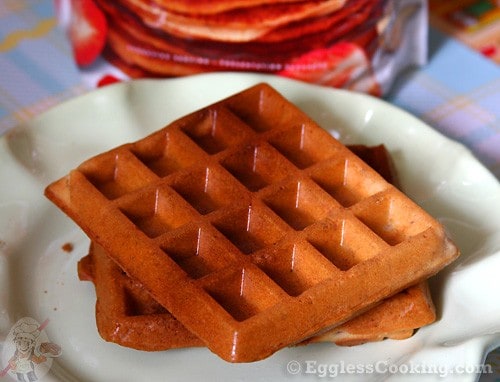 Try these crispy and crunchy gluten-free, vegan waffles once and I'm sure that you won't go back to the regular waffles.

Ingredients:
2 cups

gluten-free pancake/waffle mix

1

flax egg

1 and 1/4 cups

almond milk

1 teaspoon

apple cider vinegar

3 tablespoons

melted coconut oil

1 teaspoon

vanilla extract
Procedure:
Blend together the flax seed meal and warm water and set aside for 5 minutes. Similarly mix together the almond milk and vinegar and set aside.
After 5-10 minutes, stir in the flax seed mixture, almond milk and vinegar mixture and rest of the wet ingredients with the gluten-free mix. This batter comes together easily without forming any lumps.
Now prepare the waffles as you would usually or follow the instructions in this vegan waffle recipe.

Try this recipe, click a pic and hashtag it #egglesscooking - Proudly showcase your creations on Instagram, Facebook & Twitter!