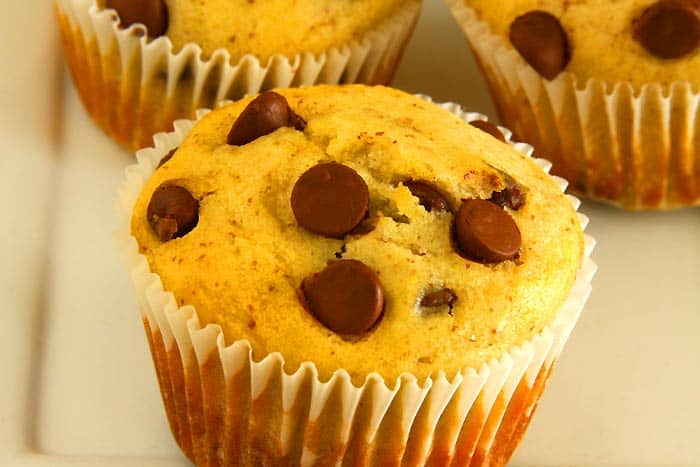 I bought a pack of non-fat Greek Yogurt in Costco, which as 3 containers in it, and was looking for ways to use it other than in smoothies and with granola.
I also use Greek Yogurt when I make mac and cheese from scratch. It makes it creamy, less fatty than using cream, and increases the protein.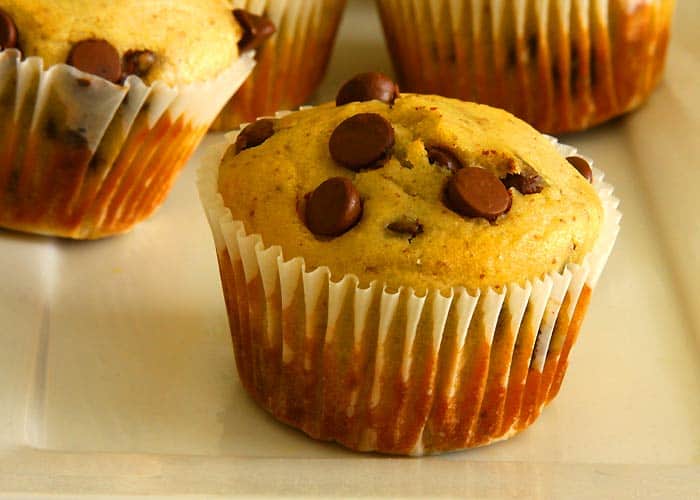 I was able to narrow it down to a couple of simple recipes that could be made with ingredients that I already had in the pantry, and I started with this greek yogurt chocolate chip muffins recipe.
I chose a muffin recipe because I was planning to meet a couple of my friends that weekend and thought bringing them these muffins would be great. I usually bake something or the other when I meet with friends.
It allows me to try new recipes and make them feel loved. My language of love is baking/cooking for my family and friends.
The original recipe had eggs, and I thought flax eggs would be a good egg substitute in this recipe. Also, I wanted to double the recipe so I would have enough for my kids to take as a snack for school after giving some of it to my friends.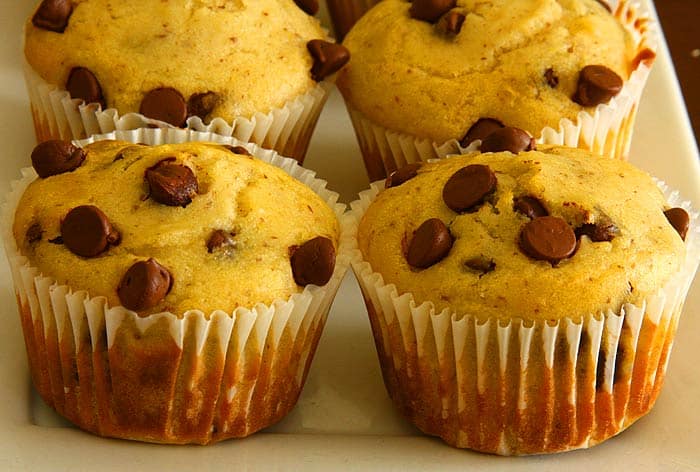 How To Make Greek Yogurt Chocolate Chip Muffins?
Here are the step-by-step instructions on making Greek Yogurt Chocolate Chip Muffins from scratch: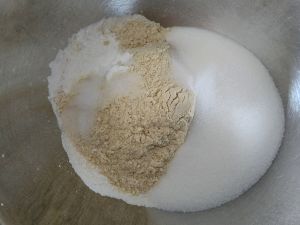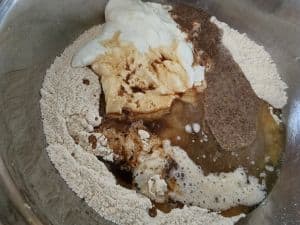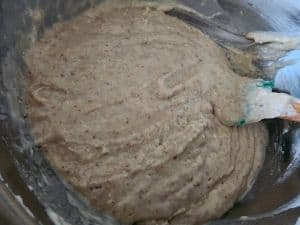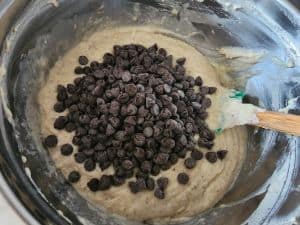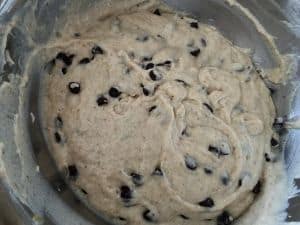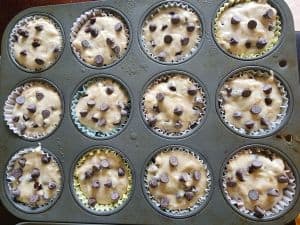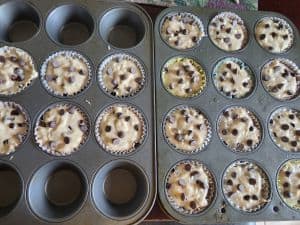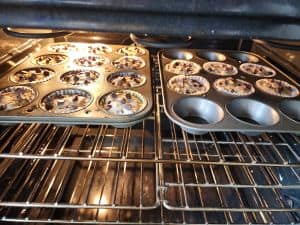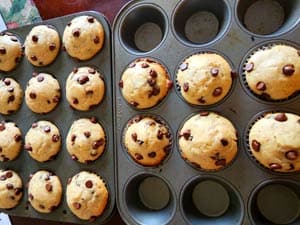 | | | |
| --- | --- | --- |
| Greek Yogurt Chocolate Chip Muffins Recipe | | |
| Prep Time | Cook Time | Makes |
| --- | --- | --- |
| 20 Mins | 20 Mins | 18 Muffins |
| Author | Category | Method |
| Madhuram | Muffins | Baking |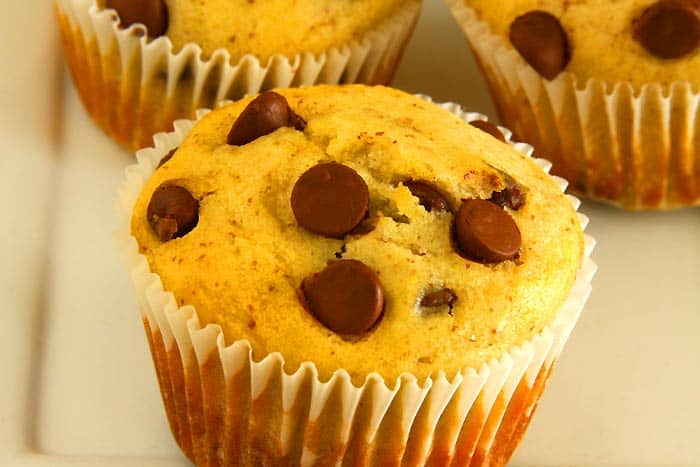 Easy-to-bake chocolate chip muffins made with a considerable quantity of non-fat Greek yogurt, which amps up the protein content in the muffin, a perfect lunchtime snack for the kids and a tea time snack for the adults.

Ingredients:
Dry Mix:
2 cups

all-purpose flour

1 cup

whole wheat pastry flour

1 and 1/4 cups

granulated sugar

3 teaspoons

baking powder

1 teaspoon

salt
Wet Mix:
1 and 1/2 cups

Greek yogurt (plain)

1/2 to 1 cup

milk (2%) (See My Notes)

1/2 cup

vegetable oil

2-3 tablespoons

water (if needed, See My Notes)

2 teaspoon

vanilla extract

1 teaspoon

apple cider vinegar
Add ons:
2 cups

semi-sweet chocolate chips
Procedure:
Preheat oven to 400F/200C. Line two 12-cup muffin tins with a paper liner, gently grease them lightly with non-stick cooking spray and set aside. In a small cup, whisk together 2 tablespoons of flaxseed meal with 6 tablespoons of water and keep it aside to form a glutinous substance to mimic eggs.
Add all the ingredients listed under the Dry Mix in a large bowl, stir well, and make a well.
Add the Greek yogurt, 1/2 cup of milk (to begin with), vegetable oil, flax eggs, vanilla extract, and apple cider vinegar to the dry mix, and mix it with a wooden spoon. I felt the mixture did not come together as a proper muffin batter. So I added an additional 1/2 cup of milk and some water to get the right consistency. Do not over-mix.
Stir in 1 and 3/4ths cups of chocolate chips into the batter. Reserve the 1/4 cup of chocolate chips for later.
Scoop about a third of the batter and fill each muffin liner. The batter was enough to fill only 18 muffin cups instead of the 24 I thought I wanted to bake by doubling the recipe.
Sprinkle the reserved 1/4 cup of chocolate chips on top of all the muffins.
Bake the muffins for 5 mins at 400F and reduce the temperature to 375F for another 15 minutes or until a toothpick inserted in the center of the muffin comes out clean.
Remove the pans from the oven and let them cool on wire racks for about 10 minutes. After that, remove the muffins from the pan and either enjoy them warm or store them in an air-tight container after they are cooled completely.
Taste:
These Greek yogurt chocolate chip muffins had a mild sour undertone, but the sweetness from the sugar and chocolate chips balanced it just right. None of my kids or friends didn't feel that it was sour. Nonetheless, the taste was good overall, and these muffins had a spongy texture.
My Notes:
I replaced some all-purpose flour with whole wheat pastry flour; sometimes whole wheat flour soaks in more moisture and might require more liquid ingredients. I guess I didn't get the proper muffin batter consistency when I used the same quantity of liquid mentioned in the original recipe. So I had to use some additional milk and water. So start with the minimal milk mentioned in the recipe and then increase it if needed.
I also increased the quantity of sugar by 1/4th of a cup because the Greek Yogurt was a bit sour, and I wanted to offset that.
You can keep this as a base recipe to bake Greek yogurt muffins and use your choice of add-ons like berries, shredded carrot, zucchini, and nuts to make various muffins.
I follow the method of baking muffins at a higher temperature first, say 400F, then reduce it to 375F and bake for the rest of the time. This allows the muffins to have beautiful dome tops like those you can buy in bakeries.
Nutrition Facts
Greek Yogurt Chocolate Chip Muffins
Amount Per Serving
% Daily Value*
Potassium 139mg3%
Total Carbohydrates
39.8g
14%
* Percent Daily Values are based on a 2000 calorie diet.


Try this recipe, click a pic and hashtag it #egglesscooking - Proudly showcase your creations on Instagram, Facebook & Twitter!