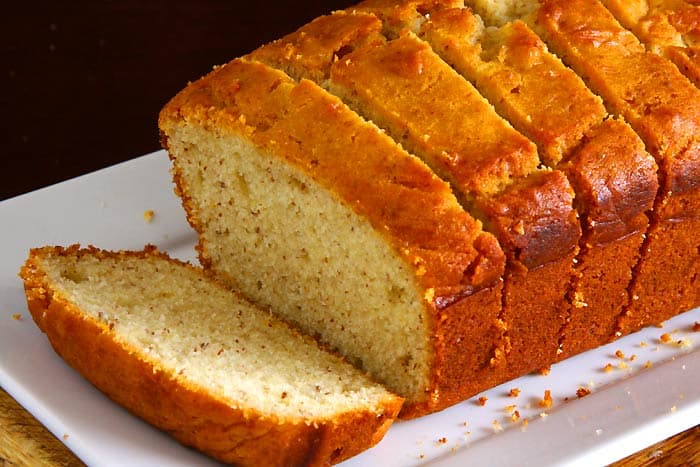 My husband, who usually doesn't care much for the scrumptious desserts I bake, couldn't get enough of the vegan olive oil cake I baked a few weeks back. That led me to search for more olive oil-baking recipes, especially cake recipes that didn't have too many frills.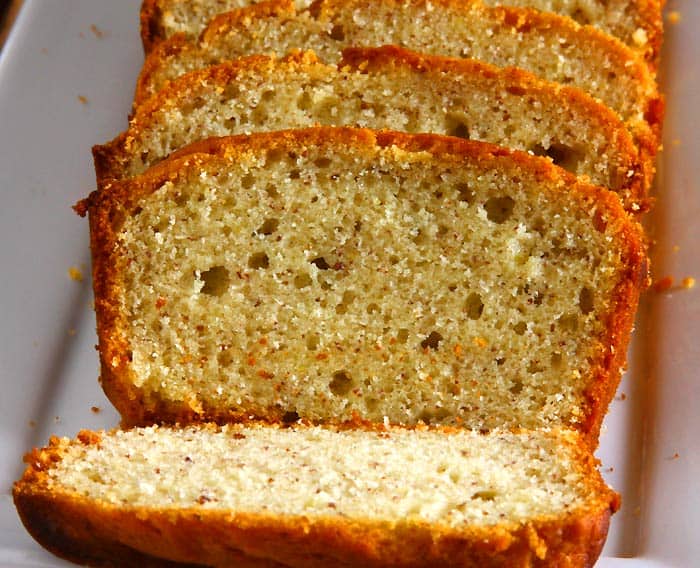 He is usually the kind of guy who is diet conscious, and on the rare occasion that he chooses to eat a wee bit of dessert, he would prefer something plain and simple like my eggless vanilla cake.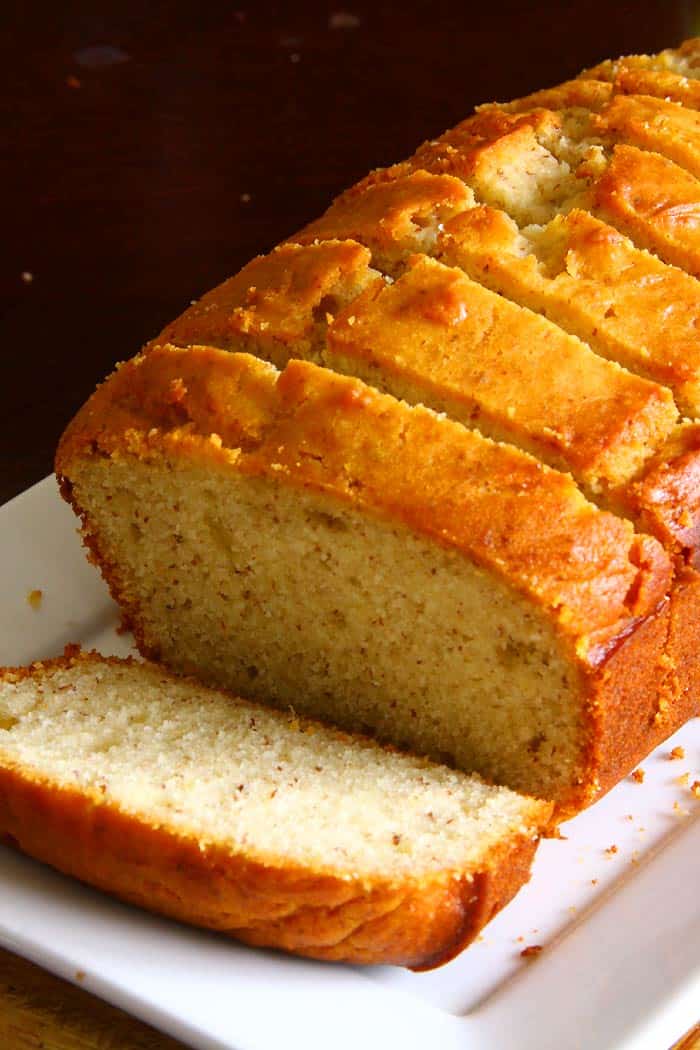 Initially, I thought I would just substitute the melted butter with olive oil in the vanilla cake recipe I usually bake, but then I wouldn't have a chance to blog about a new recipe. Would I? That's why I went recipe hunting for olive oil recipes on Pinterest, and a greek yogurt cake caught my attention.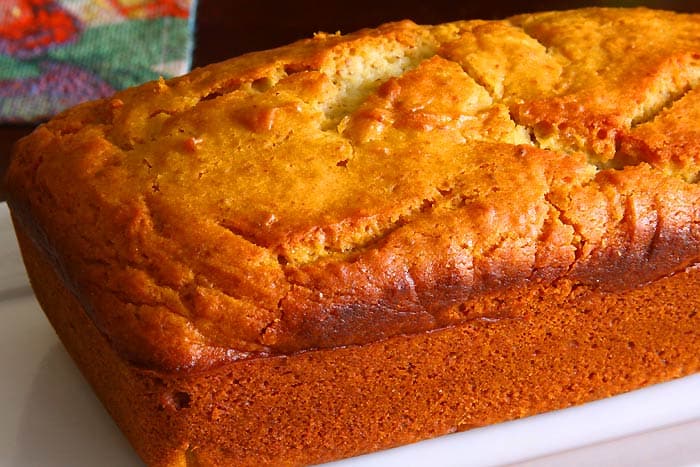 I saw two recipes for a yogurt and olive oil cake.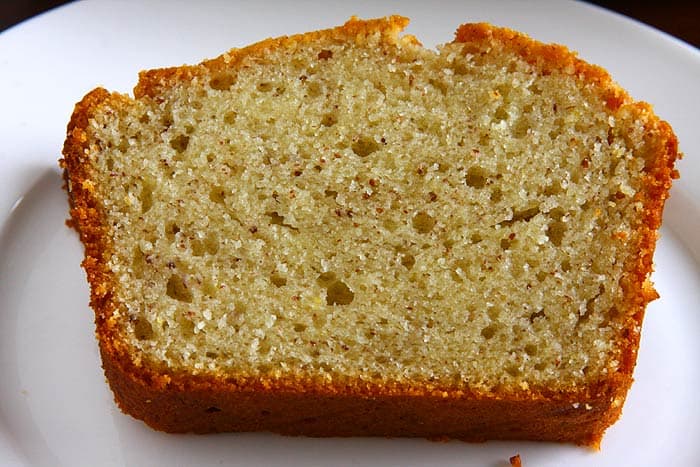 I studied both the recipes and the reviews and came up with my own version of an eggless Greek yogurt and olive oil cake recipe that I'm very proud of because it turned out absolutely perfect, and to my surprise and glee, my husband loved this one too. Two recipes in a row liked by my husband are really something in our place!
This yogurt pound/loaf cake is plain without added fruits or nuts. You may serve it with some berries and a dollop of whipped cream, but it tastes just as fine as it is.
How To Make Greek Yogurt Loaf Cake?
Here are the step-by-step instructions on how to make Greek yogurt loaf cake or Olive oil loaf cake from scratch: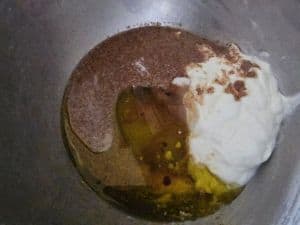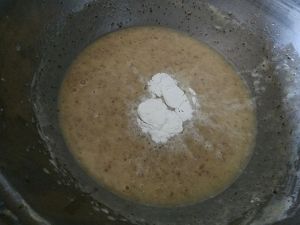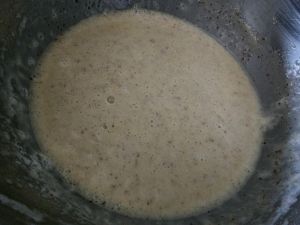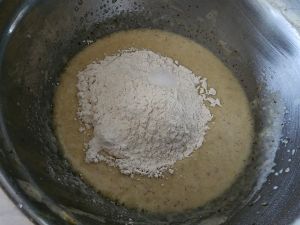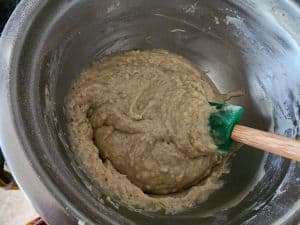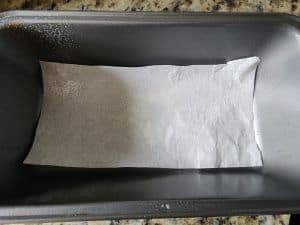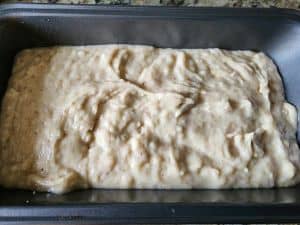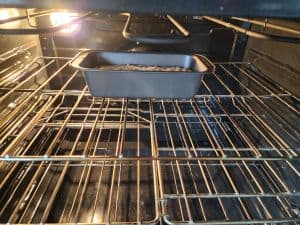 | | | |
| --- | --- | --- |
| Greek Yogurt Loaf Cake Recipe | | |
| Prep Time | Cook Time | Makes |
| --- | --- | --- |
| 20 Mins | 55 Mins | 12 Slices |
| Author | Category | Method |
| Madhuram | Cakes | Baking |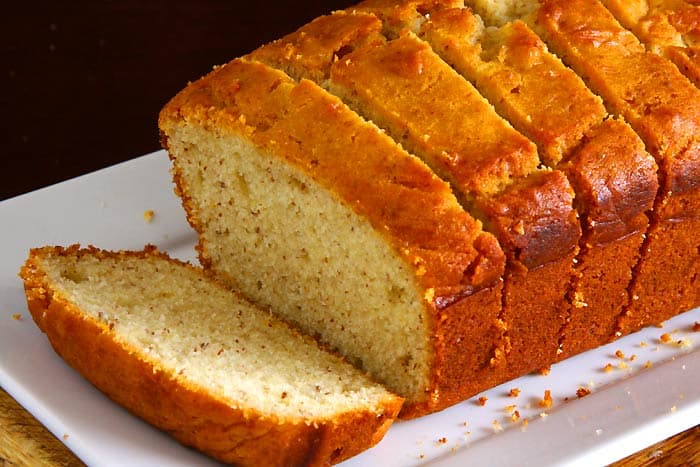 This eggless Greek yogurt olive oil cake is simple yet satisfying, with the fruity flavor and aroma of the olive oil and perfect sweetness. Add some lemon or orange zest for a zingy flavor and taste.

Ingredients:
Part 1:
1 cup

Greek yogurt

1 cup

sugar

1/2 cup

extra virgin olive oil

2

flax egg

2 teaspoons

vanilla extract

1 teaspoon

apple cider vinegar

2 teaspoon

baking powder
Part 2:
1 and 1/2 cups

all-purpose flour

1/2 teaspoon

salt
Procedure:
Preheat oven to 350F/180C. Line a 9-inch or 8-inch loaf pan with parchment paper and lightly grease it with non-stick cooking spray. Make the flax eggs and set it aside for it to become gooey.
Mix all the ingredients listed in Part 1 except for the baking powder in a large bowl. After mixing all the wet ingredients, add the baking powder and mix well. Let it sit for about 5 minutes until the mixture foams up.
Now add the flour and salt listed in Part 2.
Mix well with a wooden spoon or electric beater.
Pour the batter into the prepared pan and bake for 50-55 minutes in the preheated oven or until a toothpick inserted in the middle of the loaf cake comes out clean. Mine was done in 50 minutes.
Remove the pan from the oven and cool it on a wire rack. After about 20-30 minutes, remove the cake from the pan and place it on the rack to cool completely before slicing. Once the cake is cool, sprinkle some powdered sugar on top of it and then slice and serve.
My Notes:
While baking my famous Rasmalai cake, I came across this tip for adding baking powder to the wet mix which has yogurt to foam the mixture up to have a light and fluffy cake as against mixing it with the flour and adding it at the end. I followed the same tip in this yogurt cake recipe, too, and I hope it worked and was lighter than if I had baked the cake by adding it at the end.
The cake does have the flavor of olive oil. If you do not like extra-virgin olive oil, choose to use any other neutral-flavored oil or melted butter.
You may also flavor this Greek yogurt, olive oil cake with lemon juice/extract/zest or orange juice/extract zest.
Nutrition Facts
Greek Yogurt Loaf Cake
Amount Per Serving
% Daily Value*
Potassium 245mg5%
Total Carbohydrates
25.5g
9%
* Percent Daily Values are based on a 2000 calorie diet.


Try this recipe, click a pic and hashtag it #egglesscooking - Proudly showcase your creations on Instagram, Facebook & Twitter!