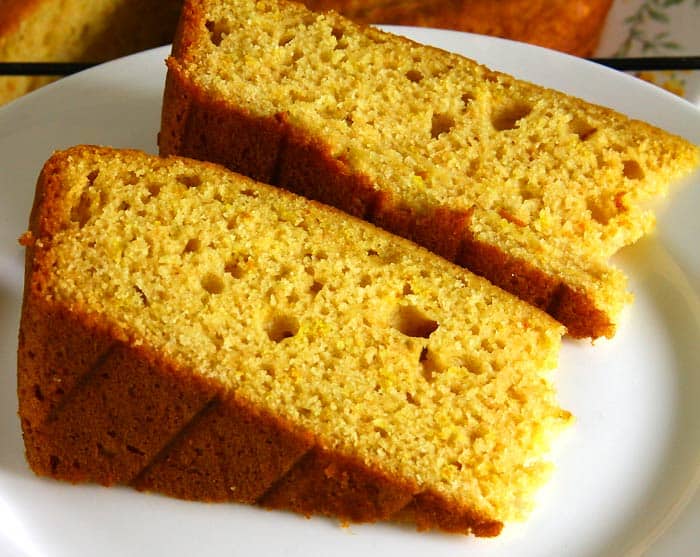 A few weeks back, my husband asked me what happens if you bake with extra virgin olive oil. I simply answered that I don't think we can bake with extra virgin olive oil because I have read that it should not be heated at a higher temperature and is usually only used raw, especially for salad dressing.
But it got me thinking, and I started looking into it and found that olive oil cakes are quite common. I have been baking for about 15 years and didn't know this until now.
On the bright side, this gives me an opportunity to try new recipes and blog about them. That's how I tried my first baking recipe with extra virgin olive oil and made this moist and flavorful vegan olive oil cake.
I took inspiration from this recipe but made some alterations. Even though the star ingredient of this cake is olive oil, and it's no surprise that it is supposed to be used in a much larger quantity while measuring the oil in the measuring mug, I could not bring myself to use it so much.
So I decided to cut back and replace it with some unsweetened applesauce. Applesauce will make the cake dense, so I increased the quantity of baking soda. The original recipe also uses almond flour, which I have replaced with all-purpose flour because my husband doesn't include almonds in his diet. So these were the changes I made to the original recipe, but I did keep it vegan.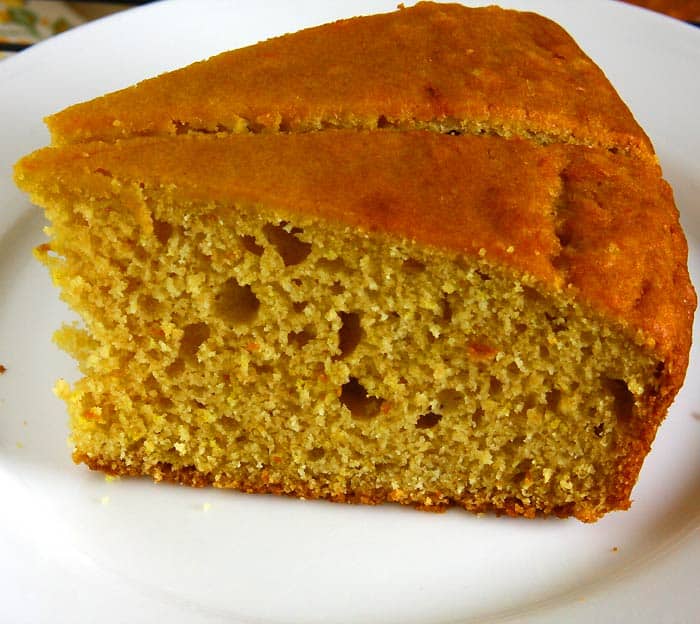 The mild citrus flavor from freshly squeezed orange juice and orange zest and the fruity flavor and aroma of the extra virgin olive oil made this cake a major hit at home.
My husband, the diet-conscious person who usually doesn't care much for my baked goodies, couldn't resist this one. I'm happy to share that this vegan olive oil cake will be one of the few things that will be added to his list of treats that he can relish.
That being said, I would like to try this recipe once, as the author wrote, with almond flour and almond extract. I'm guessing that will give the cake a different flavor and texture.
How To Bake Vegan Olive Oil Cake?
Here is the step-by-step instructions on how to bake easy vegan olive oil cake from scratch: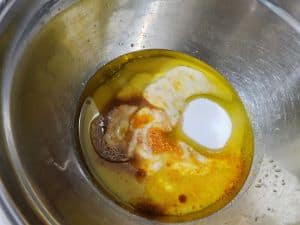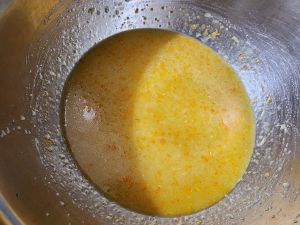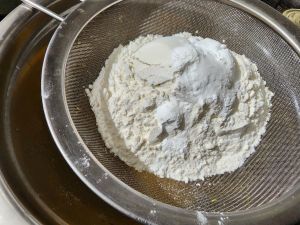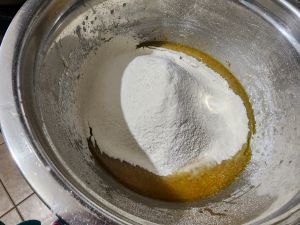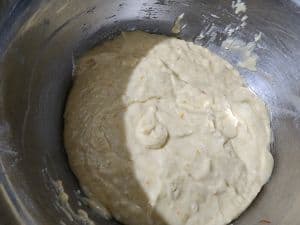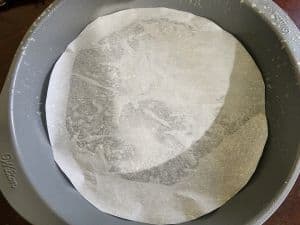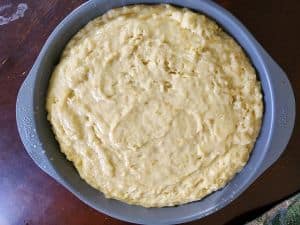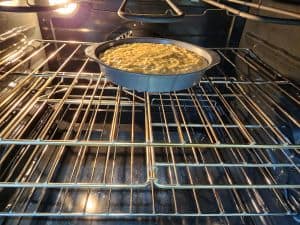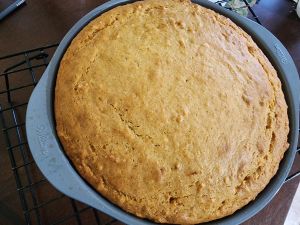 | | | |
| --- | --- | --- |
| Vegan Olive Oil Cake Recipe | | |
| Prep Time | Cook Time | Makes |
| --- | --- | --- |
| 20 Mins | 40 Mins | One 8 Or 9-Inch Cake/12 Slices |
| Author | Category | Method |
| Madhuram | Cakes | Baking |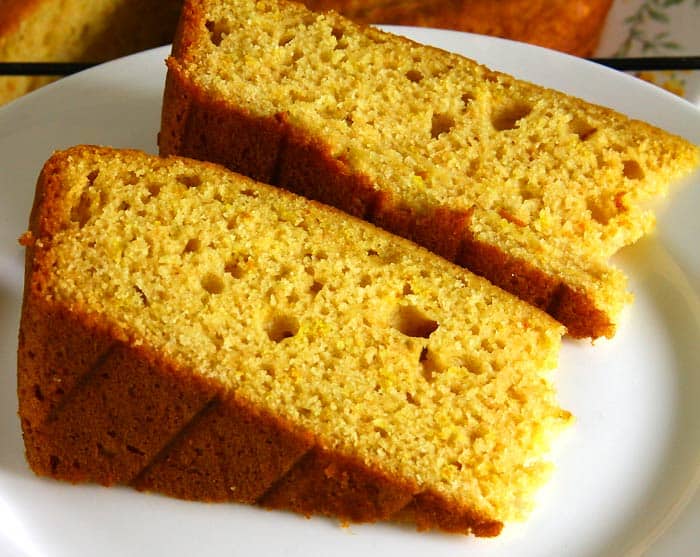 This vegan olive oil cake has a distinct aroma from the extra virgin olive oil, with the perfect balance of citrus flavor from the orange juice and zest, making it a simple yet satisfying dessert.

Ingredients:
Part 1:
1 cup

granulated sugar

3/4 cup

orange juice (freshly squeezed)

1/2 cup

extra virgin olive oil

1/2 cup

unsweetened applesauce

1/3 cup

macadamia milk

1 teaspoon

apple cider vinegar

1 tablespoon

orange zest

2 teaspoons

vanilla extract

1/2 teaspoon

orange extract
Part 2:
2 and 1/2 cups

all-purpose flour

2 teaspoons

baking powder

1 teaspoon

baking soda

1/4 teaspoon

salt
Procedure:
Preheat the oven to 350F/180C. Line an 8 or 9-inch cake pan with parchment paper, lightly grease it with non-stick cooking spray and set aside.
Add the ingredients listed in the Part 1 section to a large bowl and beat it with an electric beater or whisk it with a wire whisk.
Place a sieve over the bowl, add the dry ingredients listed in Part 2 and sift the flour mix over the wet mix.
Mix well to incorporate the dry mix into the wet mix and ensure no lumps are left.
Pour the batter onto the prepared pan and bake it for 40-45 minutes or until a toothpick inserted in the center of the cake comes out clean. I got this distinct aroma that the cake was made around the 40th minute, so I did the toothpick test and found that the cake was ready. So removed the cake from the oven.
Place it on a wire rack and cool for 15-20 minutes. After that, remove the cake from the pan and place it on the rack to cool completely. Dust with confectioner's sugar if desired.
Taste:
As mentioned earlier, this cake had a distinct flavor from the olive oil, and I'm sure it would have been even more pronounced if I had used the quantity mentioned in the original recipe. This was mild, and we all liked it. I'm happy the cake was not dense because I used unsweetened applesauce. I guess I did take a good call about reducing the fat and increasing the baking soda.
My Notes:
The sugar used in the original recipe was 3/4th of a cup. The orange juice I had used was sour, so I increased the quantity of sugar to 1 cup, and the sweetness was just right for us. You may have to adjust the quantity of sugar depending on the orange juice.
I once baked an orange blueberry bread. The taste and texture of which reminded me of a pound cake. This vegan olive oil cake also had a similar taste and texture.
Nutrition Facts
Vegan Olive Oil Cake
Amount Per Serving
% Daily Value*
Potassium 154mg3%
Total Carbohydrates
39.9g
15%
* Percent Daily Values are based on a 2000 calorie diet.


Try this recipe, click a pic and hashtag it #egglesscooking - Proudly showcase your creations on Instagram, Facebook & Twitter!