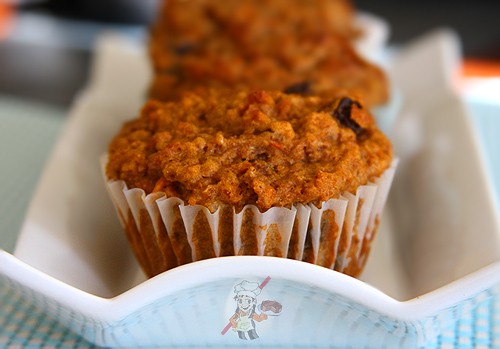 Hi friends, I'm back after a small hiatus. I'm not baking as often as I used to because I'm trying to shed some pounds. I have lost quite a few and don't want to sabotage it by getting tempted. Finally I did bake some coffee flavored muffins and pumpkin biscuits last week, but was not satisfied with the result. My family and friends did like it but I was not comfortable posting it here because I felt it was not the best. You know me, I don't post recipes just for the sake of posting. But this usually happens to me. When I bake after a long break the first few things I try doesn't turn out good. So I was not surprised when it happened this time too. I was patiently browsing a few recipe sites to find a recipe that would break my "baking curse" and that's when I found the winner.
Tim Horton's is the Canadian version of Dunkin Donuts and we like the taste and flavor of the wheat carrot muffins there. It's not too sweet and has a mild orange flavor which we like in our baked goods. I have wanted to create an egg free and even healthier version of those carrot muffins for quite sometime now. So I didn't think twice when I found this high fiber carrot bran muffin recipe here. Even though I have posted carrot muffins recipe here before, I wanted to try the whole wheat version of it with bran cereal. So I made a couple of changes to make it egg free and for better taste too.

| | | |
| --- | --- | --- |
| High Fiber Carrot Bran Muffins Recipe | | |
| Prep Time | Cook Time | Makes |
| --- | --- | --- |
| 20 Mins | 20 Mins | 20 Muffins |
| Author | Category | Method |
| Madhuram | Muffins | Baking |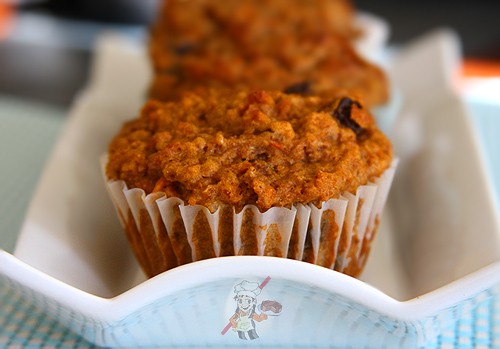 If you are looking for an healthier alternative to start your day or a mid-day snack to energize you without giving a sugar rush, try these high fiber, whole wheat carrot bran muffins and you will not be disappointed.

DRY INGREDIENTS:
1 and 1/2 cups

whole wheat pastry flour

1 and 1/2 cups

bran flakes (All Bran)

1/2 cup

coconut palm sugar

1 teaspoon

ground cinnamon

1 teaspoon

baking powder

1 teaspoon

baking soda

1/4 teaspoon

salt

1

zest of orange

1 cup

grated carrots

1/2 cup

raisins

1/2 cup

chopped walnuts
WET INGREDIENTS:
2 cups

buttermilk

1/4 cup

avocado oil

1 teaspoon

apple cider vinegar
SUBSTITUTES:
whole wheat pastry flour – equal parts whole wheat flour and all-purpose flour
bran flakes – any high fiber cereal of your choice
coconut palm sugar – brown sugar
carrots – zucchini, apples, pear, beets would also work
raisins – any other dried fruit of your choice
walnuts – any other nut of your choice
buttermilk – diluted yogurt or 2 cups of non-dairy milk mixed with 2 teaspoons of vinegar
avocado oil – any oil of your choice
apple cider vinegar – white vinegar
Procedure:
Preheat oven to 400F/200C for 15 minutes. Line muffin pan with paper liners or grease it lightly with non-stick cooking spray.
In a large bowl, stir together the dry ingredients.
In another medium sized bowl, stir together the wet ingredients.
Pour the wet ingredients into the dry mix and combine until just mixed. Do not over mix the batter.
Scoop out the batter, preferably using a big ice cream scoop and fill it in the tins.
Bake for 20-22 minutes or until a toothpick inserted in the centre of the muffin comes out clean. Mine was done in 20 minutes.
Remove the pan from the oven and place it on a cooling rack for the muffins to cool. After about 5 minutes take the muffins out of the pan and cool it completely on a wire rack before storing it.
Taste:
These whole wheat carrot muffins turned out perfect. The texture was great, especially with the crunchiness of walnuts and it smelled good too from the cinnamon and orange zest. These muffins are not too sweet. If you want it sweeter then use 1 cup of raisins like the original recipe. I wanted walnuts in the muffins so used 1/2 cup each of raisins and walnuts. Do not try to eat these muffins or any other whole grain muffins warm because it needs to cool down completely so that it does not taste like "healthy food". The flavors have to settle for it to taste better. So I personally prefer eating them the next day.
My Notes:
The original recipe had used 1 and 3/4th cups of buttermilk and an egg. I increased the quantity of buttermilk by another 1/4 cup to replace the egg. If you happen to have orange at home you can use 1/4 cup of freshly squeezed orange juice instead if you like orange flavor. Using the zest alone, gives it a mellow orange flavor.
If your want to create a vegan version of these muffins, then substitute the buttermilk with diluted non-dairy yogurt or mix 2 teaspoons of vinegar with 2 cups of non-dairy milk. Omit the teaspoon of vinegar in that case.

Try this recipe, click a pic and hashtag it #egglesscooking - Proudly showcase your creations on Instagram, Facebook & Twitter!