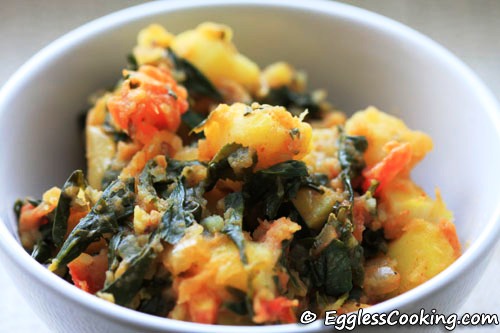 I cook greens at least twice a week. Earlier it was only spinach and methi. Only recently I started using beet greens, swiss chard, turnip greens etc. Even though methi is bitter we all like it in our family. Our favorites are the methi theplas, sambar in the beet greens sambar method and another dry curry using channa daal and methi leaves.
Recently I saw a recipe for aloo methi subzi in Sailu's blog. That day I was going to cook methi anyway, so I decided to try Sailu's recipe itself. It was very simple to make and tasted awesome too. Very different from the methi recipes I make. I pretty much followed her recipe but for some minor changes.
I used around 2 cups of methi. The methi which we get here in US is not as tender as the ones which is available in India, it's very big like curry leaves. Sometimes it can be very bitter. So my mother in law gave me this tip of frying the cleaned, rinsed and drained leaves in little ghee to reduce the bitterness. But Sailu's idea of sprinkling salt and sugar on the methi leaves and squeezing out the liquids also works like a charm. I also fried the methi along with the tomatoes. Since the methi is not
tender, it will not be cooked properly if added in the end. The methi masala tasted very good with chapathis. This serves 2 adults.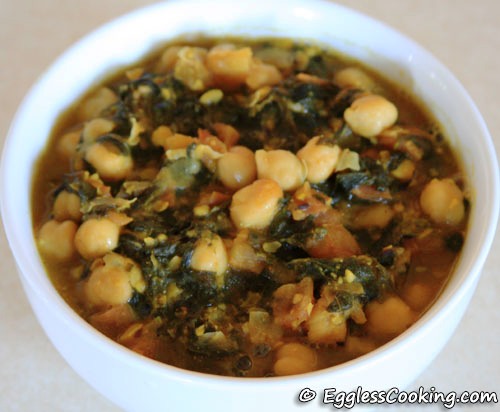 The very same day I also saw another recipe for a methi chole in her blog. I bookmarked it immediately and tried it last week. This is yet another easy to prepare side dish for bhaturas and rotis. Another speciality of this dish is, it does not use onions or garlic, and yet it tastes great. If you use canned chick peas like me, this dish can be prepared in no time. In this recipe also I used more methi than specified (3 to 4 cups loosely packed). I used one 15.5oz can chick peas, which is approximately 1 and 1/2 cups of cooked beans. I also used oil instead of ghee for frying the spices. This measurement serves 2 adults.