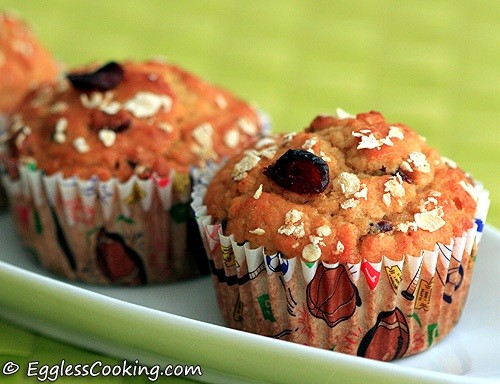 Oat flour is a new addition to my pantry and I'm using it quite often these days. It's nothing but finely powdered oats. You can prepare it yourself using quick cooking oats and a food processor. I also noticed that cookies baked with oat flour are not as dense as the ones baked with whole wheat flour. I recently baked fat-free chocolate chip cookies using part all-purpose flour and part oat flour and I didn't feel any difference at all taste-wise.
Though the cookies were not the exact replica texture-wise because I had used unsweetened applesauce instead of butter. It felt more like a muffin/cake than a cookie. I'm still working to perfect a low-fat chocolate chip cookie recipe. Until then here's a recipe for cranberry muffins using oat flour. The original recipe is from Better Homes and Gardens' Off the Shelf Baking. I have made a couple of changes to make it egg free and healthy.

| | | |
| --- | --- | --- |
| Low-Fat Oat Flour Cranberry Muffins Recipe | | |
| Prep Time | Cook Time | Makes |
| --- | --- | --- |
| 15 Mins | 20 Mins | 9 Regular Size Muffins |
| Author | Category | Method |
| Madhuram | Muffins | Baking |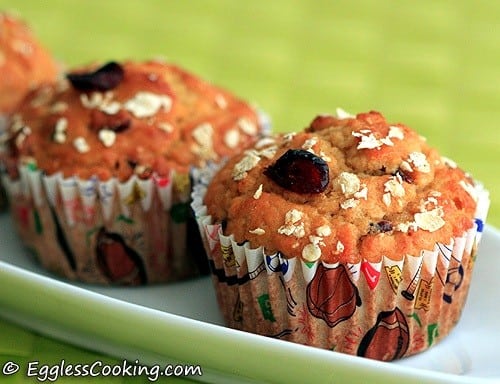 Healthy and egg free cranberry muffins using whole wheat flour and oat flour.

Ingredients:
1 cup

White Whole Wheat Flour

3/4 cup

Oat Flour

1/2 cup

Sugar

1 teaspoons

Baking Powder

1/4 teaspoon

Salt

1/2 cup

Dried Cherries OR Cranberries

1/4 cup

Chopped Walnut

2 tablespoons

Plain Non-Fat Yogurt

3/4 cup

Fat Free Milk

3 tablespoons

Oil (Any Flavorless Oil)

1 teaspoon

Shredded Orange peel (I used 2 tablespoons Orange Juice instead)

2 to 4 tablespoons

Water/Milk

to sprinkle on top

Quick cooking oats (Optional)
Procedure:
Preheat oven to 400F for 15 minutes. Line muffin pans with paper liners.
In a medium bowl sift together the flours, salt, baking powder. Add sugar, dried fruit and the nuts. Combine well. Make a well in the center and set aside.
In a liquid measuring mug measure the milk, add the yogurt, orange juice (or peel) and whisk well.
Add the wet ingredients to the flour all at once and stir just until combined. Do not over mix. At this point I felt that the batter was very thick, so I added another 2 tablespoons of milk. The consistency felt right after adding the milk.
Now spoon batter into prepared muffin cups, filling each two thirds full. I have a ladle which holds 3 tablespoons of batter and it's the perfect amount to bake the perfect sized muffins. Sprinkle oats on top, if using.
Bake in the preheated oven for 18-20 minutes or until golden and a wooden toothpick inserted in centers comes out clean. Mine was done by 19 minutes.
Cool in muffin cups on a wire rack for 5 minutes. Remove from muffin cups; serve warm (See Taste).
Taste:
The tartness of the dried cranberries and the orange flavor is a winning combination. But don't try tasting it warm if you are using whole wheat flour. The original recipe used all purpose flour but I have used a combination of whole wheat flour and oat flour, so it did not taste good when the muffins were still warm. It was a sticky and bitter mass of dough inside, which really freaked me out. Thank God I was patient enough to come to a conclusion the next day morning and was relieved that it tasted good. Actually good enough that my son had it for breakfast everyday.
My Notes:
The original recipe used 1 and 3/4th cup of all-purpose flour. You can go with it if you are not a fan of whole wheat flour or don't have it. Baked goods with whole wheat flour definitely don't taste exactly like its white counterpart. Like tofu, whole wheat pasta, it's an acquired taste. We have got used to it now. So you may want to start slowly, maybe 1 cup of all-purpose flour and 3/4th cup of whole wheat flour/oat flour.
Oat flour is readily available in some of the grocery stores. You can make it at home too by finely processing quick cooking oats in a food processor/mixer. Since oat flour does not contain gluten, it cannot substitute 100% of all purpose flour/whole wheat flour. Baked goods will not rise if it is only used. So it has to be used in combination with either all-purpose flour or whole wheat flour.
I didn't have fresh oranges to make the zest, so I went with 2 tablespoons of store bought orange juice. This does not give that fresh orange flavor, but be careful not to go overboard with the juice because sometimes the store bought juice has a bitter after-taste and it spoils the taste of the baked goods.
I have used 2 tablespoons of yogurt in place of one egg white mentioned in the recipe. Even after using 2 tablespoons of orange juice I found that the batter was very thick, so I had to use another 2 tablespoons of milk. I think the whole wheat flour and the oat flour absorbed more moisture. So consider what type of flour you are using and add water as required.
The original recipe is supposed to yield 12 muffins but I got only 9.

Try this recipe, click a pic and hashtag it #egglesscooking - Proudly showcase your creations on Instagram, Facebook & Twitter!