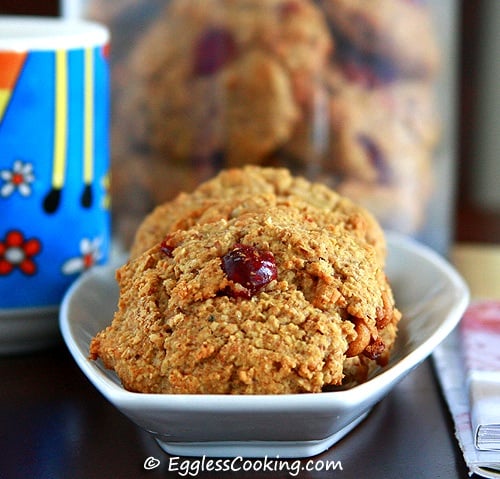 I found this recipe for wholesome breakfast cookies in the book One Smart Cookie by Julie Van Rosendaal. I have made a couple of changes to make it even more healthy and was floored by the taste. I really can't believe that healthy can taste so good. So if you have kids who drive you crazy without having breakfast, then this recipe is for you. These breakfast cookies are packed with proteins, fiber, vitamins and minerals and low in fat too. What better way to start a day than this? With a glass of milk or orange juice it's sure to fill up even adults.

| | | |
| --- | --- | --- |
| Wholesome Oatmeal Breakfast Cookies Recipe | | |
| Prep Time | Cook Time | Makes |
| --- | --- | --- |
| 15 Mins | 16 Mins | 24 Cookies |
| Author | Category | Method |
| Madhuram | Cookies | Baking |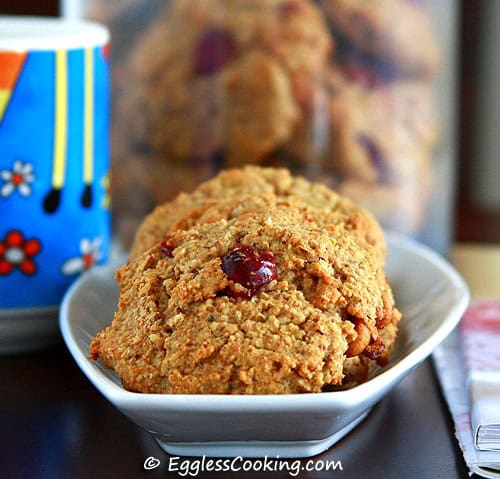 Very healthy, tasty and egg free breakfast cookies using quick cooking oats, navy beans, walnuts and cranberries.

Ingredients:
2 cups

Quick Cooking Oats

1 cup

Whole Wheat Pastry Flour

1 teaspoon

Baking Powder

1 teaspoon

Baking Soda

a pinch

Cinnamon (optional)

a pinch

Salt

1 can (19oz/540ml)

Navy Beans, rinsed and drained

4 tablespoons

Soft Tub Margarine

1 cup

Brown Sugar, packed (I used light)

1/4 cup

Unsweetened Applesauce, measured in a dry measuring cup

2 teaspoons

Vanilla Extract

1/2 cup

Peanut Butter Chips

1/2 cup

Dried Cranberries

1/2 cup

Chopped Walnuts

2 tablespoons

Flax Seed Meal
Procedure:
Preheat the oven to 350F for 15 minutes. Line 2 cookie sheets with parchment paper.
Pulse the oats in a food processor until it resembles coarse flour. To this also add the whole wheat flour, baking powder, baking soda, cinnamon and salt and process until combined. Transfer this mix to a large mixing bowl.
Put the drained and rinsed beans in the food processor and pulse until smoothly pureed. You may add 2-3 tablespoons of water to make it easier. Add the butter/margarine and process until well blended.
Now add the brown sugar, applesauce and vanilla and pulse until smooth, scraping down the sides of the bowl.
Pour the bean mixture into the oat mixture and stir using a spatula. Add the peanut butter chips/chocolate chips, raisins/dried cranberries, nuts and flax seed meal and stir until blended.
Drop by large spoonfuls of dough onto the prepared cookie sheets. Flatten each one a little with your hand. Have a bowl of water nearby to dampen your palms, so that flattening the cookies will be easy.
Bake for 14-16 minutes, until pale around the edges but still soft in the middle. The cookies baked in a dark coated cookie sheet started browning after 14 minutes itself but the pale coated cookie sheet was done after 16 minutes.
Place the the cookie sheets on individual wire racks. Let it cool for 5 minutes. Transfer the cookies to the cooling rack after that.
Taste:
These cookies tasted very much like the Fiber One Cereal breakfast cookies I have baked earlier. These are very soft cookies, more like a muffin. The presence of whole grain flours like whole wheat pastry flour and oat flour did not affect the taste at all. You cannot detect the navy beans too. It's not very sweet also. If "healthy" tastes so good, I'm ready to eat healthy always. My son takes it to school as a treat after having his lunch and he likes it so much.
My Notes:
You can use all purpose flour instead of whole wheat pastry flour, white beans instead of navy beans, butter or margarine, chocolate chips instead of peanut butter chips, raisins, pecans instead of walnuts.
For chocolate flavored cookies use 1/2 cup of unsweetened cocoa powder instead of the flour.
Updated: I stored these cookies in a cookie jar over the counter and it became very soft. This is okay if you are going to consume it within 2-3 days. The longer it stays on the counter the softer it gets. Recently I borrowed Moosewood Restaurant Low Fat Favorites from the library and found a tip for storing low-fat cookies. It says that the best way to store low-fat cookies is in layers separated by wax paper or plastic wrap in an airtight container in the freezer. Defrost at room temperature for about 20 minutes before serving. But I think storing in the refrigerator should be fine because it gives instant gratification.

Try this recipe, click a pic and hashtag it #egglesscooking - Proudly showcase your creations on Instagram, Facebook & Twitter!