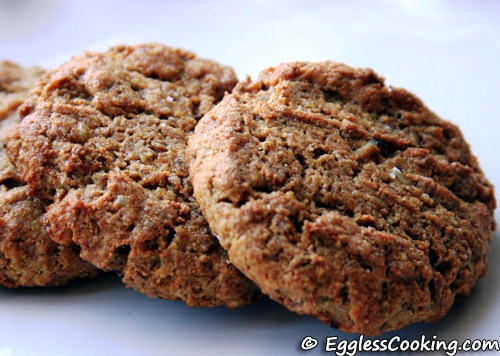 I'm back with another healthy breakfast recipe from The Sneaky Chef. Kids love cookies and won't they be thrilled if we serve it for breakfast? Then bake these breakfast cookies, made with fiber one cereal, a brilliant flour blend, dried cranberries and walnuts. Sometimes healthy stuff is not tasty, like whole wheat bread, bagel or pita for example. Even though these cookies are made of whole wheat pastry flour and wheat germ, they tasted very good to my surprise.
I was skeptical about using wheat flour because I have baked with it earlier and sometimes the baked goodies does not smell/taste right. This is the first time I have had success using whole wheat pastry flour. I did not get the raw smell of wheat. I did not miss white flour at all in the cookies. You can take my word on that. The cereal gave a nice crunch to the otherwise chewy cookies. I would suggest adding dried cranberries and walnuts (this was not mentioned in the original recipe) because it enhances the taste, gives a very good texture to the cookies, also it has nutritional benefits. We adults can also munch on these healthy cookies without any guilt.
My son ate the first cookie so fast, telling me that it was very nice, etc, but then as usual he stopped liking it from the next day. Try your luck with your kids! But touch wood, the blueberry milk, strawberry milk and cherry chocolate milk are still his favorites.

| Prep Time | Cook Time | Makes |
| --- | --- | --- |
| 15 Mins | 20 Mins + Cooling | 20 Cookies |
| Author | Category | Method |
| Madhuram | Cookies | Baking |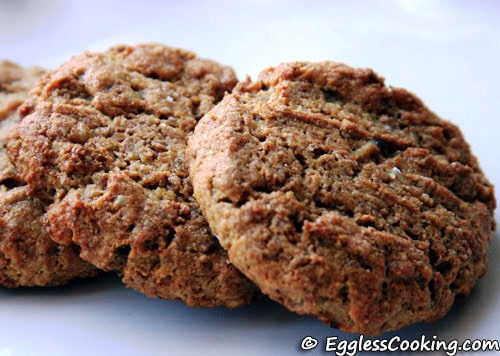 Want some cookies for breakfast?
5.0

from

8

reviews
The healthy breakfast cookies made with fiber one cereal, whole wheat pastry flour and wheat germ tastes awesome. In this recipe, applesauce used as an egg substitute.

Ingredients For Cookies:
2 Cups

Whole Grain Cereal (I Used Fiber One Cereal Honey Clusters)

3/4 Cup

Flour Blend (See Below On How To Make This)

1/2 Teaspoon

Baking Soda

1/2 Teaspoon

Salt (I Used 1/4 Teaspoon)

1 Teaspoon

Cinnamon (I Used Only 1/4 Teaspoon)

1/4 Cup

Unsweetened Applesauce (Instead Of 1 Large Egg)

1/2 Cup

Brown Sugar

1/4 Cup

Canola Oil

2 Teaspoons

Vanilla Extract

3/4 Cup

Low Fat Ricotta Cheese

As Needed

Cinnamon Sugar/Plain Sugar For Dusting

1/4 Cup

Dried Cranberries (Optional, I Added This)

1/4 Cup

Chopped Walnuts
Ingredients For Flour Blend:
1 Cup

All Purpose Flour

1 Cup

Whole Wheat Flour

1 Cup

Wheat Germ

– OR –

2 Cups

Whole Wheat Pastry Flour (I Used This Combo)

1 Cup

Wheat Germ
Procedure For Flour Blend:
Combine the flours and wheat germ in a bowl. Store it in an air-tight container or sealed bags and use it for baking anything from cakes, cookies, brownies etc.
Procedure for Cookies:
Preheat oven at 400F/200C for 15 minutes and line/grease a baking sheet.
Coarsely crush the cereal either using a rolling pin or pulse it a couple of times in the food processor.
In a large mixing bowl, whisk together the flour combo, crushed cereal, baking soda, salt and cinnamon.
In another bowl, whisk together applesauce, brown sugar, oil, vanilla and ricotta cheese.
Add the dry ingredients to the wet mixture and combine gently.
Drop by tablespoonful onto the baking sheets, leaving about an inch between cookies.
Flatten cookies with the back of a fork and sprinkle tops with sugar.
Bake about 18 to 20 minutes, or until nicely browned and crispy around the edges.
Leave it in the baking sheet for 5 minutes and then transfer to a wire cooling rack to cool it completely. Serve it with blueberry milk or strawberry milk.
My Notes:
For crushing the cereal: Put the cereal in a ziploc bag, seal it and then use a rolling pin to crush it.
The cookies baked in the aluminum pan were done in 18 minutes. But the batch baked in a dark colored pan became very brown around 17 minutes itself. So keep an eye. I think reducing the oven temperature to 375F/190C should be fine if using a dark colored pan.
I think the only mistake I did was not storing the cookies in the refrigerator. The cookies had a nice crunch on the day I baked. Like always I stored them in a cookie jar, because nothing was mentioned about the storage. In the following days it became more chewy and soft. I guess storing them in the fridge, once the cookies cool would retain it's freshness.

Nutrition Facts
Servings: 20
Per Serving
% Daily Value*
Calories

79

Total Fat

3.9g

5%
Saturated Fat

0.3g

2%
Trans Fat

0g

Cholesterol

1mg

0%
Sodium

78mg

3%
Potassium 19mg
0%
Total Carb

10.3g

4%
Dietary Fiber

2.2g

8%
Sugars

4.1g

Protein

1.2g

Calcium 19mg – 1% | Iron 1mg – 4%

Try this recipe, click a pic and hashtag it #egglesscooking - Proudly showcase your creations on Instagram, Facebook & Twitter!

These breakfast cookies go to Egg Replacement Event – Pureed Fruit hosted by me.