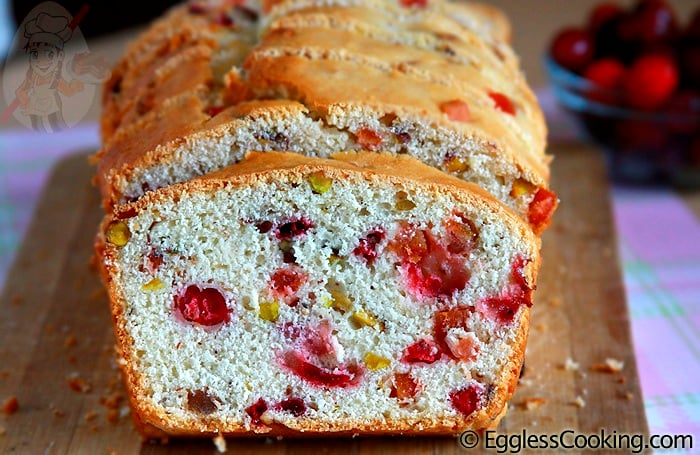 Happy New Year friends. Also happy Pongal/Sankranthi wishes to those who celebrate. One of my new year's resolutions was to bake and post a recipe once a week and I have already broken a part of it by not posting anything last week. I'm happy that I at least got to keep up the baking part. On my grocery shopping trip last week I saw these attractive cranberries, so couldn't help but picking them up even though I'm not a big fan of it. I was going through a couple of recipes using fresh cranberries and finally decided to try this recipe.
These days with so much work around the house, I'm always looking for easy baking recipes. Which is why I like to bake muffins and quick breads more often because it's just mix, pour and bake; and the end result is so yummy without any elbow grease. This cranberry bread recipe is no exception. No waiting for the butter to soften, no creaming of butter and sugars. One drawback though, you have to wait for at least 2 days before you can slice the bread and taste it.
Why is it so? That's what has been mentioned in the original recipe and I did the same. The author mentions that since this recipe is low in fat unlike regular quick breads, it is better to keep it wrapped in aluminum foil for 2 days or more for the flavors to mingle. I decided to use all purpose flour itself because I wanted to finish the pack. This bread is not light and fluffy like the Orange Blueberry Bread. It's dense and not too sweet. I wouldn't suggest using all whole wheat flour instead of all purpose flour in this recipe. I don't think it will be flavorful.

| | | |
| --- | --- | --- |
| Pistachio Cranberry Bread Recipe | | |
| Prep Time | Cook Time | Makes |
| --- | --- | --- |
| 15 Mins | 1 Hrs 10 Mins | One 9×5 inch loaf. |
| Author | Category | Method |
| Madhuram | Breads | Baking |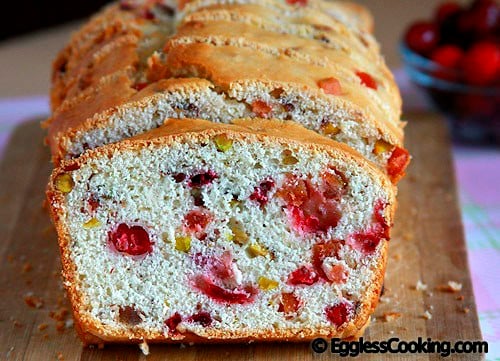 Simple to prepare cranberry bread recipe using fresh cranberries and toasted nuts.

Dry Ingredients:
4 cups

All Purpose Flour, Sifted

1 cup

Sugar

4 teaspoons

Baking Powder

1 teaspoon

Salt

optional

Zest of one orange or lemon

1 cup

Fresh Cranberries, coarsely chopped

1/2 cup

Nuts of your choice, toasted and chopped (I used pistachios)

1 cup

Mixed candy peel
Wet Ingredients:
1/4 cup

Plain Yogurt (I used non-fat)

1/4 cup

Butter, melted

1 teaspoon

Vanilla Extract

1 and 1/2 cups

Milk (See My Notes)

As Needed

Water/Milk
Procedure:
Preheat the oven for 15 minutes at 350F/180C. Grease a 9×5 inch loaf pan. I also lined and greased the bottom of the pan with parchment paper to enable quick removal of the bread from the pan.
In a large bowl combine together the first 5 dry ingredients.
In another medium sized bowl combined together all the wet ingredients.
Stir the wet ingredients into the dry ingredients. Do not over-mix. At this stage I felt that the batter was a bit tight, so I added another 3 tablespoons of milk. Now stir in the nuts and fruits.
Pour the batter in the prepared pan and smooth it out. Bake it for 70 minutes or until a toothpick inserted in the middle of the bread comes out clean. I baked it for 60 minutes at first and checked for doneness twice after every 5 minutes. I removed the pan after 70 minutes. (See Note 2)
I was able to remove the bread from the pan just after 15 minutes. The original recipe suggests to wrap the bread in aluminum foil (once it is cooled completely) for 2 days or more for the flavors to develop.
My Notes:
I also used the juice of one orange along with the milk. I poured the juice in the liquid measuring mug and added milk to it to make it 1 and 1/2 cups as mentioned in the original recipe.
Although the bread tasted good, I think I should have baked the bread for another 3-5 minutes because I felt that the slices in the middle of loaf was lightly dough-y, especially around the cranberries.
Toasted and chopped almonds was mentioned in the original recipe. I used pistachios because I thought that the green and red will give the bread a grand, festive look, but it didn't look as I expected. I think the reason was that I chopped the pistachios too much making it look like just green speckles. So if you decide to use pistachios, I would suggest not to chop it but just use whole toasted pistachios. If you decide to use almonds, pecans or walnuts, chopping it should be fine.
I would also suggest using the zest of 2 oranges instead of 1 because I felt that the bread could have had some more flavor to it. This cranberry bread recipe uses a lot of flour and very less butter, so you have to do something to spike up the flavor.
I feel that the bread will not be sweet enough if you don't use the candied peel. So if you don't have that in hand, either increase the quantity of sugar by another 1/2 cup or use some dried fruits instead of that.

Try this recipe, click a pic and hashtag it #egglesscooking - Proudly showcase your creations on Instagram, Facebook & Twitter!